Sedona in the Spring, Moab in the Fall, and Summer in Crested Butte. It doesn't get much better than mountain biking in Crested Butte. The mountains, wildflowers, trails, historic main street, and laid back vibe are unmatched by most other towns. Better yet, CB (as the locals call it)  is overwhelmingly bike friendly and you'll spot cruiser bikes and mountain bikes everywhere you look. It seems almost everyone in town is riding a bike or wants to be riding one.
This destination guide has everything you need to ride, eat, sleep, and explore in Crested Butte.
Where to Ride – Mountain Biking in Crested Butte

When you ride here you might just finish every ride exclaiming, "that was the best trail I've ever ridden!" Yes, mountain biking in Crested Butte is that good. There are so many great mountain bike rides, loops and options but here are some of our favorites.
To check out trail conditions and get more information on the trails be sure to check out CBMBA which manages and maintains the trails around CB. Also, load the CBGTrails app at MTB Home for trail guidance and local knowledge.
Trail 401: One of the few iconic trails that in my mind is not overrated if you follow these tips:
1. Approach from the lesser traveled Paradise Divide. Everyone rides or shuttles up Gothic Road. Be different and ride or shuttle up from Slate River Road or Washington Gulch. If you are really up for some climbing (and fun) ride Wash. Gulch up to 403 and then up to 401.
2. Go early before the shuttles or masses get moving or go late when everyone else is enjoying a cocktail.
»Kid Friendly: You can shuttle younger groms to the top of Paradise Divide, they would have a short but stout climb and then a ripping decent back down.
»Go Big: Make it the 804 by adding Trail 403. To do this start by climbing Washington Gulch Road to the 403 Trail. When you exit the 403 on Gothic turn left and head up to 401.
Snodgrass:  Another mountain biking in Crested Butte classic that is usually only open in the early summer. Ride out and back or ride out Washington Gulch road. If you are camping on Washington Gulch road you can ride out to the trails and back to camp.
»Kid Friendly: It's a steep climb to get up to the singletrack but with patience and a good attitude little groms can ride this one.
Lupine/Gunsight Connector/Lower and Upper Loop: If you are camped out on Slate River road these trails are all ride-able from camp and tons of fun. The lower loop area is family friendly and is mostly by the river.
»Kid Friendly: These trails are great for most groms.
Teocalli: This is a lung burning climb with some of the best views you will see anywhere on a bike. Stop and enjoy the scenery on the way up because you'll be bombing and grinning ear to ear on the way down.
»Kid Friendly: Advanced groms only.
Baxter/Carbon/Green Lake Loop: This loop opened in June 2018.. The climb up Baxters is unlike any in CB as it's built for mountain bikers. You'll encounter a crazy number of switchbacks (all ride-able) as you make your way up to the Carbon trail and turn right. Carbon will test your stamina and terrain handling ability. Once you hit the Green Lake trail turn left for a 20 min. detour to Green Lake and take a dip! Once you get those baggies back on clip in and enjoy the downhill all the way back to town. Note: Some locals will tell you to do this in the opposite direction but in my opinion it will add more challenge to an already tough ride.
»Kid Friendly: Advanced groms only.
Evolution Bike Park: You can pay to ride the lifts or you can climb up a variety of singletrack and double track roads and enjoy the terrain park runs to go back down. My favorite ride up in Up and Away to Columbine to Primer. This is one of our favorite mountain bike parks that packs a lot of fun into a handful of trails.
»Kid Friendly: Kids as young as 4 (with a good bike) will enjoy the Hotdogger trail.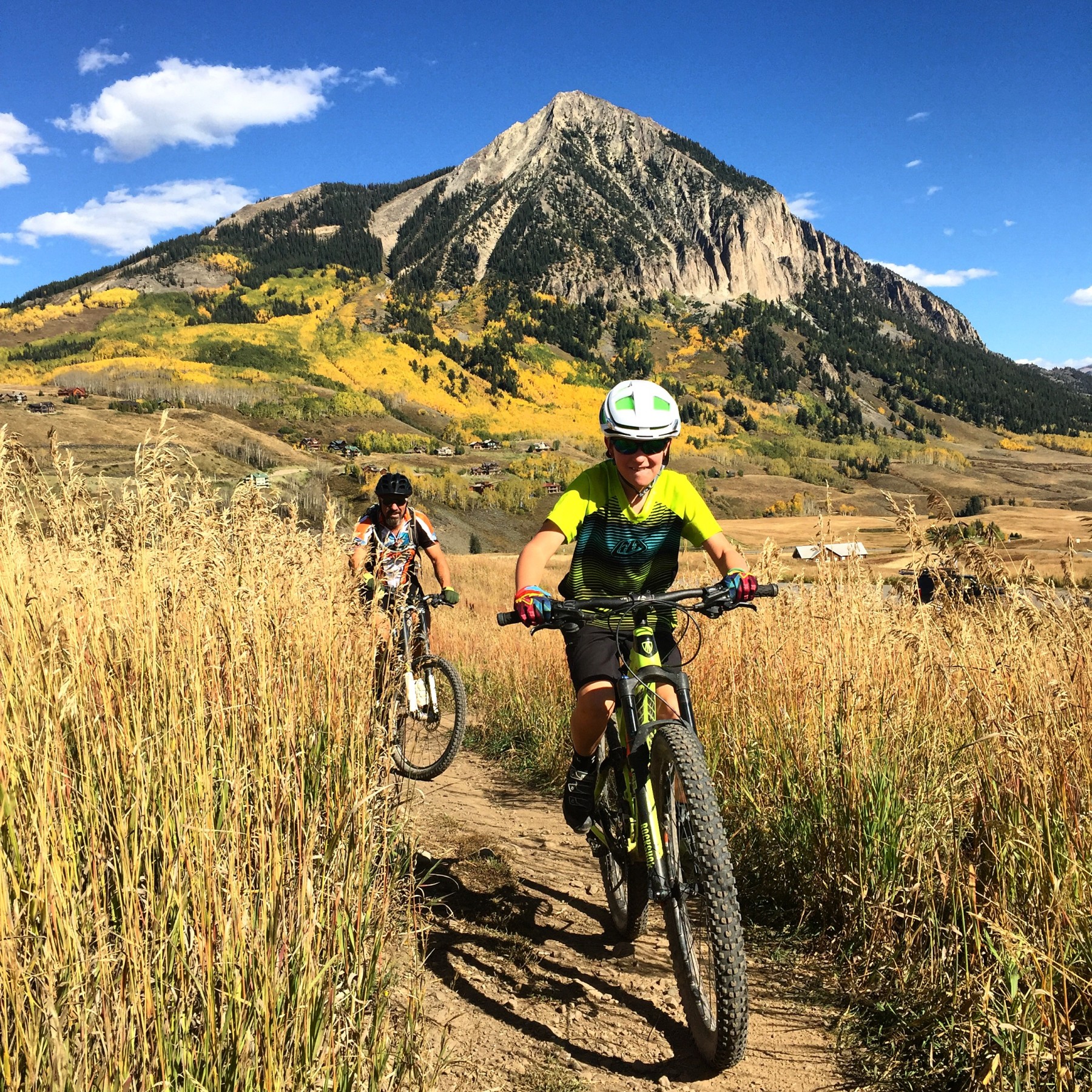 Where to Sleep – Camping in Crested Butte
Washington Gulch Road: This is our go to dispersed camping because it's close to town, trails and has a good cell signal. Camp in the open meadow using the GPS coordinates on Campendium. Don't venture past the meadow unless you are prepared to go up a steep road with limited turnaround spots for larger rigs.  $Free
Slate River Road: Our other favorite place to camp. Drive until you see the National Forest Boundary sign and then look for pull offs. There is a large open meadow on the left where you can camp near the Slate River. Cell reception is non-existent to spotty here. $Free
Oh Be Joyful Campground: Also located on Slate River Road is an established campground near the river. They are now charging between $5 -$10 depending on the location but there are port-a-potties here. Be aware of the road to get down to the campground, it's steep and can be rough.
Lake Irwin Campground: A great option if you want some facilities, a lake, and no cell signal. Beautiful mountain lake setting at 10,000 feet. $18
Dumpstation:  If you need water or to dump the black tanks it's pretty easy in Crested Butte. It's located at the Wastewater treatment plant at the end of Butte Ave.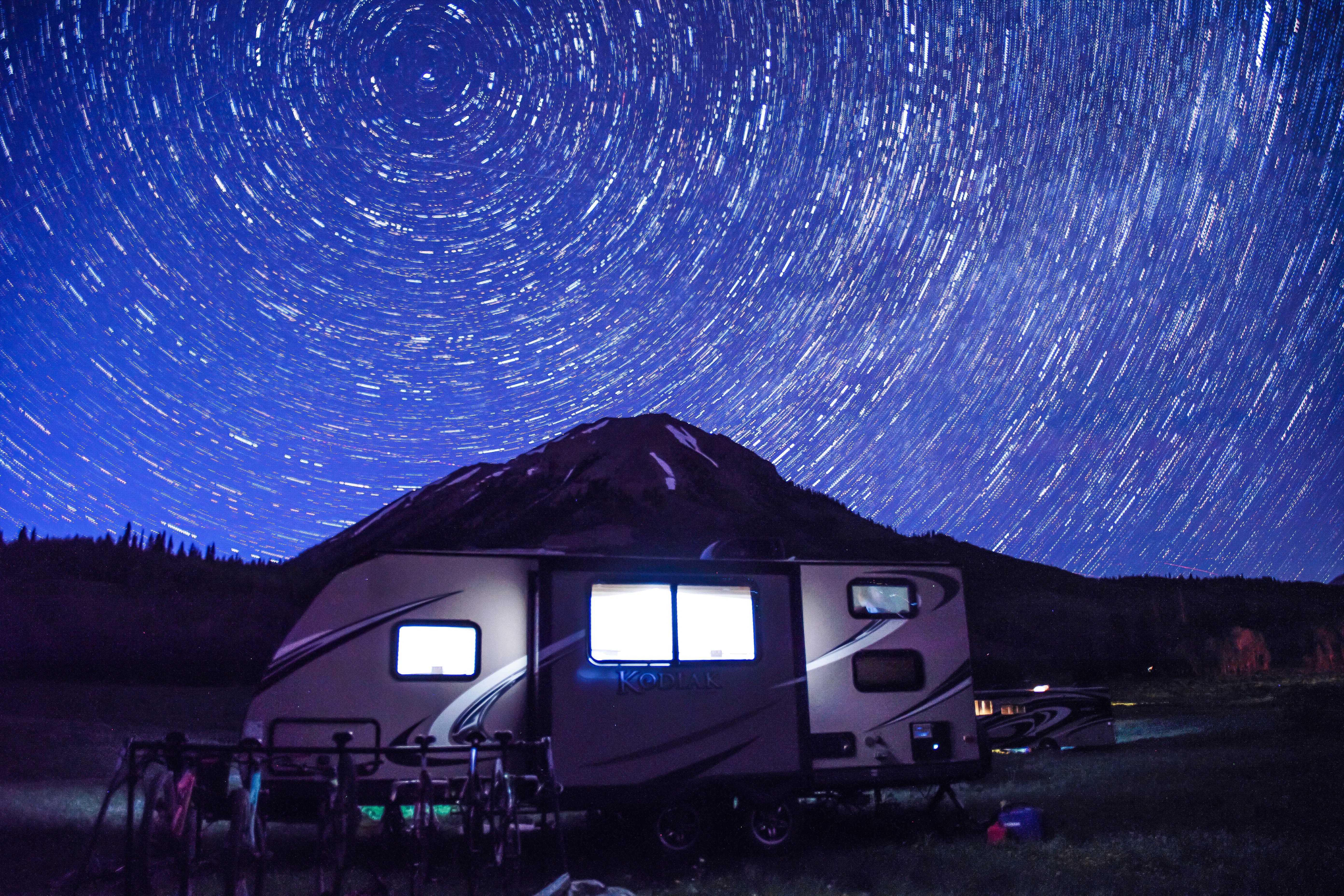 Where to Sleep – Crested Butte Lodging
Camping not your style? Here are your best bets for lodging in the town of Crested Butte.
Old Town Inn – Just as you arrive into CB you'll see the Old Town Inn on the left.  It makes a great home base for your adventures. The inn offers all the amenities of a traditional hotel, but feels more like a bed-and-breakfast or European inn, where guests are welcomed like family. They have a hearty Continental breakfast, home-made cookies and treats, and a hot tub to soak in.
Nordic Inn–  The staff members are all experienced bikers, skiers, snowboarders and outdoor enthusiasts which can be key for getting the latest intel on trails and trail conditions. Recent renovations combined with the charm of the original hotel make this mountain inn an unforgettable experience.
Elevation Hotel & Spa – Located at the base of Mt. Crested Butte this is a perfect location for mountain biking in Crested Butte at Evolution Bike Park or to use as a basecamp for riding 401, 403, Lupine and Snodgrass. They have a nice pool and spa area for relaxing and playing after your rides.
Airbnb in Crested Butte –
CB, like most mountain towns, has a good amount of Airbnb homes and condos in all prices ranges.
Where to Eat

Like any great mountain town, Crested Butte has a range of eateries. Old favorites and new places, healthy to indulgent, there is a wide variety of places to eat in Crested Butte. Here are a few spots to check out.
Teocalli Tamale: This is our go to burrito place after rides. Always fast, fresh and yummy. Space is tight for dining in but we usually find a table.
»Kid Friendly: There is no specific kid's menu but hey it's tacos.
Secret Stash Pizza: Secret Stash is a great place to enjoy some of the best pizza (crust is amazing!) and libations in town after an epic day on the bike. It's a casual, hip, mountain ski town atmosphere. For a fun drink check out the Stash Volcano Bowl. It's made for four… 48 ounces of "a bunch of booze mixed with tropical fruit juices served on fire."
»Kid Friendly: The new location is spacious with lots of room for families.
Third Bowl Ice Cream: I find myself here way too often when in town. They have daily custom flavors like blueberry pie or traditional flavors like dark chocolate. Some of the best homemade ice cream in the world!
»Kid Friendly: You bet!
Gas Cafe One Stop: I saved the best for last. Yes, the gas station makes breakfast and lunch. You must try the Hurley breakfast sandwich. Don't ask just order it. The burgers are also amazing and are made with local beef.
»Kid Friendly: Yes, they have french toast sticks for breakfast and video games in the gas station. There are several tables inside or you can get it to go and eat in the nearby park.
Public House: This is on the corner of 2nd and Elk. We stopped in for lunch one day and were impressed with the space, service and food. The prices are reasonable and they seem to use a lot of local ingredients and beer. They also have a great kid's menu.
Activities for Kids in Crested Butte
Crested Butte Bike Park:  From the smallest grom to the advanced dirt jumper this place will keep them busy and up their skills.
The CBMR Adventure Park  is where your groms can zipline, bungee jump, mini golf, and bag jump at the base of the mountain all summer long!
Rainbow Park: This is one of the best playgrounds for the kiddos and it provides amazing mountain views.
Skip Rocks/Play in the Water:  There are plenty of lakes and rivers to enjoy skipping rocks or taking a chilly dip. We like to ride bikes to the lower loop and play by the river or hike to an alpine lake like Meridian Lake.
Storywalk: The Lower Loop trail provides easy biking or walking, and a read along story to follow along the trail.
Bike Shops
Big Al's Bike Shop: Big Al's is small but mighty. They've turned around repairs for me in hours. They also have a good selection of clothes, gloves, nutrition and bikes for rent.  | (970) 349-0515
The Alpineer: The Alpineer is an all around mountain gear shop that focuses on bikes in the rear. I usually go there for non-cycling clothing but worth checking in if you need to rent a bike, get a repair or need mountain bike gear.
Other Resources
Chopwood Mercantile: Our favorite store in CB but also a wealth of information and inspiration for getting outdoors in CB.
Crested Butte Wildflower Festival