The best bike computers can provide you with a huge range of information and data to help you track your rides and work out where you're going, but choosing the right one can be a minefield full of jargon and confusion. 
Nowadays, even the best budget cycling computers can provide you with a lot of that useful information. They will all show your speed, distance and time, and many will include a GPS chip for navigation features, but naturally, the more you spend, the longer the list of features you get, as we proved when comparing cheap vs expensive bike computers. 
As you spend more, the basic navigation will be replaced with full-function on-device base maps for turn-by-turn directions and rerouting. This will also tend to come alongside a clearer display with custom layouts, and focused support on training. The best bike computers can also be paired with the best bike trainers. They can be linked up to a heart rate monitor, a power meter and even smart bike lights. They'll also pair with a smartphone to alert you to calls and texts while riding, let a chosen contacts know where you are, and send an alert if you have a crash.
The Cyclingnews tech team has had hands-on experience with every bike computer that we know exists. We've tested them for functionality, accuracy, ease of use, durability, battery life and more to find out which is best for everyone. In this buyer's guide, we've listed what we believe are the best bike computers available today, as well as guidance on the key points and specific features to consider when choosing the right bike computer for you. 
The best bike computers available today
Why you can trust Cyclingnews
Our expert reviewers spend hours testing and comparing products and services so you can choose the best for you. Find out more about how we test.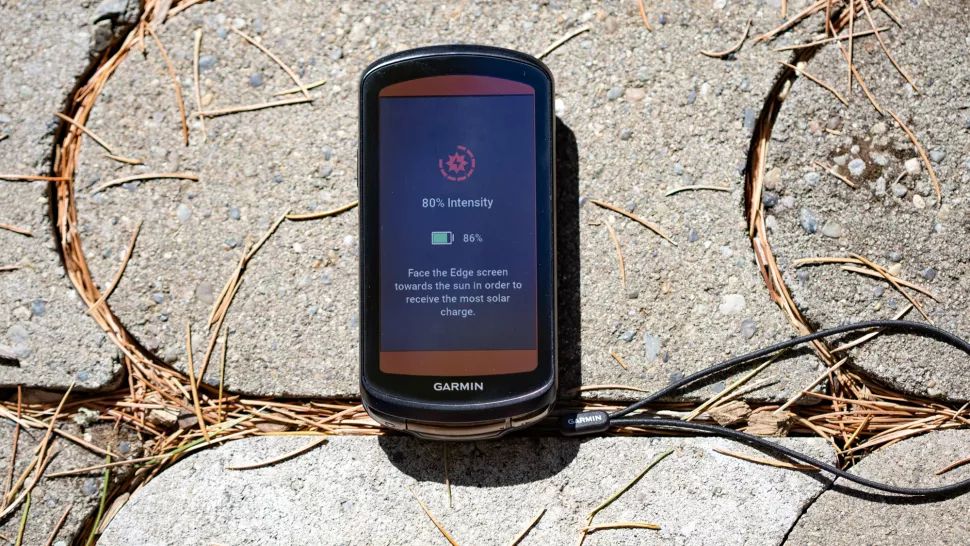 The Garmin Edge 1040 Solar's key feature is its solar power boost from its 3.5 inch colour touchscreen – the same size as the non-solar screen in the Edge 1030 Plus. 
That gives it a battery life of up to 45 hours between charges, so it's a great tool if you regularly ride long distances without the opportunity to recharge. You can boost that to 180 hours with full power saving and you can use the Garmin Charge external battery to extend that even further.
The 1040 Solar (and the non-solar 1040) can do everything that Garmin's lower-spec computers (Edge 1030 Plus and Edge 830) can, and more. Including GPS tracking, turn-by-turn navigation and rerouting, automatic Strava uploads, connection to the Garmin Connect IQ app store, and much more. 
Among its upgrades from those computers is multi-band GPS, which ups the Edge 1040's tracking stability and accuracy. You can set up ride profiles and change the data displayed via your smartphone too, rather than having to use the device's screen and there's better post-ride data visualisation. Garmin has also enhanced the training features, letting you drill down into your data and performance metrics, including an assessment of your training status and your cycling strengths. You also get a real-time assessment of your stamina as you ride and can get a power output guide to help you pace your efforts.
There's a non-solar option too with 35 hours of run time if you don't expect to need the extended battery life that the solar charging offers, or cant face the price.
Read our review of the Garmin Edge 1040 Solar if you fancy heading out into the wilderness for a long time.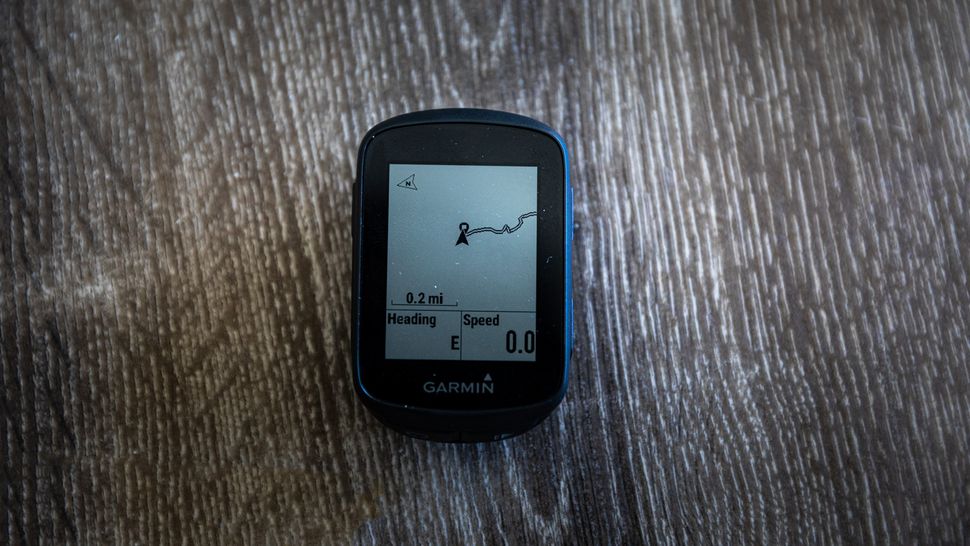 For its size, the Edge 130 Plus is brimming with features. The addition of the accelerometer, ClimbPro, and structured training is a marked improvement over the original (non 'Plus') Edge 130. It has all the connectivity you'd expect from a modern cycling computer and it gets you started in the Garmin ecosystem for less money. That means Garmin Connect access, and with it the training features that come included. It also means you can use it with the Garmin Varia rear light and radar system to up your safety levels.
When it comes to navigation, it does lack some features of higher-priced models. Unlike the Garmin 500 series Edge computers, the 130 Plus doesn't have a true understanding of the world around it. You can create a route, sync it to the unit and it will then help you follow them, but if you get off track or need to make a change, you'll have to figure that out on your own to get back on track.
Still, the Edge 130 Plus does offer a few unique features at this price point. Things like VO2 Max, a recovery calculator, and mountain bike dynamic metrics. If you are thinking about the Edge 130 Plus, it all comes down to what you're looking to achieve with a computer. It is very small on your bars but does a good job with simple navigation and after-the-ride data analysis. 
Read our review of the Garmin Edge 130 Plus for more details.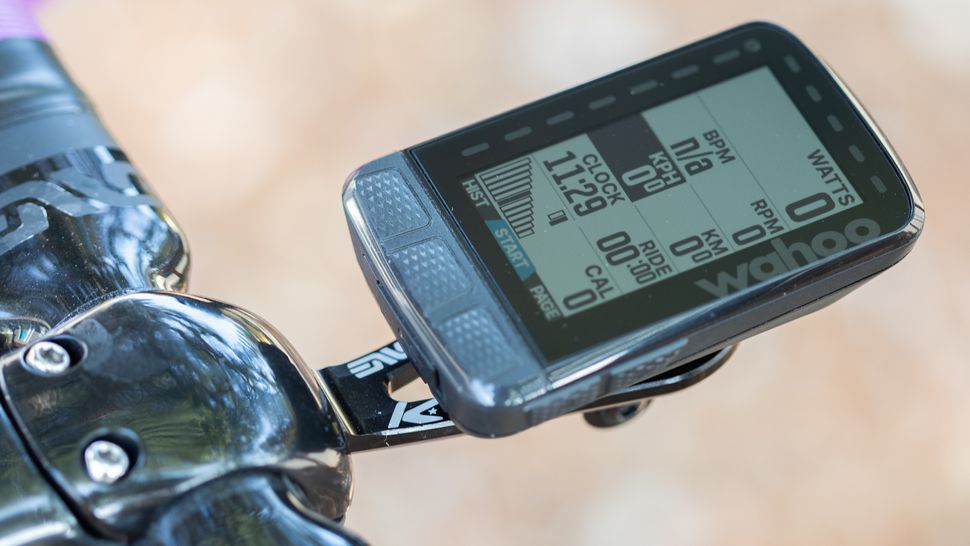 Version 2 (v2) of the Elemnt Roam uses the same shape and size as its predecessor, but upgrades to USB-C charging and a crisper, more colourful screen. It also has dual-band GPS chip (only the Garmin Edge 1040 models also have this). 
Our review of the new Elemnt Roam confirmed what we already knew; that the Elemnt Roam is the easiest computer to live with. Initial setup is all performed via a smartphone app, and it's really straightforward and quick. Once it's set up, rides will automatically upload to Strava and others, and routes or workouts will also sync immediately from most of the common route-building websites. 
That setup is the same as the Elemnt Bolt, but the larger screen and bigger battery life mean the Roam is just that little bit more user-friendly day-to-day. 
Regarding the battery, Wahoo claims it lasts 17 hours, and our testing suggests this is perfectly accurate. That isn't as long as some of the more expensive Garmin devices, but it's still among the best on the market, almost doubling the Hammerhead Karoo's performance.
The Wahoo Elemnt Roam v2 launched in September 2022. Wahoo isn't technically calling it 'v2', and given many retailers still have stock of the older 'v1', there may be some confusion as to which you're looking at when buying. If you're unsure, check for mentions of 'dual-band GPS' or '64-colour display' in the product description. If they're there, you're looking at v2.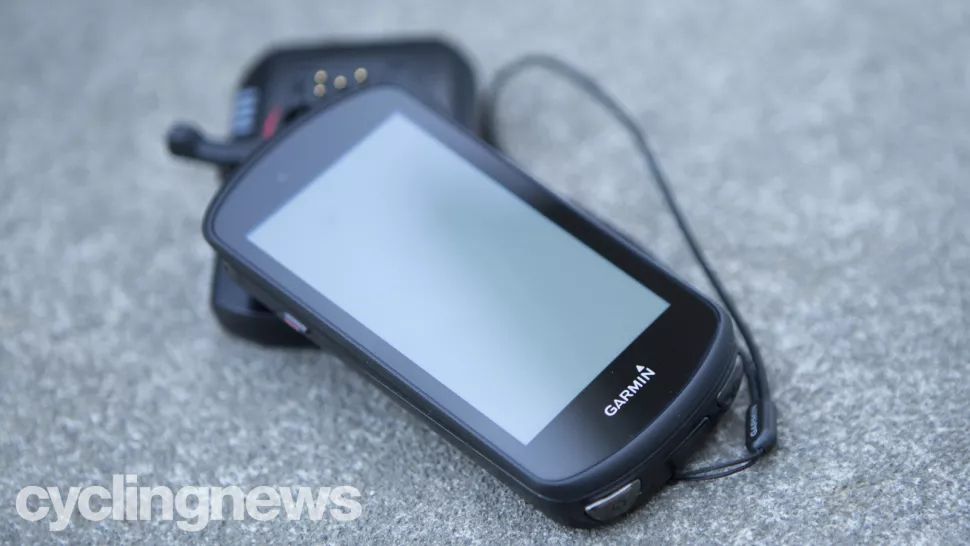 The 1030 Plus is big in both size and specification. It has exterior dimensions of 4.5in tall, 2.3in wide, and 0.8in thick, and its 3.5in display is both large and clear, making the on-device maps and data fields really easy to see. 
Features wise, the Garmin 1030 Plus has everything you'd expect from a top-end cycling computer: navigation, training data, connectivity to external sensors and apps, access to the Connect IQ appstore and much more. It can display as many metrics as you're ever likely to need. It supports both ANT+ and Bluetooth to connect to sensors, smartphones and Garmin's smartwatches, as well as WiFi for immediate uploads to third party apps like Strava.
In our testing, we were incredibly impressed with the battery life. We actually managed to get a little more than Garmin's claimed 24 hours without resorting to switching off the screen or unpairing sensors. We also found that the setup, connectivity and synchronisation with apps was flawless, which suggests that the software bugs that previously plagued Garmin devices have finally been ironed out. 
Our Garmin Edge 1030 Plus review covers things in a lot more detail if you're curious.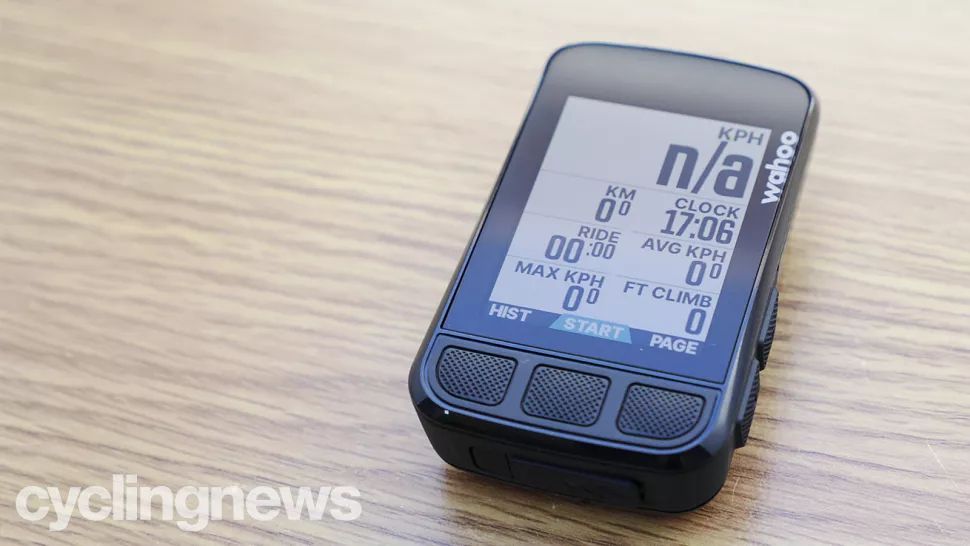 The Wahoo Elemnt Bolt is similar to the Roam, but with a smaller, aerodynamic body, a slightly shorter 15-hour battery and half the memory capacity at 16gb. 
Setup and most adjustments are performed via a companion app, which is a streamlined and intuitive process that means the overall ease of use is unrivalled by other brands. It works flawlessly, but it's worth noting that getting your phone out mid-ride to change data fields is laborious compared to the press-hold-change that you get with Hammerhead and Garmin. 
We found that the device's 16GB of internal memory was more than enough space for preloaded maps – this writer has the whole of the UK, Spain and Belgium currently downloaded, taking up less than 10 per cent of the available space. Using these maps, the Bolt offers real-time on-device navigation and rerouting, which prove useful in the case of a wrong turn. 
Connectivity to the Wahoo app and third-party navigation tools like Strava, Komoot and RideWithGPS are seamless, and with its 64-colour display, the Bolt's maps are among the clearest and most concise in terms of exactly what is displayed, beaten only by Hammerhead in our opinion. However, the 2.2in screen is a bit too small, so if you use it a lot, you'll probably prefer the bigger Roam. 
The Elemnt Bolt features pretty much every training metric you're likely to need, support for both ANT+ and Bluetooth, as well as WiFi. It will seamlessly sync your chosen third-party apps when it gets a WiFi signal, so downloading routes/workouts and uploading rides is automatic. 
Our review of the Wahoo Elemnt Bolt will fill you in on all the extra info you may need before committing to the system.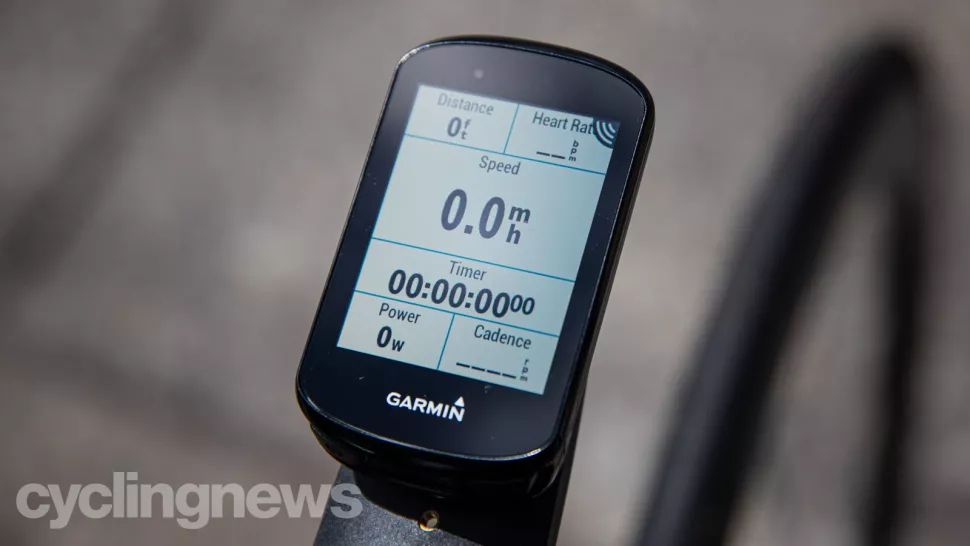 The Garmin Edge 830 offers the same plethora of training metrics and mapping features as the Edge 1030 Plus, but in a smaller, cheaper package that will appeal to many. 
The smaller size means a smaller 2.6in display, which in our experience is still enough for everyday use and a smaller battery which we found to last around 18 hours between charges. Of course, the smaller size also means a 42g reduction in weight and, perhaps the most appealing difference, a lower price.  
The Edge 830 has access to GPS, Glonass and Galileo satellite networks, as well as a massive range of inbuilt metrics, so it can track everything from your speed, time and distance to the more niche data like MTB 'flow' and climbing VAM. That's before you add extra sensors like power meters, heart rate monitors and blood glucose sensors. 
Like other Garmin devices, it uses the Garmin Connect app for connection to smartphones and third-party apps. It also means there's an entire Garmin eco-system for it to slot into, so you can easily link it with your Garmin smartwatch, Varia radar, lights and more, but it also plays nicely with other brands' sensors too. 
Want to know more? Read our in-depth review of the Garmin Edge 830.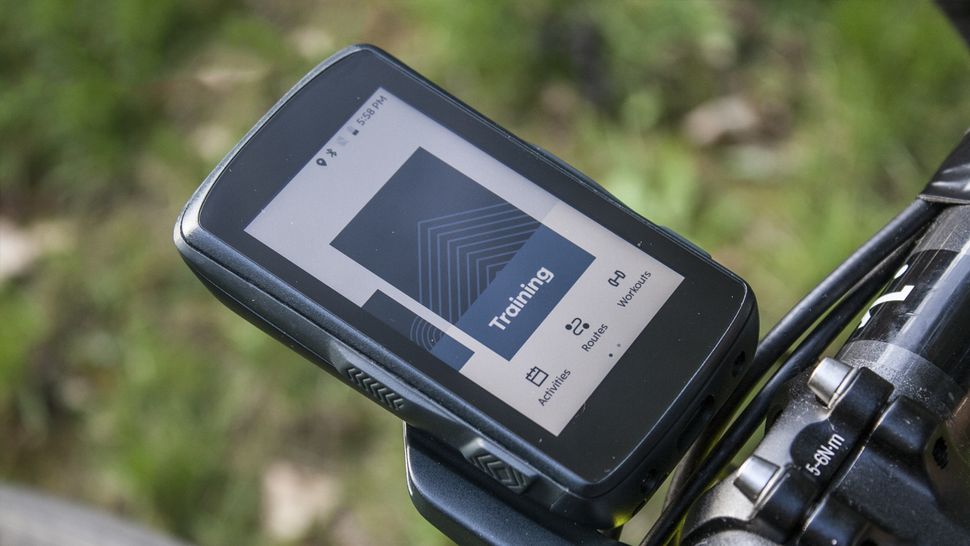 The Hammerhead Karoo 2 boasts what is easily the best touchscreen available to cycling computers right now, making it more like a smartphone than any other device. It has a high-definition 3.2in scratch-resistant screen that's accurate and responsive, but the device can also be navigated entirely with buttons, which is useful when the rain comes teeming down. 
The display is bright, concise and easy to view, despite the device being 40 per cent smaller than the original model. It's also 33 per cent lighter, tipping the scales at just 125g. 
In our tests, we've managed an average of around 10 hours between charges, so battery life isn't quite as comprehensive as some of the competition, but it's still more than enough for most rides. The unit is mounted with the brand's own system: a 'linear-lock' that ensures it stays planted and balanced while in use, although a Garmin quarter-turn mount adaptor is included too, to save you from having to upgrade your existing mounts.
There's no companion app, but the set-up is completed via a webpage that can be accessed on mobile, (we've saved the webpage as a shortcut on our smartphone and it works the same). Like all of the best bike computers, the menu structure takes a while to get used to, but once you're familiar with the menu layout, it's easy and intuitive to navigate. 
Find out how the Hammerhead Karoo 2 earned its spot on our list.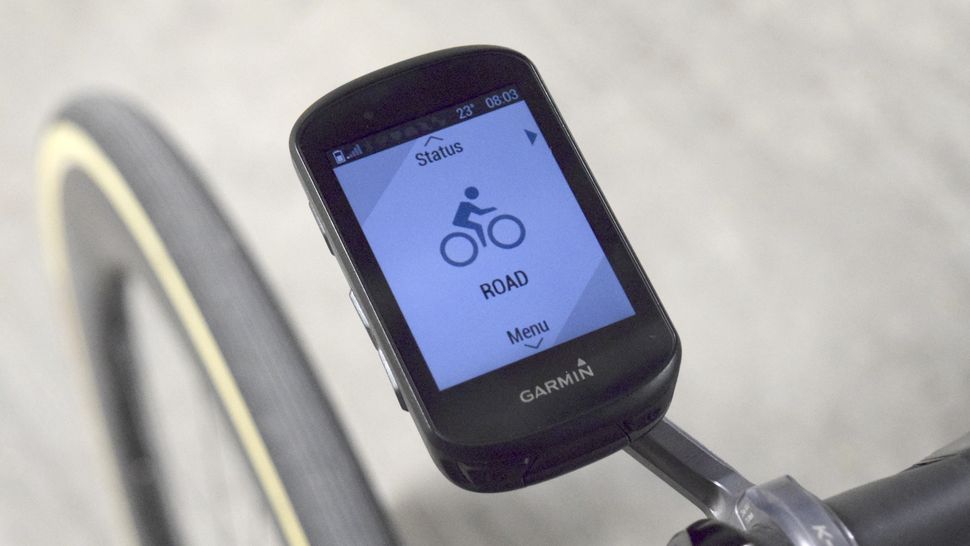 If you're sold on Garmin cycling computers but prefer the tactile feel of button pushes, the 530 is the brand's best option, it offers the same list of features as the 830 and 1030 Plus but saves some money by ditching the touchscreen technology. 
It's priced similarly to the Wahoo Elemnt Bolt, which has a slightly smaller but higher resolution screen, but while the Bolt relies on the companion app for all of its adjustments and setup, almost all settings can be accessed on the Edge 530 device itself. Like the Bolt, the lack of a touchscreen does make for labour-intensive map browsing, but a slightly larger screen does mean it's a little easier to find where you're going whilst riding. 
With both Garmin Cycle Maps and Trail Forks pre-installed on the Edge 530, whether on the road or trail, it can help you find your way. The Edge 530 also gets access to the Garmin Connect IQ store, meaning you can add apps like Komoot, download data fields, and pull workouts from TrainerRoad or Training Peaks.
Read more in our in-depth review of the Garmin Edge 530.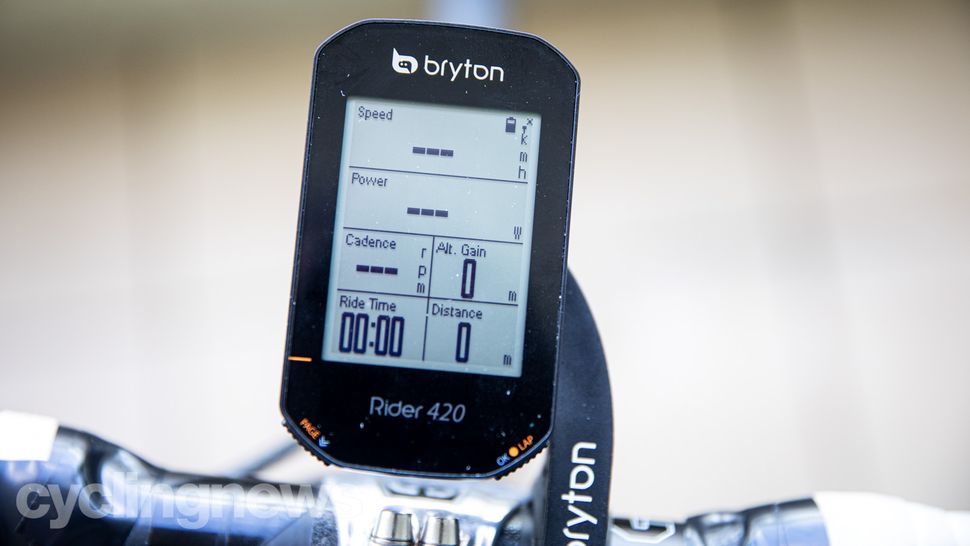 In our experience, Bryton bike computers come with a bit of a learning curve and aren't the most user-friendly units on the market, but once you're used to them, what they do offer is serious bang for your buck.
With a companion app, you can create yourself a route and sync it to your unit for breadcrumb-style routing. There's support for ANT+ and Bluetooth sensors, 77 functions and a claimed 35 hours of battery life. 
The Rider 420 also allows for workouts to be exported from TrainingPeaks directly through the device, auto-sync to third-party training software, and allows for the screens and data fields to be set up through the companion smartphone app.
If you're someone who follows routes often, the Rider 420 might not be the best for you, but if you're after lots of functions at a small price, look no further. 
Read more in our full review of the Bryton Rider 420.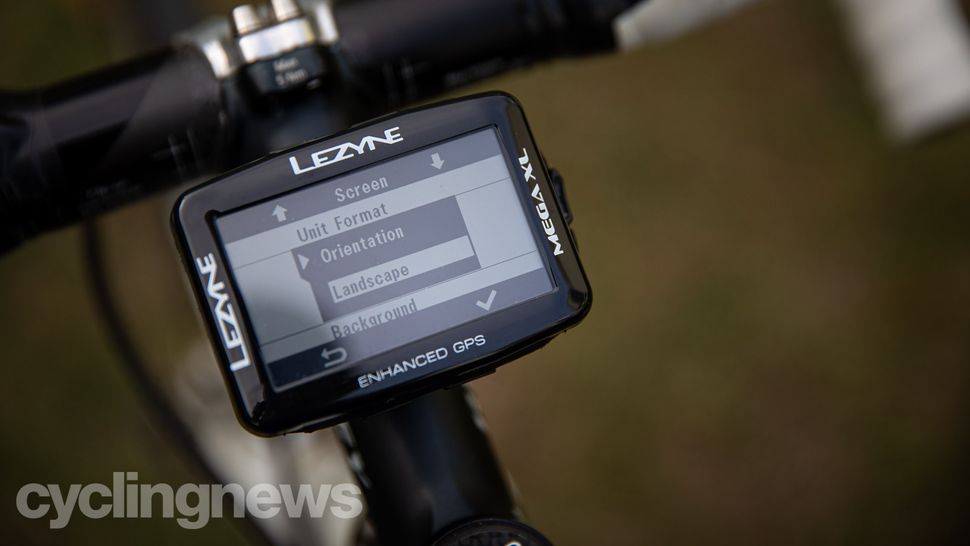 The Mega XL launched back in 2018, but despite its age, we still haven't found a cycling computer that offers this much functionality for the money.
Using a non-touch monochrome screen, the Mega XL boasts a battery life of 48-hours, which we were able to verify in testing, only needing to charge it once in a three month test period. It supports ANT+ sensors including power meters and can store up to 800 hours of ride data. The companion app handles the connection to apps and automatically pushes ride data to Strava, Training Peaks or Today's Plan.
It's worth highlighting that the design and functionality is a little dated. Its screen is monochrome, for example, and the data transfer for maps and workouts can be pretty slow, but that's a small price to pay given the price difference compared to some of the competition. 
It can also help you chase Strava KOM / QOM's with Live Segments, let you know who's calling you during your ride with on-screen notifications, and offers electronic drivetrain integration through ANT+.
The Mega XL does offer turn-by-turn breadcrumb navigation and even in-activity re-routing, but it doesn't come with pre-installed base maps, so you'll need to use the Lezyne desktop app or phone to download 'offline maps'.
Read our in-depth review of the Lezyne Mega XL.
Swipe to scroll horizontally
Specification comparison at a glance

| | Connectivity | Companion app | Navigation | Battery life | Colour screen | Screen size | Touchscreen |
| --- | --- | --- | --- | --- | --- | --- | --- |
| Garmin Edge 1040 Solar | ANT+, Bluetooth, WiFi | Yes | Garmin Cycle Maps | 45 hours (solar), 35 hours (non-solar) | Yes | 3.5in / 89mm | Yes |
| Garmin Edge 130 Plus | ANT+, Bluetooth | Yes | Breadcrumb | 12 hours | No | 1.8in / 45mm | No |
| Wahoo Elemnt Roam V2 | ANT+, Bluetooth Smart, WiFi | Yes | OpenStreet Map | 17Hours | Yes | 2.7in / 69mm | No |
| Garmin Edge 1030 Plus | ANT+, Bluetooth, WiFi | Yes | Garmin Cycle Maps | 24 Hours | Yes | 3.5in / 89mm | Yes |
| Wahoo Elemnt Bolt | ANT+, Bluetooth, WiFi | Yes | OpenStreet Map | 15 Hours | Yes | 2.2in / 56mm | No |
| Garmin Edge 830 | ANT+, Bluetooth, WiFi | Yes | Garmin Cycle Maps | 20 Hours | Yes | 2.6in / 66mm | Yes |
| Hammerhead Karoo 2 | ANT+, Bluetooth, WiFi, cellular | No | OpenStreet Map | 12 Hours | Yes | 3.2in / 82mm | Yes (button nav too) |
| Garmin Edge 530 | ANT+, Bluetooth, WiFi | Yes | Garmin Cycle Maps | 20 Hours | Yes | 2.6in / 66mm | No |
| Bryton Rider 420 | ANT+, Bluetooth | Yes | Breadcrumb | 35 Hours | No | 2.3in / 58mm | No |
| Lezyne Mega XL | ANT+, Bluetooth | Yes | Breadcrumb, downloadable offline maps | 48 Hours | No | 2.7in / 69mm | No |
How to choose the best bike computer for your needs
If your considering treating yourself to a new bike computer there are two main points to consider: Firstly, how much do you want to spend and secondly, do you think you will want to use your computer to do a lot of navigating. 
If you don't need to use many map functions on your computer, you can potentially save yourself some money and buy a unit that focuses more on delivering key data such as ride time, speed, distance, averages etc whilst also having the capability to pair to things like HR monitors and power meters. If you want to do a lot of navigating and route following on your computer you may need something with a larger memory for more maps and more inbuilt GPS and navigational aids as well as the ability to link with third-party route planning apps.
What do you get in a cycling computer?
Or more importantly, what do you want?
If all you want to know is how far and how fast you've ridden, a basic cycling computer will give you that. If it has a GPS chip, it will also provide you with a map record of where you've been and help you navigate a route. 
Many of the best cycling apps will let you do all this on your smartphone, while the best cycling watches even provide a lot of the functionality of more advanced bike computers, as well as monitoring your fitness and health off-bike, so you may not even need a cycling computer.
On the other hand, a cycling computer will probably be more weatherproof than a smartphone and easier to mount to your bike. It will also be easier to read as you ride than a smartwatch.
More expensive cycling computers will give you a lot more training-related functionality, so if you're looking to up your cycling game, maybe by also purchasing a power meter and heart rate monitor to record your performance, a more advanced computer will be able to do that.
How easy are cycling computers to set up?
Setting up and configuring your cycling computer has, in general, got a lot easier with newer devices. Manufacturers make it easy for you to get out and ride, but give you more complex configuration options if you need them, often via a smartphone app.
Most of the best bike computers use a standard playbook where a widget guides you through setting up data like your language, height, weight and age and other user data. The computer will usually prompt you to download the latest software version, and if it has a base map, the newest update for your geographic region. 
Most cycling computers can be paired with the maker's smartphone app and link the two devices. Often, set-up is performed on the phone rather than on the device itself, making for easier interaction.
How much should I spend on a cycling computer?
Just like anything else in cycling, trying to figure out which bike computer will fall within your budget constraints while offering the features you prioritise can be a tall order.
Depending on how much money you have to spend, your GPS computer may have base maps, interval timers, in-depth power metrics, a colour touchscreen and more connectivity than you can shake a stick at, or it might be a simple, compact unit with a black and white display and basic training metrics.
If you have a hard budget, then you may need to compromise on some features. Conversely, if you have a prerequisite list of features, then make a checklist and see which of the best cycling computers meets those requirements, then weigh up the decision with price as one of the deciding factors. 
What makes the best bike computer for navigation?
Most bike computers feature a GPS chip, as well as access to other satellite networks like GLONASS, BeiDou, and Galileo, and nearly all of the best bike computers on this list offer some form of navigation. Many also have a base map pre-installed which allows for turn-by-turn directions, on-the-fly redirection and some allow you to create routes and courses directly on the device.
More budget-friendly head units won't have a base map, but may still offer what's called 'breadcrumb' navigation, where the head unit will display your route as a line that you're meant to follow.
If you're the type who likes to load up a route in advance and follow it, then look for a device that offers seamless route integration. You might prefer to get your route from Strava, TrailForks, Komoot, RideWithGPS or others. Check in advance to see what third-party integrations your chosen cycling computer offers so that loading routes onto your device will be seamless. 
However, if you're the type who likes to get out there and just explore, then you may want something with a large screen and a clear, concise map that's easy to comprehend whilst you're moving. The last thing you want to do whilst exploring is keep stopping to check where you are. 
Alternatively, you might know all your local routes and not care much for exploring. If that's the case, then mapping features probably won't be high on the priority list, and in which case, focus on something that can provide the data fields – speed, distance, time, power, etc – you want to be displayed. 
Do I need a touchscreen cycling computer?
Among the best bike computers, there's a good balance of touchscreen and non-touchscreen devices, and both have their merits and their pitfalls, which will depend on what, where, and when you ride. 
There's no doubt that a touchscreen device is more easy and intuitive to navigate, as you can easily swipe to browse around a map or pinch to zoom in and out. However, if your riding is often in deep winter and you're wearing thick gloves, your dexterity to swipe through pages in such a way will be hampered and buttons might actually make life easier. Also, if you only ever ride on roads you're familiar with, then will you ever need to browse a map anyway? Look at the type of riding you do and ask yourself what you need most. 
The same goes for colour displays. They're nice to have, but they will invariably add to the price, and outside of mapping they don't add much beyond a nicer aesthetic. 
How much battery life should I look for?
How long your cycling computer's battery lasts will dictate how long you can enjoy being out on your bike, especially if you're relying on it for navigation or training data. 
Generally, the best cycling computers will have a battery life of around 15-20 hours when used conservatively, but this will be reduced if you're pairing it to numerous sensors or following navigation for hours at a time. Not too many of us will be riding for 15 hours straight, so a shorter battery life probably won't cause any issues whilst riding, but it will mean you need to remember to charge it more frequently. 
So to answer the question, look for enough battery life to comfortably cover the duration of your longest rides, then consider the time between charging, if ever you find yourself riding multi-day trips without a power source. 
Does a cycling computer need Bluetooth and ANT+ connectivity?
Every cycling head unit on the market will give you data fields like speed, distance, and time. Even many of the best budget cycling computers will support an ANT+ or Bluetooth connection to a heart rate monitor plus speed and cadence sensors. 
Most cycling computers work with both, and some devices also connect to your home WiFi network, seamlessly uploading your ride to Strava before you've taken your helmet and sunglasses off.
How do cycling computers connect to third-party apps?
Apps like Komoot, Strava, Today's Plan, Training Peaks and TrainerRoad are super useful additions to your ride, allowing you to download routes and workouts, and then upload your ride so you can analyse it afterwards. Having a cycling computer that connects to them will streamline the process of uploading or downloading the required data. 
To connect to these apps, your cycling computer will use one of two methods. Either it will connect to your smartphone via Bluetooth, and a companion app will allow the integration with the third party. Or it will connect to WiFi and speak directly to the third party server (after an initial setup). 
However, not all computers will connect with all apps, so check with the manufacturer before you buy. Just because your computer has WiFi or Bluetooth, it doesn't mean the brand has built the software that enables it to connect. 
What features can I expect in an entry-level bike computer?
As you probably expected, the more money you spend on a cycling computer, the greater number of features you're likely to get. At the very budget end of the spectrum, cycling computers will work using a magnet attached to a spoke and a sensor attached to the fork. This counts the number of times the wheel rotates and uses this to calculate the distance. At this price point, many of these sensors will use a wire to connect the sensor to the computer itself, but some will use Bluetooth and remove the wire. 
Manufacturers prioritise small size, low weight and ease of use, and it will often track basic metrics such as speed, distance and time. Rarely will such a device provide any form of maps or navigation, and the screen will often be devoid of any colour.
Battery life at this point is usually measured in months, rather than hours, since the feature list is so small, the power usage is low. As a result, many are operated by coin cell batteries, rather than rechargeable Lithium-Ion batteries. 
What features can I expect in an mid-level bike computer?
At the mid-tier price point, cycling computers begin to see the inclusion of a GPS chip, which means it can track your route and allow you to upload your ride to third party apps like Strava. Some also get on-device navigation, usually via a 'breadcrumb' trail, rather than full-blown on-device map databases. They often also see Bluetooth and ANT+, meaning they can connect to smartphones and sensors, although some devices limit what sort of sensor they can connect to. 
The device itself will often be slightly bigger, meaning room for more data on display at any one time, and more room for a larger battery – which is almost always USB rechargeable – to handle the increased processing power. 
It's at this pricepoint that manufacturers often trade features for cost savings, so while some might be given full sensor compatibility, that might be at the expense of mapping or colour, and a competitor might offer the colour screen and mapping at the expense of sensors. It's at this price point that you will need to spend the most time prioritising what' features are most important to you. 
What features can I expect in an top-level bike computer?
As with most things, when you start to spend the big bucks, you have to make the fewest concessions, and the best bike computers are regularly accompanied with comprehensive feature lists and complete connectivity. 
The more features you add, the more expensive the unit is likely to be. At the most basic level you will get a rain proof display with speed, distance, and time. From there, things will build along with the price. Available options include, a colour screen, on-device navigation, turb-by-turn directions, compatibility with Bluetooth and ANT+ sensors, WiFi connectivity, and automatic synchronisation with third parties such as Strava, Training Peaks and Komoot. Many devices will also come with a barometric altimeter, the ability to display detailed training metrics and the ability to adjust the fields displayed to match your requirements. 
All those features will also come with a battery life expectancy. Built in rechargeable batteries are the only option so make sure if you plan to go for longer than 8-9 hours you've got a sense of how long you can expect from your computer and what to do when it gets low. You can charge the best cycling computers while riding but only Garmin has an option that's impervious to rain. When it comes to the built-in batteries, the range is vast covering anything from 10-40 hours. 
What are the alternatives to a bike computer?
Not everyone needs a dedicated standalone bike computer, we get that. Luckily, it's possible to get many of the same features in other devices.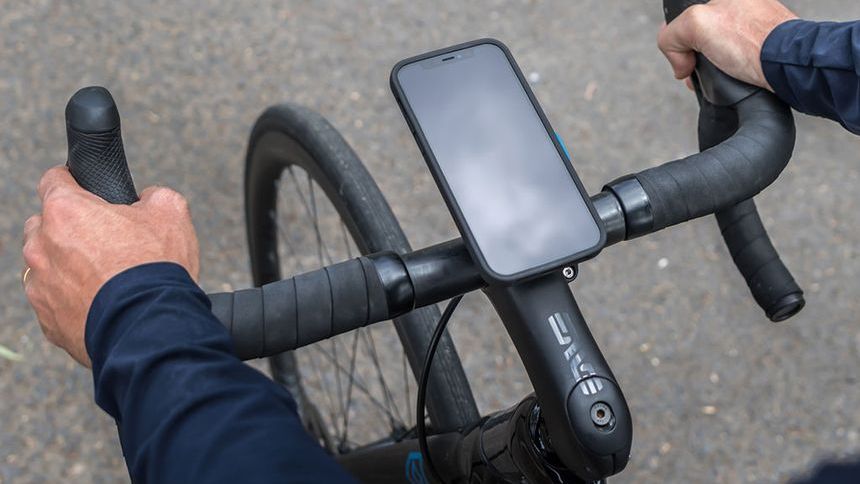 The obvious one that most of us already own is a smartphone, and with the help of a QuadLock mount, you can typically mount your phone to your handlebars safely, and a multitude of apps will track your ride. Just make sure that your phone is waterproof. Also, if you crash, it could be a costly repair as phones are typically more expensive than most of the best bike computers.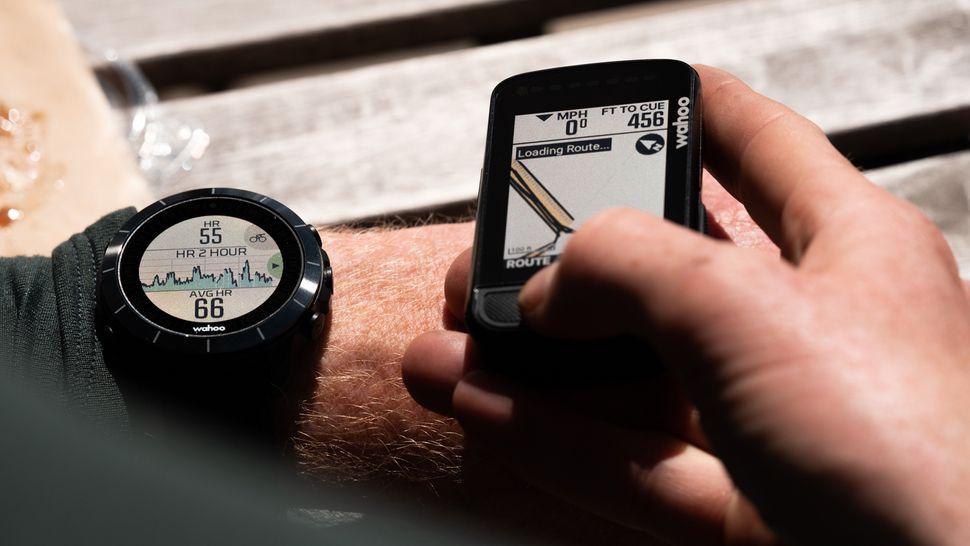 A smart watch is the other solution. Most modern watches offer the ability to connect to all the same sensors as a computer, but instead of mounting it to your bars, you wear it on your wrist. This is a favoured option by triathletes, as it also tracks run and swim metrics and is one less thing to think about in transition, but could offer a solution to cyclists who want a little more value for their investment. While a computer is put away between rides, a smart watch can continue to be used off the bike too. 
How do we test cycling computers?
The team here at Cyclingnews is a group of dedicated cyclists. We spend most of our time riding bikes and we are constantly testing new gear. We spend time racing, training, and exploring both on paved roads, and on roads that are a bit rougher and where navigation is at its trickiest. We go out before dawn and after sunset. We test during the summer, the winter, the rain, and we put things to the test in whatever way we think will be best for the specific product. 
For this collection of the best cycling computers, the team has put them through their paces as well as pulled from their collective 20 years worth of experience. There are brands here that make multiple appearances because they offer a wide range of options. We've spent time with this stuff and we are presenting what we think are the best options out there for a wide range of different riders. 
Each unit has gone through the same rigorous testing process. We weigh each device and set it up to ascertain how intuitive the page customisation process is versus the competition – this should never be too complicated. Once that is sorted, we look at the metric tracking performance in detail, and test how each device interacts with its native app as well as third-party apps such as TrainingPeaks and Strava.
An important part of the testing procedure is navigational performance, and this is conducted on a standardised test route taking in both urban roads and off-road paths. This allows us to benchmark each device against one another thanks to the repeatable nature of the test route. While performance testing is often done with multiple cycling computers affixed to our handlebars at the same time, navigational testing is carried out back-to-back in isolation.