As 2022 ticks over into 2023, many of the teams in the WorldTour and beyond are currently trying to get to grips with new equipment as teams change sponsors and allegiances alter. One such team is French WorldTour outfit Cofidis, whose off season has seen a transition from De Rosa to their French compatriots at Look. 
The transition starts with a shipment of bikes and an enormous amount of work for mechanics. Team Jumbo Visma recently admitted that their work began in late October just to swap 180 bikes' groupsets from Shimano to Sram. Spare a thought for Cofidis mechanics then, whose last few months will have been spent getting to grips with a bike that technically doesn't yet exist, and building a likely-similar number of them for the Cofidis team. 
The bike in question is yet to be released by Look, however, various riders have leaked it – probably accidentally-on-purpose – onto their social media feeds, including Simon Geschke, Rachel Neylan, and the Team Cofidis Instagram account (opens in new tab) itself. 
Thanks to the quite-clear images, we've got a pretty clear view of what this new-look Look looks like. It looks good.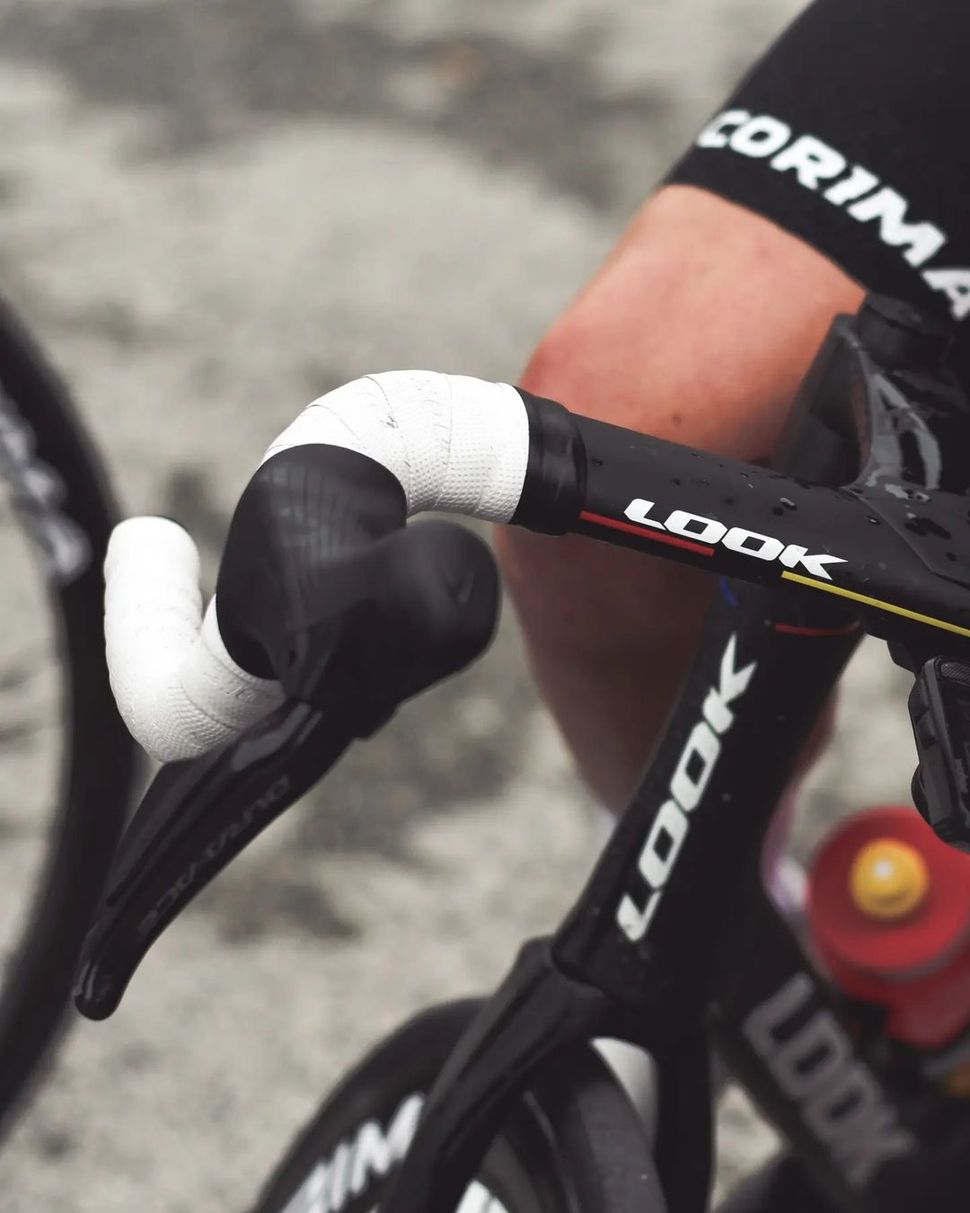 What we can tell
Firstly, this is probably best pigeonholed into the 'aero all-rounder' category. It's not a pure aero bike like the Trek Madone or the Cannondale Systemsix, but there are certainly aero cues, including a reasonably deep head tube, a seat tube that wraps around the rear wheel a little, and bladed seat stays that, like most bikes nowadays, join lower than the top tube. Besides the 796 Monoblade time trial bike, this is actually the only bike in the Look range that uses this now-common feature of road bike design. 
Talking of commonality, the dropped seat stays are just one of many features here that could have easily been pulled straight from the Big Book of Modern Road Bike Design. Firstly, such is ubiquitous in the WorldTour now, this is a disc brake bike, and is fitted with Shimano's Dura-Ace R9200 Di2 groupset. Up front, the bar and stem look to be a one-piece affair – albeit with an unusual shaping at the junction – complete with totally integrated cabling and a centrally-mounted out-front computer mount. There's also what appears to be a D-shaped seatpost, held in place with a wedge that's accessed from in front on the upper side of the top tube.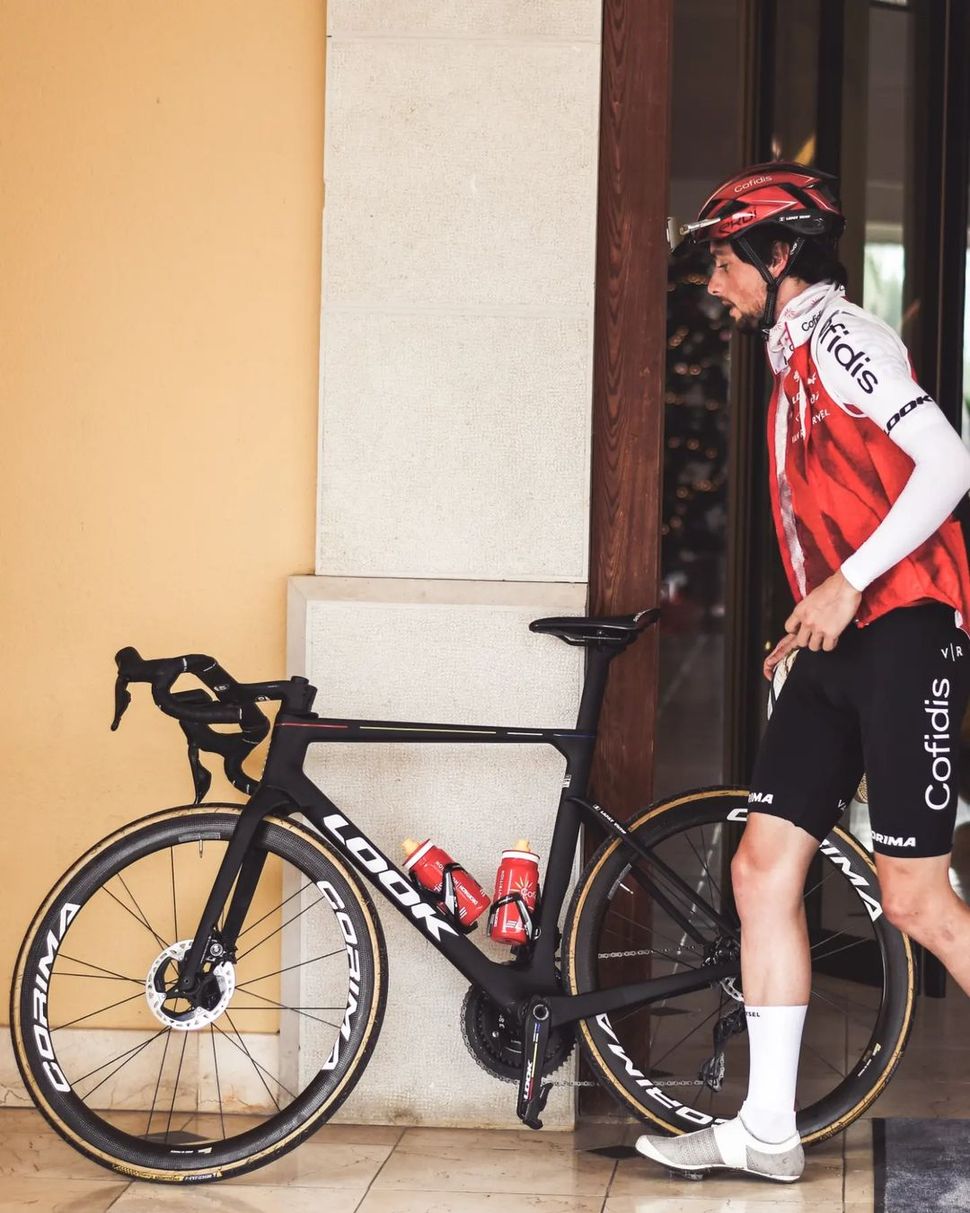 Further south, as shown by this photo on the non drive side, it's also possible to see the bottom bracket, and by all accounts it appears that this new Look will have a fairly beefy bottom bracket junction, no doubt in a bid to add stiffness and power transfer. 
What we can't tell
They say a picture is worth a thousand words, but unfortunately, that doesn't seem to ring true in all cases, because we're at around 500 words so far and we're already starting to run out of features we can fathom. Instead, here's what remains unconfirmed. 
Firstly, we don't know if the bottom bracket is press-fit or threaded. The SRM Origin 9 crank-based power meter fitted here is available in both guises, and therefore, it gives us no clues.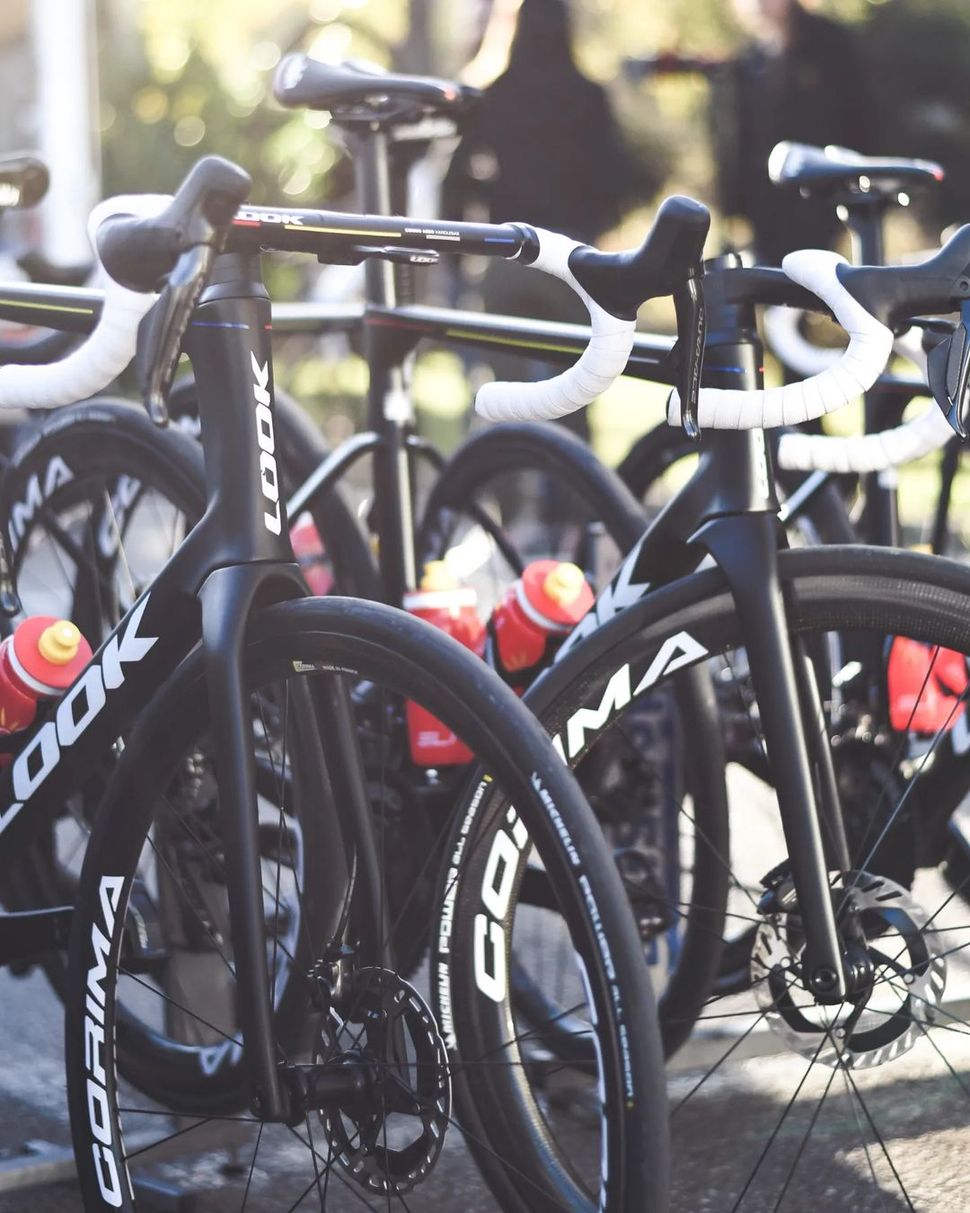 We're also unable to tell the tyre clearance; the Michelin Power All Season seen fitted here to the bike are available in 23, 25 or 28c, and we don't know which they have fitted. From this angle, it looks as though there's a good amount of clearance, but without knowing the tyre size, we can't easily judge the total clearance. Still, it would be a faux pas for the bike not to be in the ballpark set by other brands, and that would put it somewhere between 28 and 32mm. 
The other thing we don't know from the images alone is what the bike will be called exactly. None of the photos available features a model name, and the UCI list of approved frames and forks (opens in new tab) is devoid of any new launches from the French brand. Both the 795 Blade RS aero bike and the 785 Huez lightweight bike were last updated five years ago, so are both realistically due for an upgrade. 
Given this bike straddles the two categories, we can't be sure which bike Look is looking to replace, if indeed not both of them at once, as Specialized did to the Tarmac Sl6 and Venge when launching the Tarmac SL7. 
However, just like with our recent story covering the leaked Cannondale SuperSix Evo 4, this bike is already painted in team colours and looks set to race, so we expect we'll know the answers to our questions very soon.