Chloe Hosking is sitting in the shade of a small rotunda on the sidelines of the Bay Crits in Australia, discussing how, as one of the nation's most successful cyclist in recent times, she is facing up to the start of 2023 with her career in tatters after the collapse of the women's B&B Hotels team.
"Of course I've had setbacks, but I alway feel like I am a person that does well when my back is against the wall but maybe this is just one too many times," Hosking told Cyclingnews.
The 32-year-old is composed but clearly frustrated, and feeling the injustice of the situation she has been placed in after battling so hard to get established, to make her own way over to Europe and win major races. 
Hosking has amassed around 40 professional victories, including victory on the Champs-Elysees at La Course and a gold medal for Australia at Commonwealth Games. She felt there were more successes to come.
When Hosking decided to sign with B&B Hotels, having heard about the outfit from Trek-Segafredo teammate Audrey Cordon-Ragot, it seemed like the ideal place to settle for the next two years. Her last in the peloton, she expected, as she contemplated the pathway to retirement from professional cycling and the beginning of a new chapter, with a communications degree already under the belt and a law degree one semester away from completion. 
"It seemed like a good fit, a nice progression, to do the last two years of my career in a team that would do the Tour de France, do the races that I love, but where I would also have that opportunity to help grow women's cycling," Hosking said.
"So it's kind of ironic that it just fell on its face. It's really disappointing how the whole situation was handled. There's still a lot of questions to be answered and I hope the people who are responsible for it are held accountable."
Hosking, of course, wasn't the only rider caught by the sudden collapse with Mark Cavendish and Cordon-Ragot also wound up in the debacle. Questions were first raised when the scheduled team presentation was hastily cancelled on October 24.
"We were continuously being told it's fine, we were having meetings with sponsors, we were getting emails from head mechanics about the training camp, about bikes and everything," said Hosking. 
"So when you're getting all this information, you're like, 'well, what do I believe and what should I do?'
"For me, one of the difficult things is I was told after the fact that other riders had been told to leave. Why wasn't that information shared with everybody involved in the situation? So you can make an informed decision at an earlier date rather than the sixth for December?"
It was with only three weeks left till the start of the new season that Hosking's carefully laid plans crumbled, leaving her three weeks to salvage a career that had taken so many years to build.
"It's not like when the team folded, I just threw my hands up in the air and said, OK, well, career over," said Hosking. 
"Yeah, I've searched, but I'm also aware of what I can bring to a team and what I feel my value is. And I'm not willing to essentially race in Europe for free.
"I've surpassed that point of my career, I think. And something that's really important to me is that women realise their worth and they don't settle for less. I don't feel like I'd be being true to myself if I went back and did that. I can understand why a 21-, 22-, 23-year-old would do it but I'm not there for opportunities; I'm there to win races and I'm there to help mentor other riders. If that's not something that I'm is available to me at the moment, then maybe I need to start opening other doors."
Yet Hosking is not quite at that point of having to make a final decision just yet.
What now?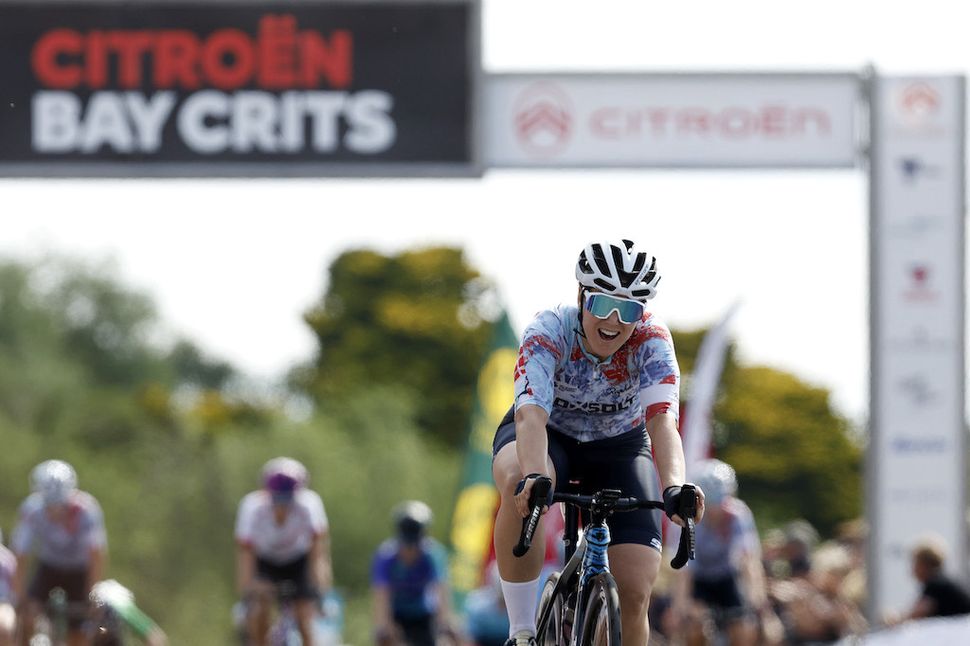 Hosking may not have a professional team for 2023 but Australian domestic squad Roxsolt Liv SRAM have stepped in and offered her a home for the Citroën Bay Crits, AusCycling Road National Championships and perhaps even beyond. 
The team isn't racing the Tour Down Under or Cadel Evans Great Ocean Road Race, but she may get to race the Cadel Evans race, which she won in 2018, with the Australian team.
"I'd done an entire pre-season when I found out that the team was folding so I just said, all right, I'm going to race the Australian summer, or as much of it as I can and then see where I'm at in February," said Hosking.
Hosking finished third on stage 2 of the Bay Crits and third overall. She is set to be one of the key riders to watch at the Road Nationals criterium on Friday, which she won in 2020.
It will be an unusual year in Ballarat for Hosking. She is used to flying solo at the nationals but will line-up with a strong bunch of teammates.
Plus she was still training through the Geelong event, going out and doing repeats of the nearby Challambra Crescent, wanting to make the most of the Cadel Evans Great Ocean Road Race, which could end up being her goodbye to the Women's WorldTour.
"Obviously my motivation is still there and my hunger is still there, but as I said, I'm going to stay true to my values and what I believe in, and that is that I'm worth a certain amount and I'm not going to race in Europe for less than it," said Hosking.
"I've had some conversations with some teams, but I found out on the 6th of December that I didn't have a contract for 2023 and by then teams were either full or their budgets were exhausted or they just didn't want me," Hosking said. 
"I was in a really tough position and I wasn't coming to the market in a strong negotiating position at that time of year."
"If this is my last summer of racing, I'm glad it's in Australia and I brought my entire family down here to the Bay Crits to share this with them because I've been coming here since I was 18. The summer racing is really close to my heart and I get a lot of happiness from it."
Hosking said her deadline for making a decision on whether she'd continue to pursue her cycling career or follow another path, is late February as that is the deadline for committing to her last semester of law.
"The uncertainty is hard, but I think the hardest thing for me to process is that it (retirement) has not been my choice," said Hosking. 
"I would have loved to have the knowledge that this is my last season. Instead, I've had three weeks."