40 questions. Some easy, some that will defeat Google and as usual a few of the answers give us a sideways look at the sport…
1. Dressed in red and white, he's delivering the goods amid the cold conditions. Name this bicycling Santa Claus?
2. Who won the Tour of Turkey?
3. Name a World Tour win by a guy named Jesus.
2022 in Review
4. Name a town in Australia that has an ocean saltwater swimming pool.
5. See the picture above, what happened next?
6. Who won the Tour of Britain?
7. Name a Tour de France stage winner who was facing unemployment this time last year?
8. Everyone knows Primož Roglič was a ski jumper, right? Name a Tour de France yellow jersey wearer from last summer who's been a champion in another sport.
9. Which pro had the most wins in 2022?
10. Which men's World Tour race had the least finishers?
Geography
11. What was the highest altitude summit finish in the men's World Tour this year?
12. Colle San Carlo, Passo Carrabile, Passo dello Stelvio, which is the odd one out?
13. Which World Tour race went through Balsac?
Business
14. What line of business is Groupama in?
15. Which team sponsor has the biggest market capitalisation of all?
16. Who is the richest man in pro cycling?
Stats and trivia
17. When was the last time Paris-Roubaix started in Paris?
18. Name a grand tour winner who never won a one day race.
19. Which rider wore the yellow jersey for the shortest amount of time?
20. World Tour teams are capped at 30 riders today but they have been bigger before. What was the biggest team ever?
History

21. This could be the hardest grand tour stage ever. To save readers from squinting at the profile, it's 247km and goes via the Glandon, Madeleine, Aravis, Colombière before the Joux-Plane. Name the day's winner.
22. The Tour de France will start in Italy in 2024. Which Italian town did the race first visit for a stage finish?
23. If you want a groupset today it's Shimano, Sram or Campagnolo. Name three more alternative groupset manufacturers from the past.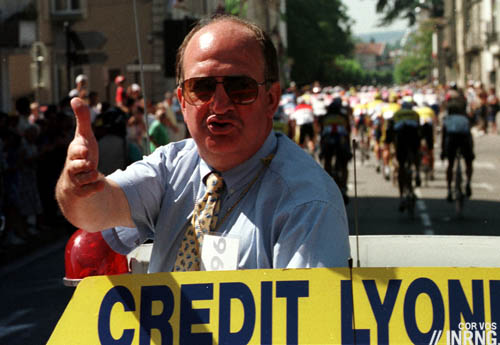 Chief Commissaire
24. Apart from the label, cite two differences between a prologue and an opening time trial.
25. Do riders have a racing licence from the country they represent or the country they reside in?
26. Some races have neutral starts or roll outs. What's the maximum permitted distance between neutral start and the real start?
Nicknames
27. Who is the Taureau de Lescheret, the Bull of Lescheret?
28. Name the grand tour podium finisher from this year who has a bovine logo?
29. Name a rider from the past with a bovine nickname?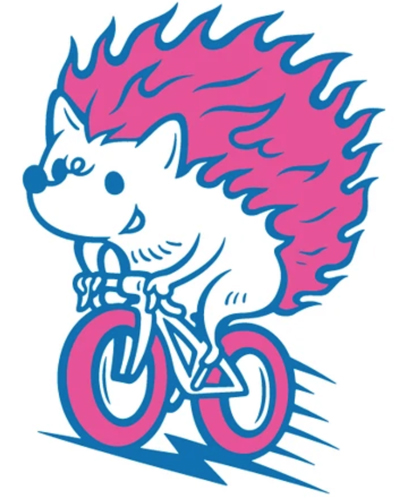 30. Which retiring World Tour rider's fan club has this logo?
31. Which rider is nicknamed Nono by team mates?
Real names
32. What does Pogačar sort of mean in English? And Vingegaard?
33. Name the rider whose name is an anagram of Ghosted Tandem.
34. Name two unrelated World Tour pros who share the same surname.
Tech
34.1. Name a men's World Tour race won in rim brakes this year.
35. Bianchi, Lapierre and Orbea can sound more exotic than Trek, Scott or Giant to English-speakers but what is their literal translation in English?
36. No need for the precise year but which was the first decade when you could get major race results online?
Picture round

38. Name the rider from the picture above.

39. Name the rider from the picture above.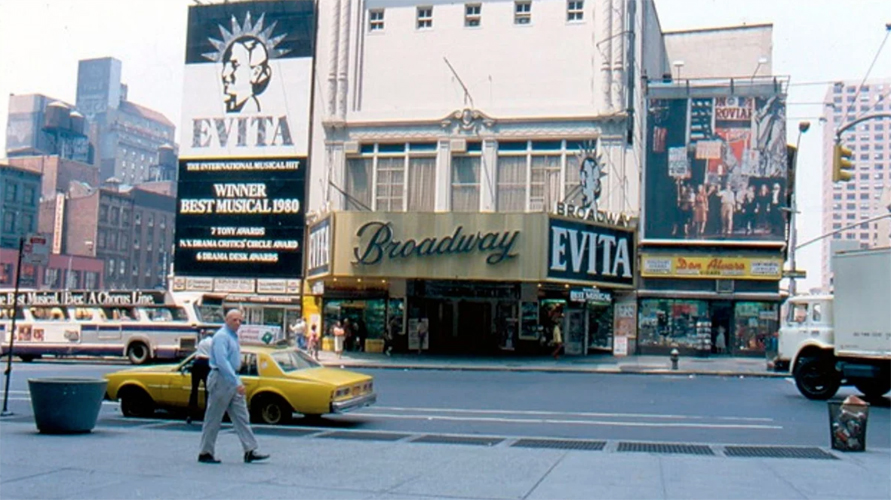 40. Name the rider from the picture above.
The Prize
If you want to have a go, post your answers in the comments below. Readers can collectively crowdsource their way together. The most correct answers get wins a small prize.
Small print: the deadline is midday Euro Time on Thursday 29 December. The most correct answers wins and if there's a tie then a name gets picked at random. As ever people can copy off each other which spoils the point but readers enjoyable more often collaborate than argue so together there's a way to get plenty of answers. As ever if you want to deploy an eleventh hour copy-paste job… well that's cycling where you can toil into the wind only for someone wheelsucker to sprint past in the finishing straight.
As loyal readers will know the quiz has some hard questions which can't be googled in one go, half the point of the quiz is to take a sideways look at things in the answers which will appear here soon. Merry Christmas and Happy holidays…