Abi Smith joined Team TIBCO-Silicon Valley Bank in August 2021 as a stagiaire and confirmed her big step onto the top tier with a two-year contract to continue racing in pink, as the team transformed to EF Education-TIBCO-SVB as part of Women's WorldTour last season. 
She began road racing as a 16-year-old when she caught the attention of British Cycling and rode with the junior academy programme, leaving triathlon pursuits behind for road racing. By 2021 she had earned a bronze medal in the U23 time trial in the British road championships. 
Cyclingnews caught up with the now 20-year-old WorldTour rider prior to her first start in the Women's Tour Down Under.
Cyclingnews: What difference a year makes. This winter you are healthy and on the start list for the Women's Tour Down Under, but this time last year a severe illness kept you away from a winter camp and early racing with EF Education-TIBCO-SVB. Tell us how that happened.
Abi Smith: I was off from pretty much the middle of October until the beginning of January last season. An infection got to my kidney. I didn't realize for two weeks, which is why I managed to get there [hospital]. Obviously, that's not a good thing. Yeah, we tried about five different types of antibiotics and all sorts of things, and I was eventually put on IV. So I had to stay in hospital for two weeks, which was really not fun at all. That was a long time off the bike. 
Cyclingnews: This December you were able to travel to Pescadero, California to take part in the pre-season camp with EF Education-TIBCO-SVB. Had you experienced the rugged, northern coast of the US before?
AS: No, never. So the only time I've been to America before was when I was about to go on a family holiday went to Florida Keys. I remember nothing. California is amazing. My dad's a forester as well, he said 'send me pictures of the redwoods'. It was spectacular and beautiful.
Cyclingnews: Tell us about your time at camp with the team.
AS: So I'll call it a media camp rather than a training camp. It was more like time to get to know everybody because we obviously had lots of new staff, lots of new riders, and some guest riders as well. And, you know, we haven't seen each other [for a while], some of the riders we've not seen for a year. So it was really nice to see everyone again, and also meeting our sponsors, TIBCI and SVB. We did an SVB ride, which was really nice to get to know the owner and the founders of it and how they've helped for the past 17 years with Linda [Jackson, team founder].
Cyclingnews: The team has 15 riders in 2023 with 13 returning riders, including yourself for a second full season. From the returning riders, who are you eager to ride alongside and learn from? 
AS: So yeah, some of the returning riders I didn't know. I didn't actually get to ride with Lauren [Stephens] last year at all and neither Lizzie Banks, actually, because of her illness. So both of those experienced riders I'd like to race with because we didn't get the chance to. Also, they are the kind of people I can learn from.
Cyclingnews: Joining EF Education-TIBCO-SVB this season are two veterans who are expected to make an impact, Canadian Alison Jackson and New Zealander Georgia Williams. Tell us about having the new riders on board in 2023.
AS: I'm excited about the experience they're going to bring. They've been in the peloton for 10 years, which I have not, and they know an awful lot more than I do. So I'll be picking their brains and following them through the bunch. Georgia is a similar-ish kind of rider, to what I am aiming to be. So I think I'll be learning a lot of her and using her experience, which I think everyone will probably admit is what we lacked in our first year. It's just the experience. A lot of everything was new for everybody.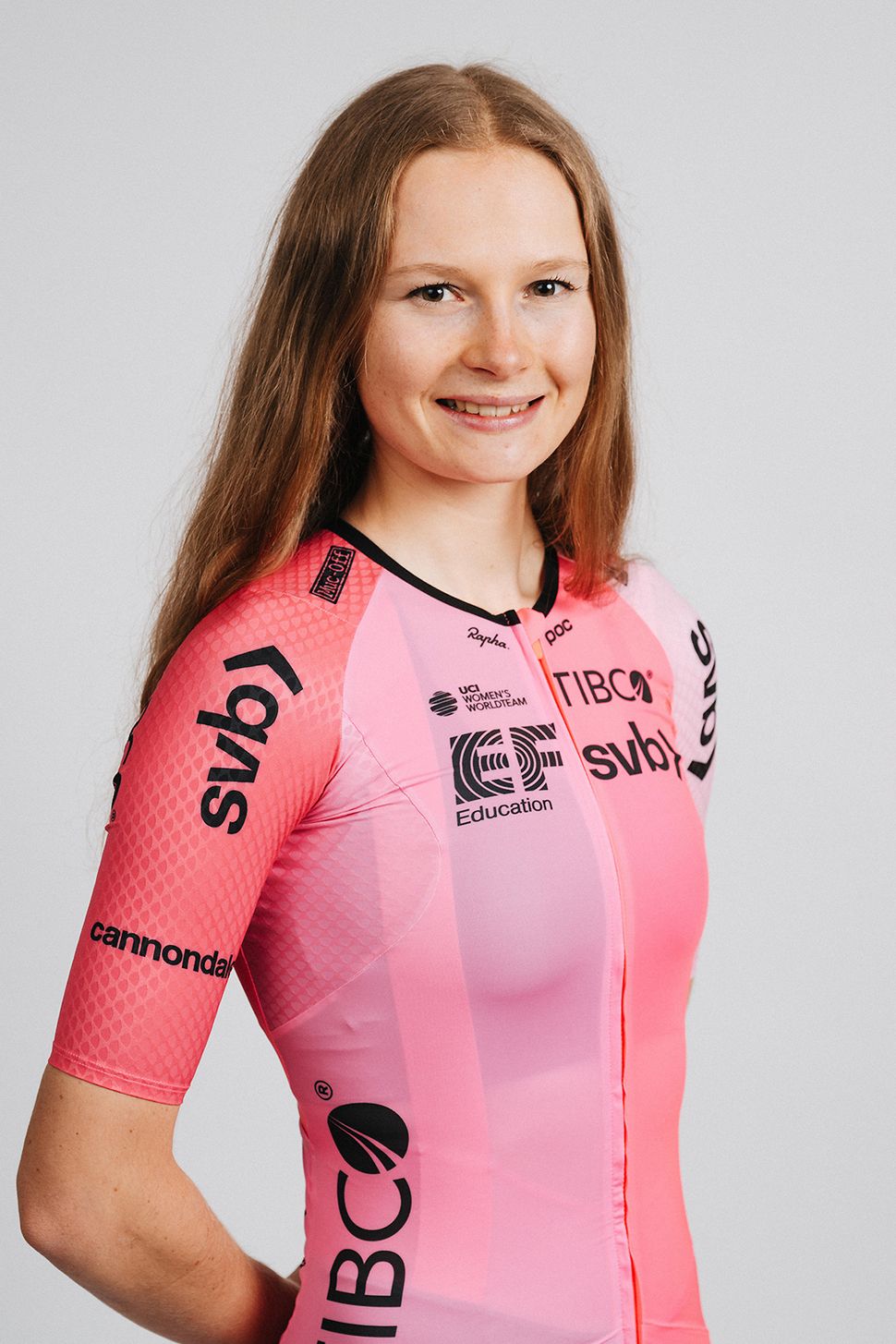 Cyclingnews: You said you have a similar style to Georgia Williams, so is that because you both excel in time trialling? She is a four-time New Zealand time trial national champion and in last year's Commonwealth Games she earned a bronze medal. 
AS: I'm trying to figure it out, still, what kind of kind of rider I am. In general, I'm a bit of an all-rounder. I'm not the best climber, I'm not going to be the best sprinter. But I could be a really good teammate, you know, one day being in that leading role. Maybe I'd like to do that at some point in the future. Georgia has done that for, I think six years, on BikeExchange, and she's been one of the best teammates and the most helpful teammates, and I'd really liked to be valuable and useful to the team, if that makes sense. For now, helping teammates such as Veronica [Ewers], if I can help her go into a climb in a good position, or something along those lines is good. 
And time trialling, as well, is one of Georgia's strengths, which I'm working on. I'm not the best, but I'm working on it. So again, I will be trying to learn from there on that one.
Cyclingnews: You started your athletic career as a triathlete, so you are used to being out there by yourself and putting your head down for a solo effort, right?
AS: Yeah, just having that engine, how cool is it to be able to pull that power out by yourself. And the endurance side of it as well and that headspace to be able to be focused by yourself. There's no one to help you and there's nothing else going on. It's you and you on a bike on your own. 
Cyclingnews: Name a couple of events where you would like to excel this season or in the near future. 
AS: I've got two more years as a U23, so 2023 and 2024, and I would really love to podium at the World Champs in under-23, either road race or TT. I don't mind. This is a bit ambitious, but that's a big goal within the next two years. 
Other than that, with regards to WorldTour racing, we don't have a full calendar. It's very hard to say when you're going to be fit, who's going to be there, et cetera. But I know, my first race is Australia [Tour Down Under], which I'm really excited about,. And I would like to try that. To be honest. I'm feeling good. I will be putting my name in the hat for possibly a good result there.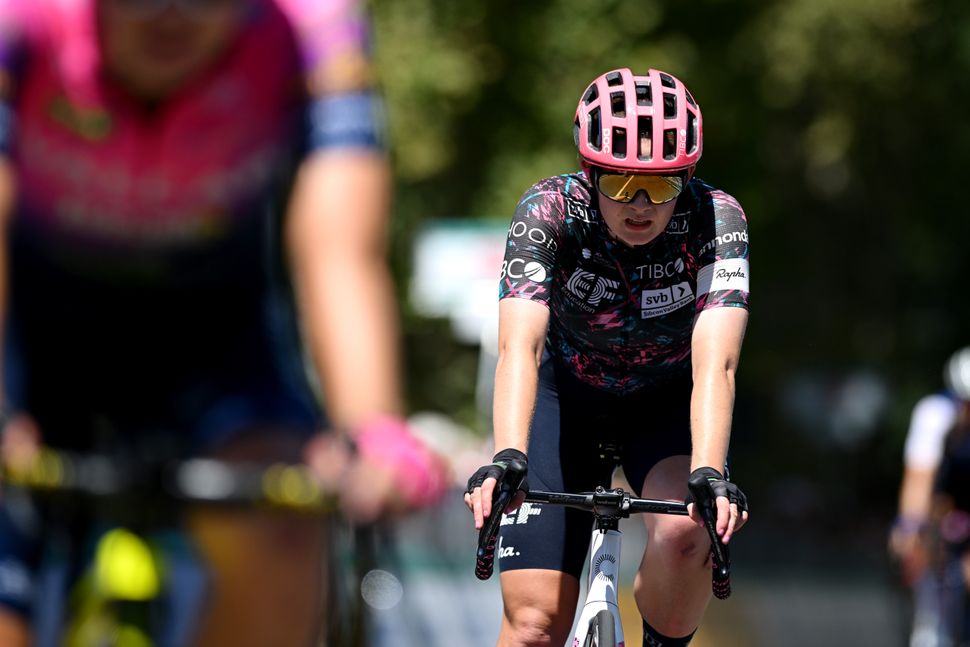 Cyclingnews: You have just started your road racing career. Any big goals down the line?
AS: I guess maybe within the next few years, I'd like a top 10 WorldTour result. As a cyclist, you are naturally competitive and everyone does want to do well. So, you know, I would like to be team leader in some things in the future. So we'll see what races suit me. As I say, I'm not a sprinter or a climber, so somewhere in the middle is usually pretty good.
But again, just see how things go. If I can do the best job in the world for a teammate and they win, then I think that's equally as good.
Cyclingnews: What is your sweet spot for a type of course or race route?
AS: If there's a long, hard race, I'm pretty good. Just hilly. Just hard. Maybe four hours or so, up and down all day with lots of climbing. Not hour-long climbs, because I'm not used to that, but just undulating the whole time so that it wears people out basically, an attritional race so that the group kind of gets down to about 20 people at the end.
Cyclingnews: That sounds like the terrain in your hometown near Harrogate. So you are used to climbing then and like it?
Exactly. I'm very much used to it and used to trying to hang on to the group rides! It's very good training. And on occasion, I get a push if I'm just hanging on. [laughs] It's nice being in an environment where it doesn't matter who you are. We'll just head out and enjoy it. These guys have normal jobs and they love smashing it on the bike. It's good fun and great training for me. 
Cyclingnews: Being competitive in triathlons, did you know the Brownlee brothers who live near you? Alistair Brownlee is a two-time Olympic gold medalist in triathlon, winning his first in 2012 at the London Games, while his brother Jonathan, a six-time world champion, took the Olympic bronze in 2012. Are they your role models?
AS: As a teenager, I was becoming an athlete myself and knew that I wanted to be a professional. The Brownlee brothers, they've definitely inspired me and especially when I was in triathlon because they were triathletes. I'd occasionally see them out on rides and things, and now we've made good contact and we ride together sometimes. I always look up to them when I was small, you know, watch them at the Olympics. I saw them in person at the London Olympics.
And Lizzie Banks actually was one of my first role models, which she finds quite funny. It is quite funny now that we're teammates.
Cyclingnews: That is funny. Talk about being a spectator at the London Olympic Games.
AS: I was doing triathlon at that point, so obviously, I did go to see the Brownlee brothers. I also saw Laura Kenny, or Trott at the time, and Vicki [Victoria] Pendleton on the track. I always thought I was going to be a track cyclist for some reason, but turns out I like being outside. So yeah, it wasn't my cup of tea.
Cyclingnews: Your Instagram page is full of colorful shoes. You paint shoes?
AS: It started during lockdown actually [with COVID] and I was just experimenting because I was so bored the entire summer. I thought, I'm gonna paint my shoes! I painted my cycling shoes and got into it, and started doing more and more. I usually work with acrylic on canvas. I also like doing sketches, so I always take a pen and paper with me to races all the time, just in case. And I enjoy art. I do paintings and commissions for people, but I might just keep that as a hobby.
Subscribe to Cyclingnews for unlimited access to our coverage of women's cycling