Over the Christmas break I decided to have a clearout of all of my books. I'm not one for reading books twice, or for reading much at all to be honest. The ones that survived the cull tended to be the lovely coffee table ones, or the recipe books that make you look like you could whip up a three course meal like it was nothing; I love flicking through these over a cheese on toast.
Of the survivors, my two favourites are the photo archives of the Rough Stuff Fellowship, the world's oldest off-road cycling club (of which I am a proud member). Between their covers you'll find a wondrous collection of images from as far back as the 1950s of men and women riding their bikes in the most unlikely places; think pushing a three-speed steel bike up Snowdon, or winching a tandem onto a Norwegian ferry. There is absolutely no chance of spotting today's best gravel bikes, or anything that could be remotely described as 'gravel specific'. I regularly lose hours to these books, and they're a fantastic antidote to the mindset that you need the latest bit of tech in order to cycle in the wild places.
On a whim, because I enjoyed the photo archives so much, I treated myself to "Rough Stuff Cycling in the Alps", without much thought as to what the contents would be. Maybe I'd get a few more lovely film photos to look at, perhaps a trip report? No, what landed on the doormat is the most beautifully comprehensive, and in places unhinged, guide to off-road 'cycling' in the alps. Given that it's Travel Week here at Cyclingnews I decided to take you through why I love this book so much, You'll find out shortly why 'cycling' as a term is used rather loosely; the club motto is, unofficially, "I never go for a walk without my bike".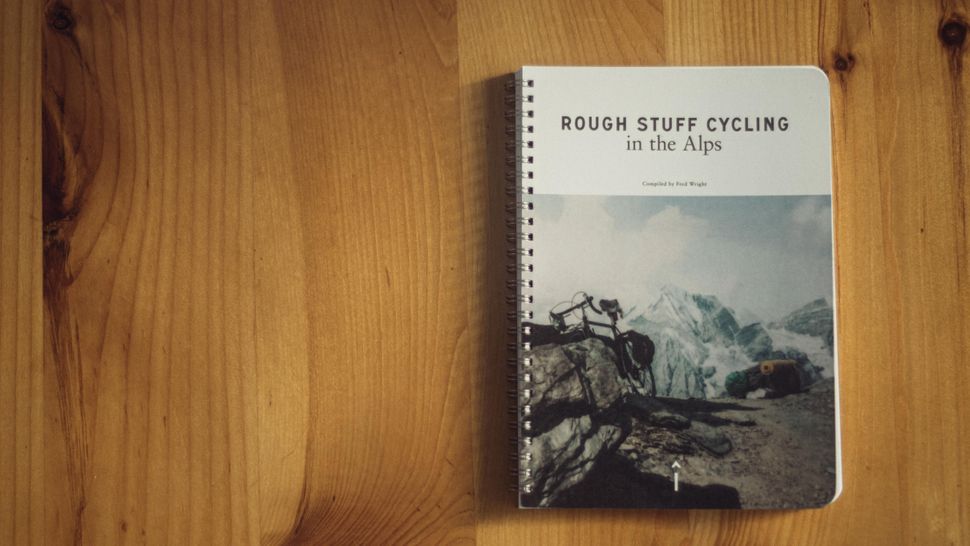 What is the Rough Stuff Fellowship? 
The fastest way to get a feel for the club is to head directly to the Rough Stuff Archive Instagram (opens in new tab) page; pictures tell a thousand words and I'm up against a word limit. The club began as a collection of individuals who enjoyed riding their bikes off road, up hill and down dale to coin a well-worn phrase. In a wonderfully British way, the club was officially formed in The Black Bull pub in 1955 by forty members, with committee positions decided by general approval.
Each year the club meets at Easter time for food, riding, and general discussion, and a journal full of trip reports from members is produced bi-monthly. The essence of the club though, in simple terms, is riding (or pushing) bicycles where they perhaps aren't really designed to go. Up Snowdon, across the interior of Iceland, or, in the case of this alpine guide compiled by Fred Wright – not that Fred Wright – and published by Isola Press, up and over often forbidding mountain passes.
The definitive alpine gravel guide?
Some of us may well have been fortunate enough to have ridden in the Alps. The great cols that, woven together, make up a great deal of the fabric of the Tour de France and Giro d'Italia. I have scaled a few of them, and upon reaching the summit of each I've usually been too exhausted and oxygen-deprived to think "What if I kept going up?".
This book, divided as it is into sections from Dauphine and Provence in the west to Osttirol in the east, documents the beyond: Those cols that are unpaved, or crossed only by herder's tracks. A gravel alternative up the Col de la Madeleine? Count me in. Over the top of Val Thorens, sure, why not. A two-day push up a more or less unknown Italian pass with no infrastructure besides a ski refuge at halfway? Perhaps my enthusiasm would be outweighed by my sense of self-preservation here.
The book takes the form of a summary map of each region highlighting the passable (at least in theory) passes, each of which is numbered, graded by severity from easy (lovely riding, absolute dreamland) to severe (you'd likely be better off without a bike). There are some 'very severe' routes, with the beautifully succinct and moderately foreboding description of 'like severe, but more so'.
As well as giving you an idea of the difficulty, and some pretty detailed descriptions in places of how to actually tackle each col, they are also rated by their visual interest. I imagine, being in the Alps, even a '+' rated col would be far from drab and featureless, but those few that have been rated '+++++' sound truly breathtaking, and not just because of the exertion required to reach them.
Finally, where known, the age of the oldest person to conquer each pass is listed. Depending on how you view it, this can be either inspiring or belittling. "That very severe route looks rather foreboding," I thought to myself, awash with trepidation while planning a possible tour… "but a 56-year-old has done it so…?".
How to use it
It's not easy reading by any stretch, it's quite a detailed guidebook and is rather dense on the surface. If you're already planning a gravelly tour of the Alps then it'd be an invaluable guide, and when you dive into a more local area of the map the details reveal themselves. I've been planning an excursion myself and I don't think I'd have been nearly so creative in my route planning without it.
As a guidebook, then, it's great and it serves a purpose. Why, then, has it stayed on my bedside table rather than back on the shelf with the maps? Mostly because the images and descriptions of some of the cols really make them come alive, and I quite frequently pick a col and trace its route on Google Earth. Even if I never tackle the Col Collon (Very Severe, passed by a man of 52, +++++), I can get a wonderful sense of what a lunatic endeavour trying to get a bike over this pass is, thanks to what is perhaps the most sensational quote from any cycling guidebook:
"We have no report of this part of the route, because our description is from someone who followed the obvious path up the R side of the glacier, and then had to cross the glacier (where he fell into several crevasses)"
All in all, a tremendous archive of what's possible in one of the world's greatest mountain ranges with a bicycle, if you broaden your definition of 'rideable' to a considerable degree. 
If you want to pick one up for your own perusal then head to Isola Press (opens in new tab), where you can also get copies of the two Rough Stuff Fellowship Archive photobooks. To learn more about the club itself, head to the Rough Stuff Fellowship website (opens in new tab).