Here are the tables showing how many UCI points are available in every kind of road race. It's not the stuff of dreams, but if you need to know how many UCI points are on offer in hurry it can be a nightmare to get the answer. Visit the UCI website, find the rules pages, select the right PDF to download and then scroll past 70 pages. Here it's all on one page.
The big news for 2023 is the points have changed significantly with the grand tours, monuments and world championships becoming even more lucrative and gone are the days when a win in the Elfstedenronde or Paris-Chauny brought more points than a Tour de France stage win.
First, the table below is for the World Tour races, if it's a stage race then it's for the final overall classification. What's new for 2023 is that the grand tours get more points and there's a new column where the five monuments get more points over other races, plus the Strade Bianche is upgraded too.
Next comes the points per stage in the World Tour stage races. This has been almost doubled for the grand tours, plus across all stage races points are now awarded well beyond first five or top three as before, now it's down to 15h place or 10th respectively.
Next you can see points on offer for final place in the secondary competitions of a grand tour, the mountains and points competition and new for 2023, this is almost doubled too. For a practical example of what this all means, in the last two Tours Tadej Pogačar and Jonas Vingegaard have got, give or take, 1,800 points with 1,000 for the overall win then more from stage wins, placings and also taking the mountains competition. Apply the new points scale and they stand to collect 2,700 points for similar results.
Next comes a daily award for leading a World Tour stage race, a nice bonus but one that's more in media attention than points. It's unchanged for 2023.
Now comes arguably the most important table here because it's for races outside the World Tour and this is where teams hunting points can find a lot of rewards because of the breadth of the calendar. Winning a stage race overall or winning a one day brings the same points haul, which makes one day races very important. The season-opening Challenge Majorca races are a good case study, they are each Class 1 races and so win one day's racing and a rider banks 125 points, but if it was a stage race only the final overall would bring this many points.
Next two tables below shows the points on offer for stages in non-World Tour races and the daily points for leading the race too, the change for 2023 is more points for the podium in a .Pro race and points to fifth.
Next comes the national championships, split into A and B groups, where A is defined as a nation that started at least one rider in the previous Men's Elite world championship road race. These points matter because often when we look at the teams with few wins and placings in the year, several of their best results can be from national championships in smaller nations, the kind with only a few pros. Sometimes we've seen big name riders skip their national championships but smaller teams hunting points ought be paying business class return for their lesser riders to go and grab the jersey and points.
Now comes the Continental Championships, think the European championships for the best example. Other regions are supposed to have them but they can be thin on the ground. 2022 has Asia, Oceania and Europe in the calendar for now. If these championships have a team time trial and/or a mixed relay time trial event, the small table below also applies.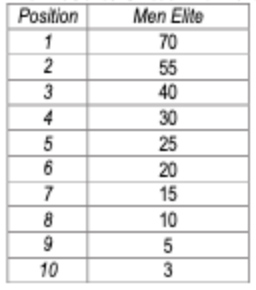 Now for the Worlds and Olympics, obviously big events but the UCI is keen to big them up even more with the points on offer and for 2023 they get a big increase, the winner got 600 for the road race before, now it's 900 making the Worlds and Olympics the most lucrative one day races when it comes to points.
For the last of the tables, here's the mixed relay time trial at the worlds which the UCI is keen on promoting, it's 300 points but this is divided by the three men, so 100 points each (of course the women get 100 each too).
How to forfeit points
As well as winning points by results, riders can lose them. The UCI rules include various penalties for bad behaviour, including points deductions. They concern cheating like taking short-cut, to using sidewalks, ignoring level-crossing red lights, littering and other misdemeanours, right down to failing to sign on for the day's racing or show up for the post-race press conference if invited. Any team manager worried about scoring points should remind riders of all of these.
Rankings and points don't matter…
…if they did then they'd be readily available and easily understood. One reason for this blog post is so I can have all this season's points tables on one ready page for reference. These points still count for the teams and their promotion-relegation issues and Tour de France qualification. In the coming days we'll look at the points race in 2023 and beyond.