It's no secret that the bike industry is in the midst of some upheaval. When the COVID pandemic shut down the world, the bike industry stepped onto a roller coaster ride. First there were the shutdowns, then unprecedented demand, then a global supply chain meltdown. Finally, just as retailers started to catch up with demand and the supply chain began to function again, global economic fortunes shifted. As old orders make their way through the system, demand is cooling. The result is a glut of bikes available and layoffs rocking the industry. 
Among this deluge of negative news, there continues to be hope out there. As Specialized moves away from adventures towards racing, other brands affirm adventure isn't dead. There are always winners and losers in every economic situation and right now there is an opportunity for those in the right position. One of those brands that might be in the right position is PAS Normal and the brand is taking a gamble with its first US store.
As a brand, PAS Normal has so far seen success building off a foundation of fashion. I reviewed the Mechanism jersey previously and my talking points at the time revolved around colour and performance for the sake of design. With that jersey, the brand was already a contender for the best cycling jerseys and now it continues to evolve. There are products in the pipeline, and even on the shelves now, that look to change that perception but it's also a well-travelled path by other established brands. Starting from fashion and building to performance isn't new, it's actually somewhat normal. As you consider that, also consider that Pas Normal is a French phrase meaning "not normal." That seems like an issue for a brand that is following in the footsteps of others. Or, perhaps they aren't?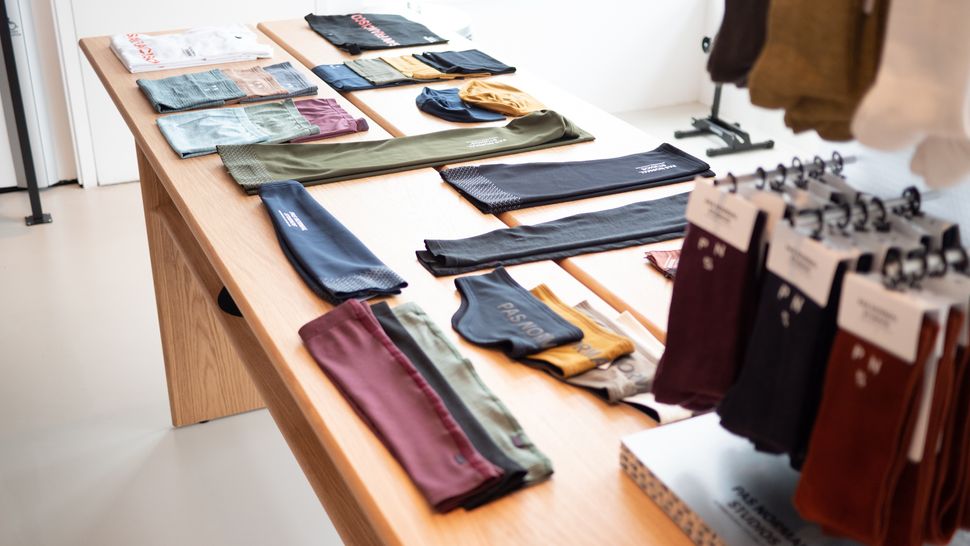 It's true that PAS Normal comes from the mind of a man with a deep understanding of fashion. Karl-Oskar Olsen is a founder and current Creative Director for PAS Normal. He's also a graduate of the Royal Danish Design Academy and only just stepped away from fashion label Wood Wood that he set up right out of school. Although he's a dedicated cyclist, he's a creative and you can feel his passion for art in every conversation. That influence finds a balance with Peter Lange.
Lange is a racer who rides above my pay grade. He's not afraid to rub shoulders on a casual group ride but he's also a logistics man, with relationships in the industry, who went to business school. When it was time to make production of the first kit happen back in 2015, it was Lange who handled the logistics. At the new store in San Fransisco, it was Lange who talked about the logistics of why the pair decided to import the wood used in the design from Danish architecture firm, OEO. 
It's that balance of art and logistics that sets PAS Normal apart from MAAP. The look is less graphic, more Danish, and the story is about colour. Both have their place but they are different. MAAP isn't the only obvious parallel though. The other is Rapha and it's this comparison that you really feel in the new store. 
There are similarities between Rapha stores and PAS Normal stores but each brand has taken a different direction. Rapha has fully embraced the adventure ethos and mixed terrain riding. The change has been a way to embrace people of all backgrounds and at all levels of the sport but it has also left a space for another brand to cater more specifically to road cyclists. PAS Normal seems to see an opportunity there. In the same way that there might be an opportunity coming to America in the midst of a contraction by other brands, there might be an opportunity as other brands pull away from road cycling. PAS Normal is looking to capitalise on a modern type of road cycling that's still about adventure but without any requirement to ride a gravel bike. 
Actually, PAS normal isn't looking to capitalize on this modern community but rather join and extend it.  As you walk up to the door, you'll notice a signboard that has not only a mix of drop and no drop rides but also balance training. This is an urban community that isn't talking about adventure cycling but there is still something for a variety of riders. It's born out not only in discussions with Peter and Karl but also when talking to sales clerks and customers. 
One of the two clerks I spoke to was a young woman who started riding in 2020 like a lot of other people. Unlike many of them, she's stuck with it. That means she might not have a huge back catalogue of experience but she's dedicated and knowledgeable and she seems to mirror the customers she interacts with. Most people in the store understood cycling and seemed excited about the store. Experience levels ranged but everyone was a dedicated cyclist and had been for some time. 
Not everyone I talked to had been on the rides but most said it was only because of the unusual amount of rain California has been experiencing. If they lived in town, they all knew about the rides and everyone seemed excited about the prospect. There were also a fair number of people in full Rapha kits who'd ridden past on the popular route outside called "The Wiggle" and decided to stop in.  
That last bit isn't an accident either; the location is specific. PAS Normal has done the research and started with a successful pop-up in 2019. The brand found a way to integrate itself into a new location and help enrich an existing community. 
The plan didn't hatch in the heady days after 2020 during the cycling boom and no one is being caught flat-footed during the return to earlier times. There is a plan for slow growth using a targeted location and specific community. 
PAS Normal is looking to step into a new chapter with performance ahead of fashion and the future is looking bright. A premium cycling brand is making a major investment. An investment in a vision of American cycling that others have written off. In these days of so much negative press, I take that as a positive sign not only for one small brand willing to take a risk but for the industry as a whole.