Maybe Hungary is not the hotbed for development of professional cyclists, but you can't convince Blanka Kata Vas of that. She has excelled on the world stage of cycling in three disciplines and is just 21 years of age.
Vas took fourth place in the cross-country mountain bike race at the Tokyo Olympic Games and then fourth place in the road race at the 2021 UCI Road World Championships. In cyclocross, she was on the podium twice at the Worlds, both times in the U23 division, with a silver in 2020 and a bronze in 2021.
She now rides for the number one Women's WorldTour team, SD Worx, having signed a contract extension to take her through 2023. While her teammates prepare for the start of the road season at the new UAE Tour Women in early February, Vas remained focused on her current discipline and a start in Spain at the cyclocross World Cup in Benidorm.
"I think I can be really good in 'cross, one of the best, so I would like to continue with 'cross," the multi-disciplinary rider said about the start of 2023. "I started with mountain biking, but then I continued in cyclocross, and road was the last discipline I tried. 
"It was my first real road season, and it was a big change for me, but I really enjoyed racing on the road with the girls. Mostly, I improved tactically. I'm a bit stronger rider also and learned to be more professional, I think. I would like to continue with cyclocross, I really enjoy doing this in the winter."
She is "really good" in cyclocross. Vas has amassed six cyclocross victories in 18 races so far this season, the last one a repeat performance as the women's elite Hungarian national champion for a fifth consecutive time. 
Before she can focus on a second full season with Team SD Worx on the road, where she is a four-time national champion, twice each in the time trial and road race, she is laser-focused on a top finish in the elite women's race at the Worlds for 'cross in Hoogerheide in three weeks.
"Yes, I will do the Worlds with the elite. I chose to race with the elites (instead of the under-23 category) last year, and then you cannot go back," she confirmed.
While Vas earned two Worlds medals in the U23 division in cyclocross, she moved to the elite division last year in Fayetteville and finished in the top 20 for the women's elite field. She does not now want to reverse course.
"After the Overijse World Cup that I won [2021], the next race was the European Championships, and so I wanted to race elites because I felt at that time I had the chance to win the elite Europeans. That's why I went up to the elites. And if I'm going to be a world champion or European champion, I would like to be in that elite category, not in the under-23."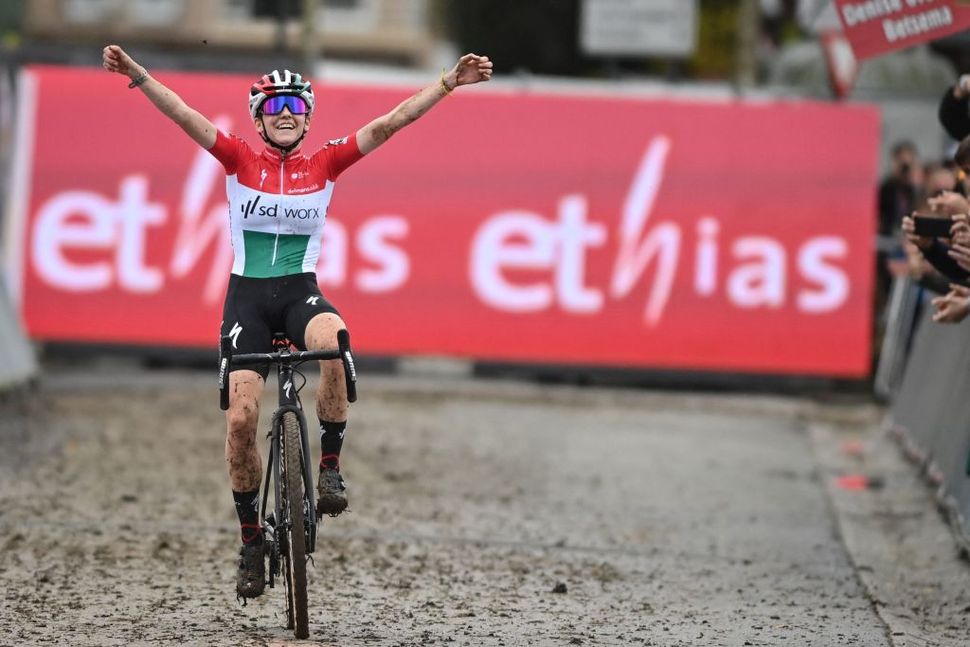 It was one cyclocross season ago, and after her 20th birthday, that she won her first elite World Cup race on a wet, slippery course in Overijse, Belgium, riding clear from Puck Pieterse (Alpecin-Fenix), then 19 years old, and World Champion Lucinda Brand (Baloise Trek Lions). In that same race, two other notable U23 riders had strong rides, Shirin van Anrooij (Baloise Trek Lions) was eighth, and Fem van Empel (Pauwels Sauzen-Bingoal) was 12th.
Fast forward one cyclocross season, and the top three World Cup women in the elite field are Van Empel, Pieterse and Van Anrooij. Vas is in the 13th position and that is with fewer starts. 
"They're really strong, and I think this year's 'cross racing is on a higher level than before," she noted. "I hoped one day, I can race with them because this year it hasn't been possible. Maybe at the start of the year, it was possible, but then my shape went down. I hope I can be better again for the Worlds.
"I just feel I'm fighting for a top-5 place, and it's really hard because last year I was fighting for the podium. Now it's even harder to be in the top 5."
Last year she had an early spring bout with COVID-19 and later had a bad crash in the Giro d'Italia Donne on stage 5 but finished the 10-stage race. She then rode long stage races at Tour of Scandinavia and Ceratizit Challenge by La Vuelta and admitted she was sick in September and November and also to start January. 
"It was a good year. I learned a lot. Last year was kind of a baptism of fire for me. For the first time in my career, I rode a fairly full road program. I learned a lot from it," Vas said.
Her 2023 season will also include more mountain biking, admitting it was her favourite discipline.
"I will do the Nationals and under-23 World Championships in MTB because I can then qualify myself there for the Olympics."
Before she switches from cyclocross, Vas said she is healthy and ready to get back in action.
"I think I can be good at Worlds because now I have had some days off the bike, rest, and sometimes it can be good after sickness. So I will travel to Spain and do some training there, and then I will start at the World Cup this weekend and then next weekend, and then at the Worlds. I think it can be good."