There were more than a few riders at the Tour de Langkawi at the end of the 2022 season who looked dejected in what became a last-chance tour for riders facing up to 2023 contractless and with their cycling careers and creams in tatters. Then there was also George Bennett, future secure with a contract in place with one of the world's top teams, looking as despondent as any, but for him, it was the months and season that had already gone by that were weighing heavily rather than what was ahead. That new season and the clean slate that came with it couldn't come quickly enough.
"I was pretty much about as cracked as a man can get at the end of a long season," said the UAE Team Emirates rider, looking back to that Malaysian tour from the sidelines of his first race of the season in Australia. His chipper demeanour was a complete contrast to the Bennett Cyclingnews had spoken to in the clammy conditions of Kuala Klawang as the Tour de Langkawi began to unfold.
The heat and humidity probably didn't help the energy levels in Malaysia, but there was no hiding how deep a hole he'd found himself in while trying to tunnel back toward what he had hoped would be a rejuvenating first year with UAE Team Emirates, after seven with Jumbo-Visma.
"I think I found it particularly hard having a bad year because I didn't want them to think, oh 'what have we done? We've signed a dud'," Bennett told Cyclingnews in a phone interview later in January, where he discussed the trials of 2022 in more depth. "You want to change teams and start well, and that just didn't happen. I just started terribly and never really got going."
The setbacks kept coming, one after another, and it turned out to be a season where the light at the end of the tunnel only came when flying away from Langkawi with views of the archipelago nestled in the Andaman Sea and the knowledge that 2022 was in the history books and now it was time to rest and restore.
"I had a great off-season, got home, got to see my family, got to see my friends and had just a really great training block at home, so I'm actually feeling really good," said Bennett at the start of 2023, looking every bit the rider who was ready to embrace the clean slate of a new season. "I feel like I'm riding well again."
So what happened in 2022 to make it such a difficult year, and what has changed for 2023?
A really unlucky year
The last time Bennett changed teams was back in 2015 when he was at a different point in his career, and he says he perhaps had underestimated the transition.
"It was definitely hard changing teams in some ways, but in other ways, it was a really easy transition to make in terms of the rider group, we felt really welcomed by the riders straight away and by the staff – the people involved in the organisation were really good so that they made that part of it really easy – but I think there's definitely the sense of like you start from zero again."
That was far from an ideal situation for Bennett to be in during 2022. 
"What really didn't help, changing teams, was the fact that it was a really unlucky year," said Bennett.
Illness struck in April, and it wasn't until June that Bennett pinned on a number again, at the Critérium du Dauphiné, before heading to the Tour in support of Tadej Pogačar.
"You know, having a whole month off in Spring, it's devastating for the year," said Bennett. "And I wasn't good again until the Tour. I mean, by the last day of Dauphine, I started to show signs of life, and I was okay, but until then, I just suffered trying to get that month back."
"I only had ten days of the Tour, and then it was COVID, so I guess no matter how well you transitioned, it was never a year that was going to be set up as a success," said Bennett.
Before then, it had looked like the season could well be a success, after all, Bennett had lined up appearing to be in good form as part of the Tour de France team to help support defending champion Tadej Pogačar, and he had already stepped into yellow by stage 8 but that COVID-19 DNS for Bennett on stage 10 marked a point when things went wrong not just for Bennett, but then also for the team and Pogačar.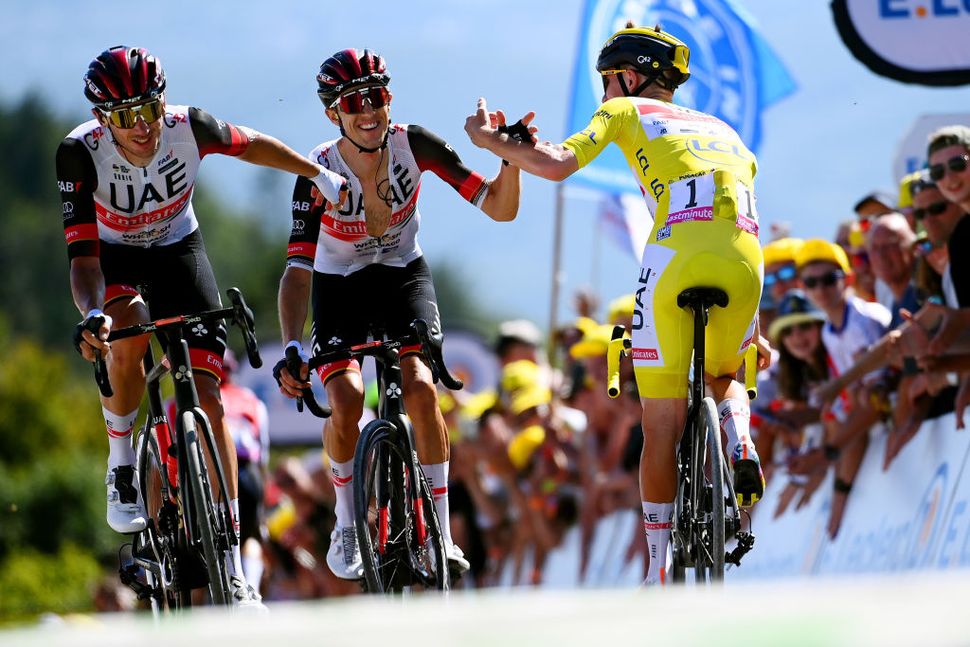 That was a bitter blow that may have made the year even tougher, but as Bennett later in the interview raised that moment when his former Jumbo-Visma team took the yellow jersey from Pogačar, it was also a clear demonstration of just how deeply the rider from New Zealand was quickly embedded in his new squad.
Bennett had been discussing just how important it was to try and focus not purely on results targets but on goals you could control, such as turning over every single stone or working as hard as possible but was quick to admit that this wasn't always easy. When asked for an example of an occasion when it was particularly tough there was no hesitation, it wasn't a personal missed opportunity that immediately sprung to mind, but the pain of not being there for his teammates at the Tour de France when yellow drifted away. 
"When I got back from the Tour, the first stage I watched was actually the day we lost the jersey and not being there, I turned that TV on and just fuck," Bennett said. "I looked at that, and I basically was almost in tears, turned the TV off and then really had to remind myself that there was nothing you could do about it. I wore a mask everywhere. I washed my hands. I isolated for a month."
"That was one of the times you really have to really remind yourself that it was out of your control even though you're just so devastated at the same time."
There was no doubt with that reaction that just half a season in with a new team, Bennett was completely invested in the success of UAE Team Emirates and its Tour de France leader.
"I've ridden for guys before, and as a professional, as a sort of mercenary, they'd say, and I did the best job I could for them on the day. But I spent a long time with Tadej in the build-up and had invested a lot into that race, and he's also a great guy, and I felt like all the boys in that Tour group – that was one of the funnest rider groups I've ever been part of – I really felt like they were my mates out there and I'm sitting at home, and they were losing the jersey."
That, of course, wasn't where the season ended, but while there were some promising signs with solid results as Bennett returned to racing post-COVID-19 late in July. Still, overall there was little improvement in fortunes, from an Ill-timed mechanical caused by a stray ice sock at the Tour de l'Ain, where he finished seventh overall, some late-season DNFs and then a finish one spot off the podium at the Tour de Langkawi as Bennett worked hard to find some success in a tough season but, always in catch up mode, had little left to chase it with.
'I want to be as good as I was'
After the end of 2022 first came rest, but with the season starting in January in Australia, it then wasn't long before the hard work began and far from pouring cold water on the fire, the season that appears to have fanned the flames. 
"I think we worked harder than I've worked in December for I'd almost say ever," said Bennett. "It's probably the biggest December I've done in terms of overall work and intensity and all that stuff. But I think it's also been a really good one, and I've really enjoyed it."
Plus, it's clear seeing the benefit of it in terms of form has added to that enjoyment. Already Bennett has supported Jay Vine to victory at the Tour Down Under, finished in the top ten at the Cadel Evans Great Ocean Road Race and taken second at the New Zealand Road National Championships, but the biggest factor of all is what that positive start means for the season ahead
"I really want to get back to winning," said Bennett. "I just want to get back to being good again. Like, for me 2020 obviously was a great year for me, with peaks and troughs in 21, a horrible year last year. I just need to go back to where I was. I want to be as good as I was. I want to be better than I was."
"I think there are two ways to achieve that, I think you grab the opportunity to win races, and that's obviously what drives me. That's what I think about when I'm training, I think about winning races." 
But it's not the only way to be good, or even to be better, for a rider who is also clearly committed to the team game.
"Look at Sepp Kuss, I mean, he manages to show he's top three or four climbers in the world every year at the Tour without necessarily getting a result, and I think that would also be considered a great success for me," said Bennett. "To be dominant again in the mountains and be up in that handful of best climbers again."
After 11 seasons as a professional, it is clear that the incentive to keep pushing the level is doing anything but subsiding.
"I feel like motivation or drive, or whatever is actually more than ever because I feel like when I was young, I had a lot of shit going on," said Bennett. "You know, I had distractions in my life. I was thinking about girls, cars, whatever, just weird shit beyond bike racing, and I loved it, obviously, but I was young, and I did my training, and I sort of left it at that.
"And now I feel super settled. Me and my partner Caitlin have a really nice life set up in Andorra, and I have nothing else that I need to worry about other than riding my bike. So I think there's actually more –  more drive and more motivation – than before."
The specifics of where that drive and motivation may take him in 2023 are a little difficult to nail down because while the benefits of being with such a strong team as UAE Team Emirates and being surrounded by strong riders are clear it also means there is an element of uncertainty as at any given race because such strength means there will be a number of potential team leaders.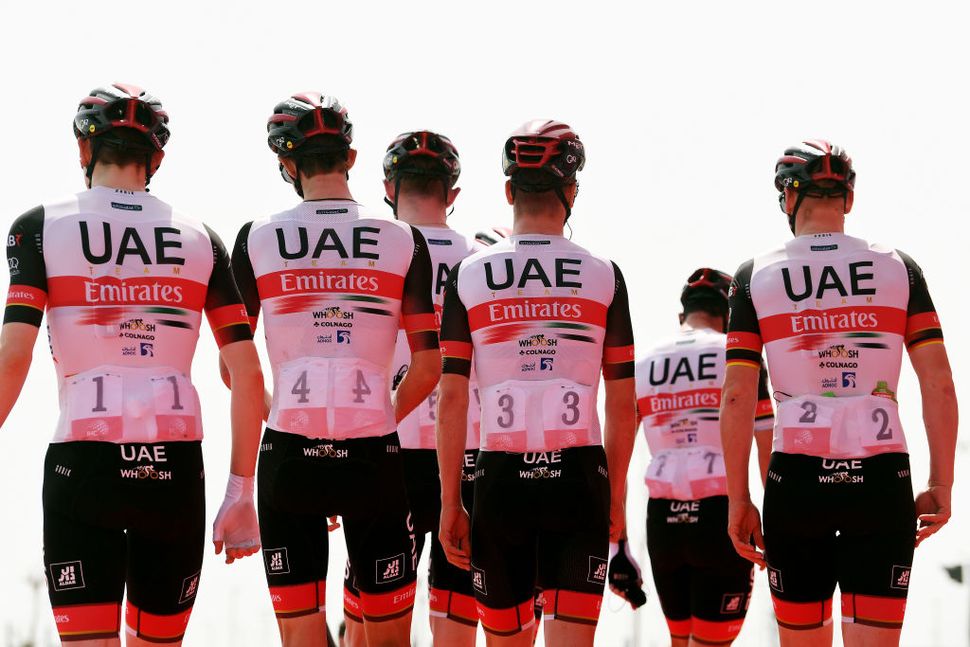 "It's great being on a super strong team. It's amazing, but yeah, sometimes it also means there's an element of uncertainty," said Bennett.
Target races may not necessarily be races where the arider delivers the best individual results, as sometimes good form may mean taking a lead position, but with a number of cards to play, it could just as well turn into a support role.
"Basically, the way I'm looking at it is we're talking about being really good in the Spring, shutting it down and then being really good in that Tour de Suisse, and after that, you know, then I'm going to have to roll with the punches and see what happens in terms of selections."
Grand Tour selections and the Tour de France, of course, always being front of mind.
"There is massive uncertainty with Grand Tours," said Bennett. "Will I even do one?"
When asked what that means when it comes to a Tour de France start, Bennet answered: "It's going to be a definite squeeze around June, and I don't have an answer for you until, you know, the 1st of July probably."
"It's a pretty privileged position to be in for the team. I mean to have so many guys that can fit in to support the best rider in the world," said Bennet. "And Tadej, for me, deserves the best possible team he can get; all I can hope is to be good enough to be part of that."