Compared the to the prior model, the 2023 Niner RKT RDO sits way lower and feels way more capable, despite a very modest 10mm bump in rear travel. The launch lineup is all 100mm travel front and rear, with builds aimed squarely at podium chasers.
Here's how it changed, some key features, and my ride impressions before I start modifying the build…
Niner RKT year-to-year comparison
With the 2022/23 Niner RKT in front of the prior model, the differences are stark. A much lower top tube, much longer seatpost extension, slacker head angle, and lower linkage and rear shock placement.
The effect is dramatic, giving it an incredibly low center of gravity, even on the XL frame.
Regarding fit, the lower standover is the biggest change. Even with the seat tube extending upward a bit from the top tube, it's still much lower than before and requires a lot more seatpost.
For every other Niner mountain bike model, I ride a Large frame (I'm 6'2″ with normal proportions), but I ride an XL RKT. And that became even more critical with this new version as I simply couldn't get a long enough seatpost to make the Large frame fit (and I tried…Niner even sent me a really long 3rd party post to try and it wasn't long enough).
Compounding this is the effective seatpost's very slack angle. The higher your post, the further back the saddle gets, and on the Large frame, even without getting it high enough, I felt too far behing the BB for good pedaling dynamics.
Even on the XL, I've got the saddle slid almost all the way forward. So, if you're between sizes, I'd recommend sizing up. And I'd recommend 0mm seatpost setback.
Niner RKT RDO frame details & actual weight
There is routing for a dropper post, but they don't currently spec the bikes with one.
I really like that they added top tube storage mounts. The interior of the front triangle is cramped, with only one bottle cage mount and little room for anything else. I've recently added a small bento box and it's allowed me to get everything I want on the bike for 60-90 minute rides.
That said, the bolts are placed a bit further back than on most gravel bikes, so your bolt-on top tube bag may sit further back than you'd like. Strap-on bags work fine, too, just note the minimal stack under the stem…thick stabilizer straps may not fit well.
There is another bottle cage mount under the downtube, very low, which could double as another spot for accessories. A clear protective strip covers almost the entire downtube's bottom half.
Full length chainstay protection keeps that tube in shape and quiets any chain slap…which I haven't noticed any yet.
Niner's cable management keeps it close to the frame as it transitions from front triangle to rear. Everything is sleeved inside the frame, so you just slide the cables and hoses in and they pop out where they should.
Surprisingly, Niner offers a complete bike with XO mechanical shifting, which was refreshing. In an age of wireless and electronic, it's actually pretty nice just being able to grab a bike and go and not worry about anything being charged.
Also very nice to see drainage ports added under the lower shock mount. It also gets a flip chip at the lower mount. I've been runnign it in the Low position so far and it is indeed low.
As with their current JET 9 RDO bike, these new generation Niners sit lower than before and I'm getting pedal strikes when powering through roots and rocks. I never noticed it before the latest models, and while not ideal, I'll take the tradeoff of a lower COG and improved handling.
(Side note: I did try changing it trailside but couldn't get the bolt side to slide out, so I'll be doing that before a future ride and update here. But Low position feels really good, even for pure XC courses. The point is, you may not be able to swap it mid-ride despite appearances.)
Niner's CVA suspension is, as I've said numerous times before, impressively efficient. It climbs and descends equally well, and despite visual proof that the suspension moves a bit while pedaling, it still moves quickly under effort. More on that below.
The bike's low-slung appearance is accentuated by thinner tubes and shapely curves. The seatstays sit really low, and bow out at teh back to provide the necessary brake caliper and cassette/chain clearance while also preventing ankle rub. The design works and looks great.
The RKT clears 29×2.5″ tires. It's shown above with the stock Schwalbe 2.35″ Racing Ralph tire (Racing Ray on the front).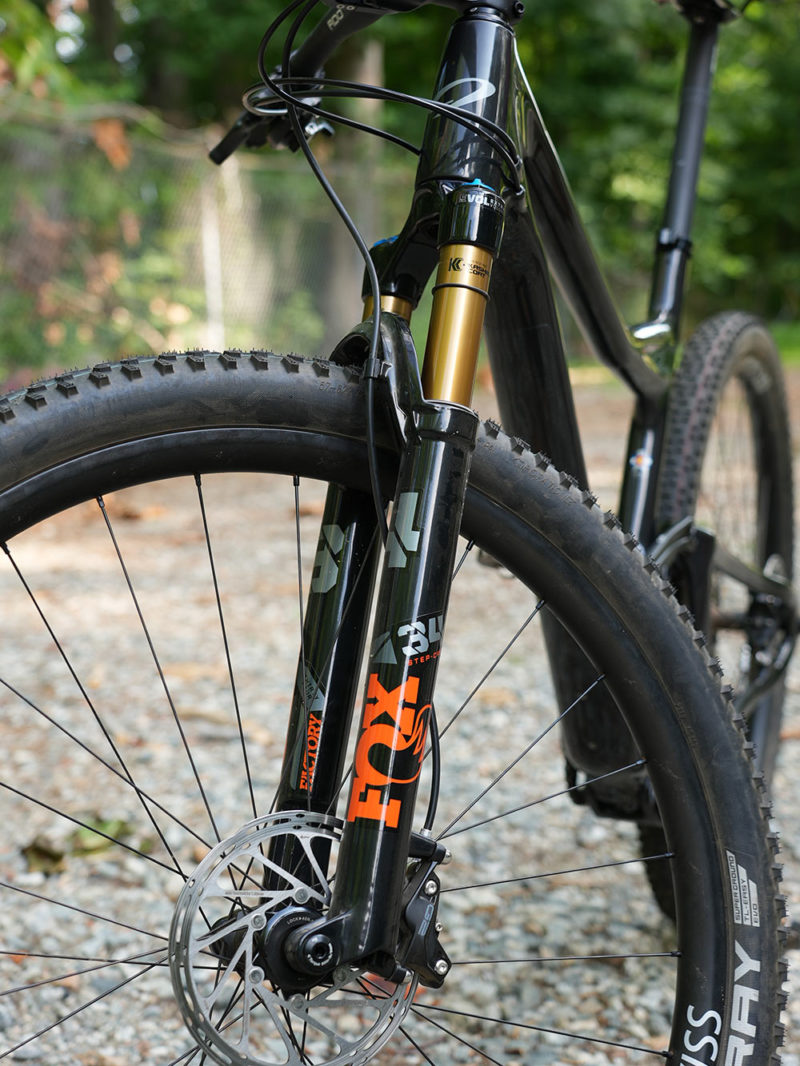 Up front, they're specing Fox 34 SC (Step Cast) forks with 100mm travel. Niner says these are stiffer than the 32 SC forks without adding much weight, so they went for a bit of extra performance over absolute gram saving. Riding it validates the decision, in my opinion.
They say the bike is compatible with 120mm forks if you want to make it a bit more downcountry-ish, but…
The top three models come with a remote lockout for the rear shock, leaving no room for a typical under-the-bar dropper post remote. There are solutions for such things, but they're rarely pretty…just something to keep in mind if you planned on adding a dropper post.
The 400mm carbon RDO post is nice (30.9mm), with easy two-bolt saddle adjustments thanks to bolts that are angled outward slightly. The carbon RDO handlebar feels a hair wide for XC at 780mm, but it can be cut down. It's paired with a Race Face alloy stem on this 5-Star SRAM XO1 build. It retails for $8,399 with DT Swiss XRC 1501 carbon wheels and Fox Factory-level suspension (shock shown not accurate spec…it comes with a Kashima shock, too).
New, with tubeless setup, the XL bike weighs 23lb 1oz (10.37kg). Not bad, and it feels and rides lighter than that. I've done a few things to shed grams, but realistically there's not a lot left to be done without exorbitant costs.
Niner RKT RDO ride review
For an "XC" bike, the RKT floats over the rough stuff. A few pedal strikes not withstanding, it's easy to chew through rows of roots and small rock gardens under power.
I've always liked the CVA suspension's ability to take blunt hits in stride, rarely getting hung up on big hits. This helps maintain momentum, and when climbing into things, like a root step-up or over a rock, I rarely need to pull the back wheel up with me…I can just pedal through it. This saves a ton of energy, and every extra watt helps in a race.
In most cases, I never use a lockout. Here, though, it let me run the rear shock a bit softer, giving me full travel and a very plush ride in technical terrain. Then I would just "lock it out" and get a firmer but still responsive rear shock that could keep traction but provide a noticeably more direct power delivery.
Maybe not the intended use, but it worked well for me.
The real fun comes on twisty, swoopy sections. The low COG (center of gravity) makes the bike handle on rails. If the tires would grip, I could rip. And wiggling through tight stuff was quick and nimble.
Despite the saddle creeping backward as the post goes up (Niner claims an actual 74.6º to 75º depending on flip chip position, but the effective angle depends on how much your raise or lower it), it's still easy to get over the front of the bike and weight the front tire for cornering.
In fact, it's easy to maneuver yourself and the bike anywhere either needs to be for aggressive handling. Basically, it's a really fun bike to ride that's easy to whip around.
If you like to charge hard, crush people's dreams on Strava, or just ride fast, the Niner RKT RDO is definitely worth a look. I gave this bike an 2022 Editor's Choice Award for good reason…it delivers on the promise of a fast, efficient, capable XC race bike. Add a dropper and it's World Cup ready, even if I'm not.