Four-time Tour de France winner Chris Froome has said that competing in the ongoing Tour du Rwanda has rekindled memories of his childhood growing up in Nairobi, the city where he discovered cycling.
The hugely successful road cyclist, who has also claimed two Olympic bronze medals competing for Great Britain, was raised in Kenya and South Africa – but this is the first time in 14 years that he has raced on the continent where he was born.
"To be here in Africa racing not only with the locals but with the terrain does feel like I have come full circle, it's a pretty cool feeling," he said.
Now 37, Froome represented Kenya in the 2006 Commonwealth Games and 2007 African Games in Algiers where he finished third in the road race.
He switched his allegiance to Great Britain in 2008 and joined what was then Team Sky in 2010, with whom he won his four Tour de France titles.
"Having been born in Nairobi, in East Africa, it's a very similar sort of a way of life as here in Rwanda," he added.
Tour du Rwanda impact
Although making his Tour du Rwanda debut, Froome's Israel Premier Tech cycling team has been part of the event since 2016, and he believes such events will pave way for African cyclists to ride to the top.
"We've had a few African riders break out and reach Europe," observed Froome.
"But I really believe that through events like this we'll see a lot of new talent from Africa making it to the professional scene to race at the Tour de France in the next 10 years."
Eritrea's Biniam Girmay made history as the first black African winner of a Grand Tour stage when he won Stage 10 of the Giro d'Italia in May 2022.
Froome insists African cycling is "very much on the rise".
"This is now the 15th edition of the race, which I think speaks volumes to cycling in Rwanda and cycling in Africa," he said.
"I want to experience that for myself and see the passion for the sport, which I think is growing rapidly in Africa."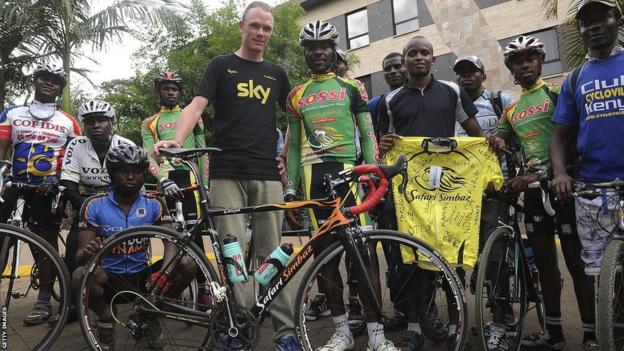 Inspiring the next generation
Froome's mere presence in the race is also turning heads.
Eritrean cyclist Awet Aman, 19, is representing his nation for the first time during the Tour and he is grateful to be snaking his way through the hilly terrain alongside one of his heroes.
"This is my first time racing outside of Eritrea and it's great to be able to race alongside Froome, who I've been watching race since I can remember," he said.
"I never dreamed of racing with him."
Aman's Eritrean team-mate Hager Andemariam has been checking out how Froome is navigating the competition.
"I watched him in the race, ride and communicate with his team and others," the 22-year-old added.
"We're in this tournament together so I might get a chance to chat with him and get some tips for my career."
The Tour du Rwanda is also giving riders a chance to sample part of the circuit that will be used at the 2025 World Championships, the first to be held on African soil.
The eight-stage event finishes on Sunday in Rwanda's capital Kigali.