Belgian sprinter Arnaud De Lie was one of the breakthrough stars of the 2022 campaign, and his rise has shown no signs of faltering this season, either, returning to Opening Weekend and walking away with second at Omloop Het Nieuwsblad and seventh at Kuurne-Brussel-Kuurne.
The Lotto-Dstny 20-year-old was tipped before the weekend to be among the top favourites by several fellow pros, and he more than lived up to expectations. At Omloop, he sprinted to the best of the rest spot, notably being the only man to ride the Muur van Geraardsbergen in the big chainring behind Dylan van Baarle.
At Sunday's Kuurne, he wasn't quite the best of the rest behind the winning break, but not far off as he missed a place in the sprint behind the dominant Jumbo-Visma's Christophe Laporte.
Speaking after the race, Lotto's lead directeur sportif this weekend, Nikolas Maes, told Cyclingnews that De Lie's results are something the team certainly would've signed up for beforehand.
"I think so if we are honest, I would have signed up for this, especially second place in Omloop," Maes said. "We are trying now already a few years to reach the podium, and this is a goal that we can now tick off.
"For sure, we are ambitious. We want to win races, but to be honest, against this Jumbo-Visma today, it was quite hard. The only chance that I saw was a combined 'pool' after the Kluisberg – then we might close the gap. But once we entered this closing circuit, I could already feel that it was over."
De Lie, who has already taken three wins this season, including an impressive uphill victory at Etoile de Bessèges, said that he, too, was happy with his weekend's work.
"Seventh place at Kuurne and second in Omloop, of course, gives me a satisfied feeling after my first full Opening Weekend," he said. "When the race split in the hilly part, I had some heavy legs at first.
"If I had felt strong enough, I would certainly have tried to join the attackers on Le Bourliquet, but I was limited to following there. Eventually, I came into a good rhythm, and the legs only got better as the race progressed."
On Saturday, members of Jumbo-Visma – dominant winners of both races this weekend – had criticised Lotto in the Belgian press (opens in new tab) for not helping set the pace behind the early break.
Sunday saw the shoe on the other foot, with the Belgian squad a permanent presence on the front of the chase after Jumbo-Visma had initiated what turned out to be the race-winning move with 84km to go on Le Bourliquet.
"No," Maes replied when asked if they received enough assistance from the likes of Soudal-QuickStep and Trek-Segafredo. "If you expect that three riders are going to close the gap on five riders that are initially better, then I don't know how you see it.
"It's quite clear for this gap to be closed, you needed eight to 10 riders. We never got those riders, and apparently, all the guys on the other teams in the group were happy to sprint for sixth or seventh place."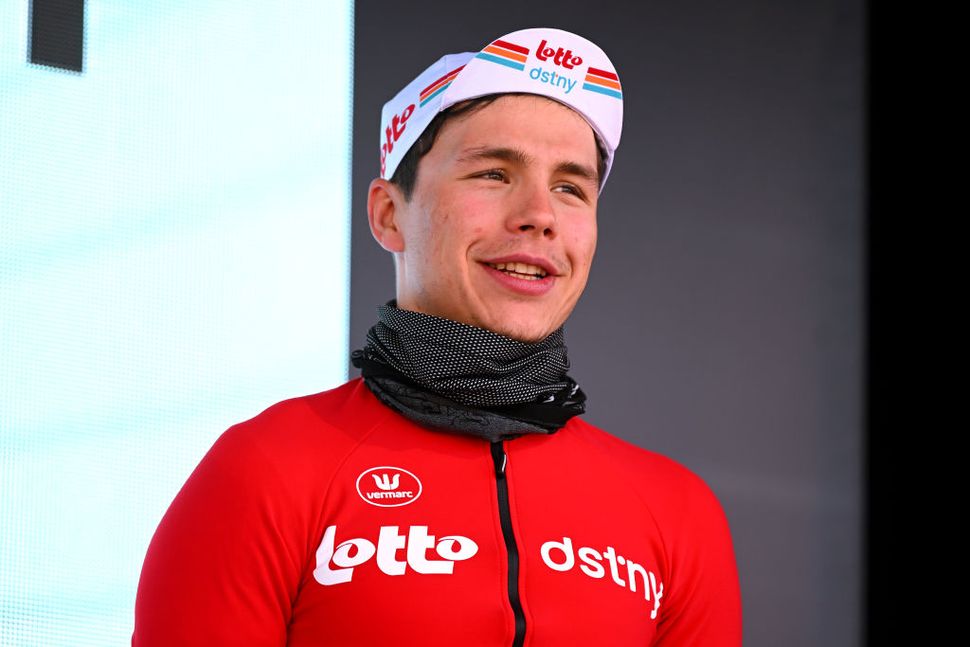 Regardless of the help, or lack thereof, received during the chase, De Lie was one of the major talking points heading into the weekend and remains so as we leave it behind. Maes said that his rapid progress – he took nine wins as a neo-pro last year – has been a pleasant surprise.
"Let's say that when we took De Lie in the team last year, we knew he was capable of doing things, but if we knew his growing curve would be this steep, then no, we didn't expect this," Maes said.
"But he grows fast, eh? One year ago, you have to know he was dropping here somewhere in the open fields completely out of the peloton, so he's going super-fast, but he's also intelligent enough to know that he has to stick to the plan.
"We designed a growing curve for him for two or three years. We're going to stick to it. Of course, we added Omloop now, and I think that was the right choice, but it doesn't mean that we're going to switch the whole programme for him and try to reach other goals. It's quite clear where we want to go and at which time."
De Lie himself is looking forward to the coming races, given the form he's in to start the 2023 season. He's now anointed among Belgium's next generation of Classics and sprinting stars, but he won't be taking in a full Classics season just yet – and a Grand Tour might be a season or two away, too.
"Everyone looked a bit at us in the chase, but my teammates did again an amazing job," said summarising the race. "That we were still with five guys part of the reduced bunch shows another solid collective performance today.
"Arjen Livyns, Brent Van Moer, and Frederik Frison pulled a lot at the front, and Florian Vermeersch made sure I could start the sprint in a good position.
"Unfortunately, it wasn't for the win, but I end this Opening Weekend definitely with a good feeling. I took another step forward, and there are some nice things to come with this shape."
Maes concluded by outlining the near future for Lotto's newest star. A selective programme is coming up, though there will be more dates with the WorldTour. Omloop was only the sixth WorldTour race day of his career, after all, though Paris-Nice and Paris-Roubaix debuts are on the way.
"I think personally for him that Paris-Roubaix is going to be a big goal," he said. "But the Tour of Flanders, for example, we don't have it on the plan. We're going to be very selective now in the upcoming races and try to save him a little bit.
"This guy goes full and opens the gas in every race, so we have to be careful with him. You need to be sure that we always keep them in a good condition and a good flow – we ain't going to squeeze him."