Set to retire at the end of this season, Annemiek van Vleuten has begun her farewell tour, but it isn't just a celebratory lap because she plans on training hard and racing to win at every opportunity. 
Her last Spring Classics campaign of a remarkable 16-year career got underway at Omloop Het Nieuwsblad, and it will resume at Strade Bianche, Tour of Flanders and the Ardennes Classics. 
It would only be natural for a pro athlete who has been around as long as Van Vleuten to feel nostalgic in her final season. She admitted that, while she wasn't feeling overwhelmed or busying herself with thoughts of retirement, she would steal a few small moments here and there to reflect on fond memories, especially during some of her favourite races. 
One such race is Strade Bianche.
"I don't feel very different," Van Vleuten told Cyclingnews when asked about competing in Strade Bianche for the last time on Saturday.
"I'm still focussed. I want to be at my best possible level and give my everything, so it's nothing different [from previous years]. I aim to be at my best possible level.
"But, yes, tomorrow after the finish on Piazza del Campo, I'll think, 'I will not be here next year,' and I will look around maybe a little bit extra to enjoy the moment. Also, my boyfriend will be at the finish line, so it's nice. And then that's it, after the finish, maybe I'll have a quick look around and think, 'that was the last one.'"
Van Vleuten has expressed her joy for racing in Italy many times during her career, and Strade Bianche is a race that she has focussed on each year. She has won the race twice, in 2019 and 2020, and hopes to add a third title to her long list of achievements this weekend.
"I think it has the most beautiful finish of our whole calendar with a finish in the Piazza del Campo in the center of Siena. I really like to race in Italy. I like the people here, the fans, and the culture, and so that's also part of it, and it's a beautiful race; hard. It has all the ingredients to love it," Van Vleuten said.
Strade Bianche is a relatively young race, with its inaugural edition in 2015, but it has gained popularity for its trek across the scenic, white gravel roads of Tuscany. The women's 136 kilometres include a total of 31.4km of gravel across eight or nine sectors. The climbs also make the race especially challenging, finishing on the steep 16% Via Santa Caterina and into the Piazza del Campo.
"The pictures afterwards on the gravel sections are always beautiful. Racing it? Well, you can have bad luck, that's the thing with the gravel, and there is always a lot of tension and nervousness to be in the right position and in the right moment," Van Vleuten said.
"I think that it's something epic to race, although I think the weather tomorrow is not going to be so epic better, still, it's very challenging. 
"It's a bit different from other races, and I think that's also why I like it. It's not a race that suits me well. So, maybe it's also a big challenge for me, and maybe that's also why I like it," she admitted.
"It has quite short climbs, so the efforts are only one or two minutes in the final, for example. The short climbs are usually not my cup of tea or a place to make a difference in the race, but when it's raced really hard, it's hard."
Over the years, Strade Bianche has attracted a range of versatility among the peloton, everyone from Van Vleuten, Lotte Kopecky, Chantal van de Broek-Blaak, Ashleigh Moolman-Pasio, Mavi García, Marianne Vos and Marta Bastianelli. 
Likewise, in the men's race, the most recent podiums have included Tadej Pogačar, Mathieu van der Poel, Egan Bernal, Alejandro Valverde, Kasper Asgreen and Julian Alaphilippe, to name a few.
"Another reason why I love Strade Bianche so much is that the Classic riders come here together with the climbers. Sometimes you see podiums, like with the men's race. I remember Egan Bernal was sharing the podium with a Classics rider. So I think that's also quite a cool thing about this race," Van Vleuten said.
Gravel riding for fun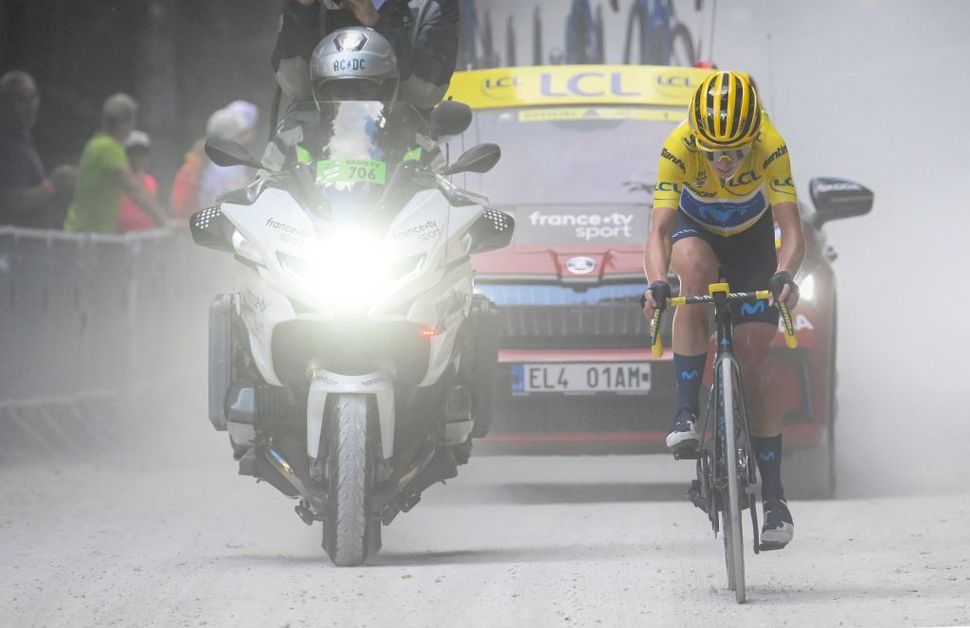 Off-road riding, in general, has a certain appeal to Van Vleuten, who has dabbled in mountain bike stage racing and cyclocross over the years. While she has been critical about gravel sectors in stage races, she likes the gravel aspects of one-day races like Strade Bianche.
Asked if she might transfer her success on the road into competitive gravel racing after retirement, Van Vleuten said, 'no', adding that she has no intention of racing gravel events, such as the UCI series or the Gravel World Championships.
She does, however, plan to enter gravel events in Colombia in the future, not in a competitive capacity, but to simply enjoy riding her bike and having fun.
'I'm not really a competition animal. So I don't think that I really need competition in my life to be happy. I don't feel that I will be continuing racing. I will be continuing riding for sure but not racing," Van Vleuten said of her prospects for riding after her pro racing career, an off-road endeavour she plans to take up with her partner.
"I have to say, I did sign up for the Crocodile Trophy, together with my boyfriend, in November, and that's a mountain bike stage race I already did in 2016. He also got me into some, maybe, a gravel race next year in Colombia, so yeah, but that's it for me. 
"He will be more competitive there than I am. I will be just riding. I don't want to be racing. But, yeah, maybe some fun events, but it's nothing that I want to work at next year; to prepare myself for the training sessions and training schedules, and whatever. No, I think I will just enjoy it."