Milan-Sanremo is this Saturday. It's the paradox of the longest race that is often won thanks to the finest of details and the smallest margins, a race that can look anachronistic with its distance and late action but surely the Monument where race science and aerodynamics count the most.
Read on for the things we know like the route, TV times, stats and even the weather. As for who is going to win, there's stellar cast of contenders from grand tour winners via classics contenders to sprinters and more. Picking between them is hard which is what makes the finale so tantalising.
The Route
294km and a new start. No longer Milan-Sanremo, the start this year is in Abbiategrasso, a town outside of Milan. There's a loop around Abbiategrasso before a dash south to Pavia to pick up the traditional route after 30km. The change seems anecdotal, it's a flat start either way.
After 120km it's Ovada and the start of the Passo Turchino. Once a climb that shaped the race, a combination of road improvements and the peloton's ability means this gradual mountain pass is just a gentle energy sapping moment. The tunnel at the top of the pass is roughly the halfway point and the ensuing descent is much steeper than the way up, the peloton often starts to get nervous as it senses the Mediterranean below but as it's dry it shouldn't be inherently risky.
Then comes the Via Aurelia coastal road as the race skims along the coast, from afar we get scenic helicopter shot, inside the peloton it's increasingly frantic with modern street furniture and antiquated town squares alike to navigate. The cape trinity: Capo Mele, Capo Cervo and Capo Berta are small climbs but serve as landmarks to break up the flat road and riders fight from position. By now the race has done 250km.
Then it's on to the Cipressa (more detail). This starts with sharp right hander and quickly climbs through olive groves above San Lorenzo and the 9% gradient bites after 270km. This is a proper moment of climbing that ejects sprinters, the average of 4% is a blend of a steep start and a flat balcony over the top where dropped riders flounder. There's a toboggan descent, the most technical part of the entire course. The race continues along the coastal road where teams battle to get their leaders into place for the start of the Poggio climb.
The Poggio (more here) starts with 9.2km to go and marks the final phase of the race. A furious pace is inevitable. A right flick off the coastal road and the climb begins with a series of wide bends that are so fast some riders have to brake. Positioning is everything as the road twists up, every metre matters. It's not as steep as the Cipressa, there's one short step at 8%, this is often the place to attack. After 287km the peloton's brittle and the Poggio can be just enough to shatter things.
The descent often matters. It's 3km and averages 4.5%, it's not that technical but amid the bends and ramps if a rider can take five seconds here then the others behind will ask who can close this gap and that hesitation is enough to settle the race.
The Finish: under the 1km banner and it's left at the fountain, then right on the wide Via Roma.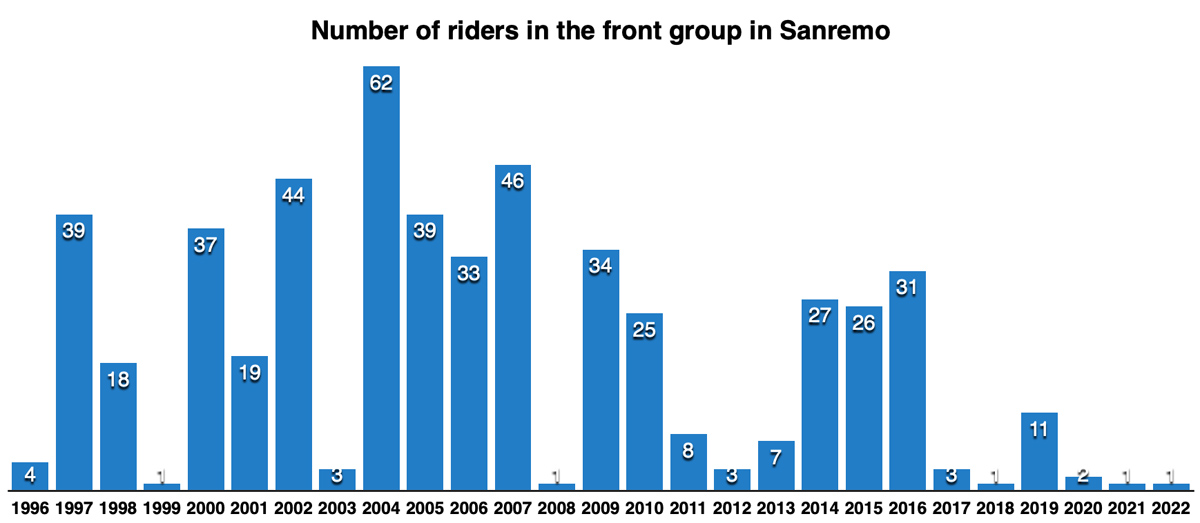 The Scenario: Milan-Sanremo might well be the race where the greatest proportion of the field starts the race harbouring private hopes of triumph. Maybe the breakaway will stick this time, maybe, maybe. However this race has long been a hunting ground reserved for star riders and even a "bunch sprint" as the chart above shows is really amid a very reduced group. The race tends to follow a pattern with the Cipressa to soften up the field and increasingly the Poggio does the same rather than being the springboard to victory. In the last two years the Cipressa's been ridden so fast that not one rider has attacked and we have to go back to 1996 when the winning move went clear here.
The Contenders
Cycling data outfit Fuoriclasse crunched the numbers in February when Mathieu van der Poel had won 23% of the races he'd started, Tadej Pogačar 22% and Wout van Aert 17% so between them so they're the obvious three picks. That said this isn't an ordinary race and if the career stats suit them, the two cyclo-crossers have niggling doubts over their form: they have a 0% win rate this season. Still, rivals will be watching them and even basing their plans on them, if they move so will others. Often trying to pick the winner of any bike race is more an exercise in storytelling than prediction but when it comes to Sanremo you can almost run through the whole start list and the scenario whereby each rider could win…
Wout van Aert (Jumbo-Visma) was looking very strong in Tirreno-Adriatico, has won this race before and he can do it all, from winning bunch sprints to surging clear on the Poggio. This is also his problem, when he moves others follow and so many will look to him and mark him. He's also been chasing his form after a delayed start to the season because of illness. Christophe Laporte has a very fast finish too and used to have problems with races over 200km but has resolved that.
Tadej Pogačar (UAE) isn't just a contender, his presence in the race might have rivals planning their tactics around his expected move on the Poggio. Pogačar launched here last year on only it was early, too many riders were able to jump on his wheel. So an attack later on seems likely bordering on predictable. Now he's obviously excellent uphill but the Poggio isn't so steep and while few dare to follow him when he surges on an Alpine ascent, for the Poggio it can pay to get in his draft right away. Perhaps he could confound predictions and go on the Cipressa as this slightly steeper climb suits more but his team have come to win rather than gamble. If he's joined by others on the Poggio he'll count on his sprint.
Matej Mohorič (Bahrain) won last year by attacking just before the descent and using the bends to ride away while others behind hesitated. Repeating this is going to be harder, he's a "must follow" rider now. But good luck tracking him down the Poggio, ever since he was a child riding down the hill to his club's group rides he's made descending his thing. He's got a mix of team mates several of whom could be outsiders but Mohorič is bound to be their Plan A.
Is Julian Alaphilippe (Soudal-Quickstep) having a Philippe Gilbert moment? Once unbeatable on short climbs, Gilbert began to lose that zip and had to find other ways to win races. Alaphilippe's past 30 now must be losing a bit of the fizzle and sizzle. The form's not been ideal too but he's been a canny rider too who can win the sprint in a small group. Davide Ballerini is a fast sprinter while Kasper Asgreen and Yves Lampaert can both be luxury lieutenants or reserved for an attack in Sanremo if they can make it.
Third last year, Mathieu van der Poel (Alpecin-Deceuninck) gives the impression of being able to ride through a brick wall when he's on form, although this lack of tact is sometimes how downfall. His condition's questionable after he was adrift on the Strade Bianche and discreet in Tirreno-Adriatico but even when not 100% he's a force to be reckoned with. A glimpse of his form came when he launched Jasper Philipsen to a sprint win and the pair can play the old 1-2 with MvdP covering moves on the Poggio while Philipsen holds tight for the sprint. Søren Kragh Andersen is also a crafty card to play and can win à la Simon Gerrans.
Italian hopes rest on Filippo Ganna (Ineos) and his big shoulders. He's been visible on the Poggio in recent years, but as a pace-setter on the early slopes. This time perhaps he needs to hide on the wheels, bide his time and aim to win just like Fabian Cancellara did with a late attack in the streets of Sanremo where he can pile on the power and nobody else can match him. Easier said that done of course but in the absence of Tom Pidcock he's their best card. Magnus Sheffield is in form too and could do a similar move too.
Trek-Segafredo come with past winner Jasper Stuyven, he did a textbook "Sanremo heist" in 2021, attacking just as the Poggio descent ended to leave the group looking at each other. Mads Pedersen seems made for this race but seems to have an on/off relationship with it, this time he's back and looked very strong in Paris-Nice before leaving the race ill. Presumably he won't be starting if he's not 100% and his power and surprisingly light build makes him look perfect for the race.
Biniam Girmay (Intermarché-Circus-Wanty) is capable of winning, he's been in the mix in the sprints of late but how to win if he comes to the finish with some of the names above? Play it calm and hope the weight of the race is on them so he can use his sprint.
Lotto-Dstny bring Arnaud De Lie and Caleb Ewan which could double their chances but equally cause confusion when it comes to team mates pacing their leaders into position whether it's for the final climbs, or if anyone is left for the sprint in Sanremo. De Lie's a novice but the story of his career is how each time he's presented with a challenge he meets it; that said of late he's done well but is yet to triumph in the World Tour and Saturday is bound to be the longest ride in his life. He's powerful on the climbs and has a sprint but has he got the finesse for the finale? Caleb Ewan's twice been runner-up and dreams of this race and has been thwarted by photofinish cameras so far this season.
Neilson Powless (EF Education-Easypost) has been a rider in form this early season but how to win, the climbs aren't selective enough and his sprint probably isn't powerful enough; he can set up the stealthy Magnus Cort who does have a sprint.
Now for more outsiders. Fernando Gaviria is looking much sharper again but still short of his 2017 form, still he's a contender thanks to his sprint and Ivan Garcia Cortina gives Movistar another option or could help Gaviria. Arnaud Démare (Groupama-FDJ) won in 2016 but then a enjoyed an excellent start to the season with several wins, something that's not happened yet. Sam Bennett (Bora-hansgrohe) seems capable of winning as he's often handy on a climb but his form has looked erratic. Second last year, Anthony Turgis (TotalEnergies) is a resilient rider who is due a big win but he's more suited to a hard day in a Flemish semi-classic. Ag2r Citroën's Benoît Cosnefroy can deliver world-class rides and the Poggio is his kind of launchpad but the descent and tactical finish make it hard to see a win. Bardiani's Henok Mulubrhan has had a great start to the season but the team would sign for a top-10. DSM's best bet might be Marius Mayrhofer, the winner of the Cadel Evans road race this year who packs a punch and sees himself as a classics rider. Israel-PremierTech bring veteran Sep Vanmarcke but Corbin Strong could be the one to watch.
| | |
| --- | --- |
| | – |
| | Wout van Aert |
| | Mathieu van der Poel, Mads Pedersen, Tadej Pogačar |
| | Matej Mohorič, Jasper Philipsen, Filippo Ganna, Caleb Ewan |
| | Girmay, Alaphilippe, De Lie, SKA, Cort, Laporte, De Lie, Gaviria |
Weather: textbook weather for La Primavera, a cold start at 3°C but once over the Turchino, sunshine and 15°C. They'll be a hefty 30km/h tailwind for much of the Via Aurelia which means a crosswind for the Cipressa and Poggio in places.
TV: live from start to finish on RAI for locals and Eurosport/GCN. The neutral start is at 9.55am CET and the finish is due around 5.10pm CET. By all means watch all of it but if so treat like radio, something that's on in the background. If you plan to tune in later, the Capi start around 3.45pm and the Cipressa an hour later. US readers should double-check as it's the time of year when the US and Europe are out of sync between the seasonal clock changes.