"It was the coldest race of my life. At some points, I was thinking that we were going to die." Marlen Reusser spoke through waves of shivers as she waited for the podium ceremony sitting alongside runner-up Megan Jastrab and third-placed Maike van der Duin behind the staging area after winning her first big Spring Classic at Gent-Wevelgem.
The odds seemed to be stacked against Reusser almost from the beginning. At a race like Gent-Wevelgem, which is well-suited to the sprinters. SD Worx had one of the strongest teams and many cards to play, but even Reusser had expected a sprint this year.
"In all the [previous] editions, our goal was not to have a sprint, but it was never possible because it is so hard to get away and stay away in this race," Reusser said. "This year, I was not expecting that it would happen. I was expecting that we would sprint with Lorena [Wiebes]. Given the parcour, and it's not my favourite race. But it was different this year."
This year's race was held under abysmal weather conditions that were cold and rain-soaked all the way through the 162.5km race between Ypres and Wevelgem.
The rain caused the cobbled ascents to become slippery and Reusser was forced to walk on the first time up the Baneberg. Several mass crashes caused race-deciding splits among the peloton, too. 
Luckily, Reusser said, her SD Work teammates managed to make it through most of the accidents unscathed, at least for most of the race. However, a crash in the final 10km, while Reusser was off the front, caused Lorena Wiebes, Lotte Kopecky and Elena Cecchini to go down.
"Today was special, first, because the conditions were so bad. I can tell you that we were all frozen. It was really cold. It was the coldest race and experience on the bike, and then there were crashes, a crash that made a small selection [mid-race], and we were lucky to have the whole team up front," Reusser said.
"I think this changed the dynamics of the race a lot. I also think that I would not have stayed away for 45km if my team was not so strong or if we didn't have the numbers behind. So, thank you, SD Worx."
Reusser rode away from the field on the second ascent of the Baneberg, with roughly 45km to go, when teams were still organising themselves after a mass crash. 
The Swiss rider slowly picked up the pace, adding more pressure to her effort, and when looking back was surprised to realise that she had created a gap.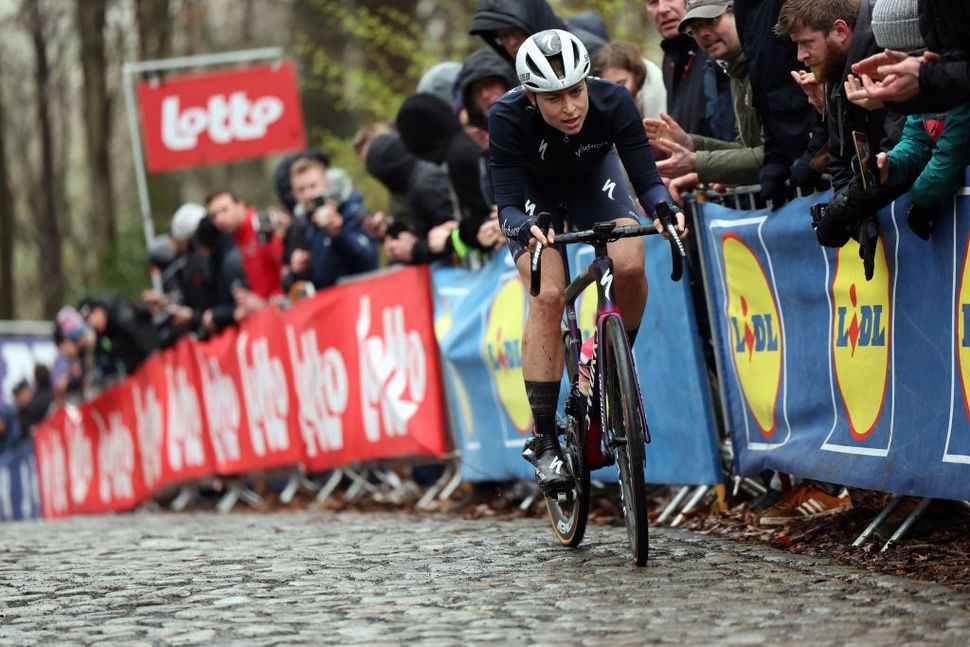 "I didn't attack. I thought maybe we could make a selection or a small group, but there was no one on my wheel, and I thought, 'let's try'. I was very surprised. I put in a bit higher pace, and it was a decision that they [rival teams] just did not ride that fast. I kept the pace to see what would happen. I immediately got time, so I thought, 'we have five other cards to play, I'm the first to play,' so I went," she said.
"It was not a hard decision to continue. I know I'm a good time triallist, and sometimes, I prefer being in the time trial rather than having to make hard decisions. When I heard over the radio that the team was supporting my action, it was good."
The Swiss rider built her lead out to nearly three minutes, but with limited radio contact, she wasn't confident in her advantage. A wrong turn inside the final five kilometres was cause for some initial concern, but in the end, the error made almost no difference to her lead, and she won by 2:42 over the group sprint.
"I have to watch it back myself. The race [course] went a little bit to the right, I went straight, so maybe they could have shown me better, or maybe I could have been more attentive because I just went straight. I understood that I went to wrong way because [I heard] everyone saying 'no, no, no' when I turned. I was not happy," Reusser said.
"I was not so confident about my gap. There are different dynamics. My legs are going slowly, and I know that if riders sprint behind, they will drive the pace up, so I was not confident that it would really happen. I was not happy to lose extra seconds there [in the wrong turn]."
Reusser said it wasn't until one kilometre to go that she began to feel confident that she would win Gent-Wevelgem. 
Although she had not anticipated her victory ahead of the race, she admitted that she had her podium bag prepared, just in case. "I would not have thought that I could win it today, but also, I would not have said I would not win it, either," she said.