The Flemish Ardennes is the kind of place where a misstep can quickly spiral into a mistake. If Tadej Pogačar didn't know that before, he certainly realised as much after his first race in the area in the 2022 Dwars door Vlaanderen.
When the Slovenian was loose in his positioning ahead of Berg Ten Houte that afternoon, Mathieu van der Poel didn't need a second invitation to spark the winning move. Pogačar, meanwhile, would never see the front of the race again, instead spending the next 70km in a ferocious but ultimately futile chase amid the lonesome lanes and steeples of Flanders. He would reach Waregem over two minutes down in 10th place. Welcome to the neighbourhood.
For years, the apparent chaos of the cobbled Classics, where the gentlest flap of a butterfly's wings always carries the residual threat of a tornado, had all but dissuaded Tour de France contenders from daring to sample the delights of the Flemish Spring. Vincenzo Nibali's Tour of Flanders cameo in 2018 was notable, but even his respectable outing there felt close to the upper limit of what a man with designs on the yellow jersey that same year could reasonably hope to achieve.
The normal rules, however, don't seem to apply to Pogačar. Riders of his physique, so received wisdom told us, shouldn't be able to go toe-to-toe with the likes of Van der Poel, and yet he dominated the 2022 Tour of Flanders with the Dutchman before somehow contriving to finish fourth in a two-up sprint in Oudenaarde.
Like the error of positioning at Dwars door Vlaanderen, that Ronde sprint was another stark lesson for Pogačar, but the UAE Team Emirates rider gives the impression of being a quick learner. On Friday, when he found himself contesting the 2023 E3 Saxo Classic with Van der Poel and Wout van Aert, Pogačar understood that his only, faint hope of an upset in the sprint was to open his effort from distance rather than get lulled again into trying to accelerate from a near dead start.
More strikingly, when Pogačar had briefly taken his eye off the ball on the Taaienberg 80km from the finish, he moved immediately to remedy the situation himself rather than rely on the circumstances of the race to do it for him. When Van der Poel and Van Aert surged clear there, Pogačar swiftly sewed the race back together. It was an error, of course, but UAE Team Emirates directeur sportif Fabio Baldato insisted it hadn't been a costly one, unlike at last year's Dwars door Vlaanderen.
"For a moment, we weren't in the perfect position – but if that's a mistake, then it's the kind of mistake I'd like to make all the time. In the end, Tadej was there," Baldato told Cyclingnews in Belgium. "He spent a little bit of energy there, but there were over 80km still to go. I didn't even expect myself that Van der Poel would be so aggressive there that he'd go clear in a two-man group."
Traditionally, experience has been a key weapon in the armoury of a Tour of Flanders winner, even for men weaned on this terrain. Roger De Vlaeminck had to wait until his eighth year as a professional for his lone Ronde victory, while Tom Boonen spent several years as Johan Museeuw's apprentice, focusing on midweek Classics, before he was trusted with the keys of the QuickStep offense at the big one.
Pogačar, by contrast, has been through an accelerated education programme in the mores of Flemish racing. Sunday's Tour of Flanders will be just his fourth appearance in a cobbled Classic – he also shone on the cobbles across the border at last year's Tour de France – but he is already, indisputably, a five-star favourite for victory. 
"He's learned a lot in the three races he has done on the cobbles," Baldato said. "In these races, you have to 'mark' the key men, you can't let them out of your sight, because every moment can be dangerous. Everybody knows that. When Van der Poel decides to go, he can put everybody in difficulty – but even more so when he goes at an unexpected time."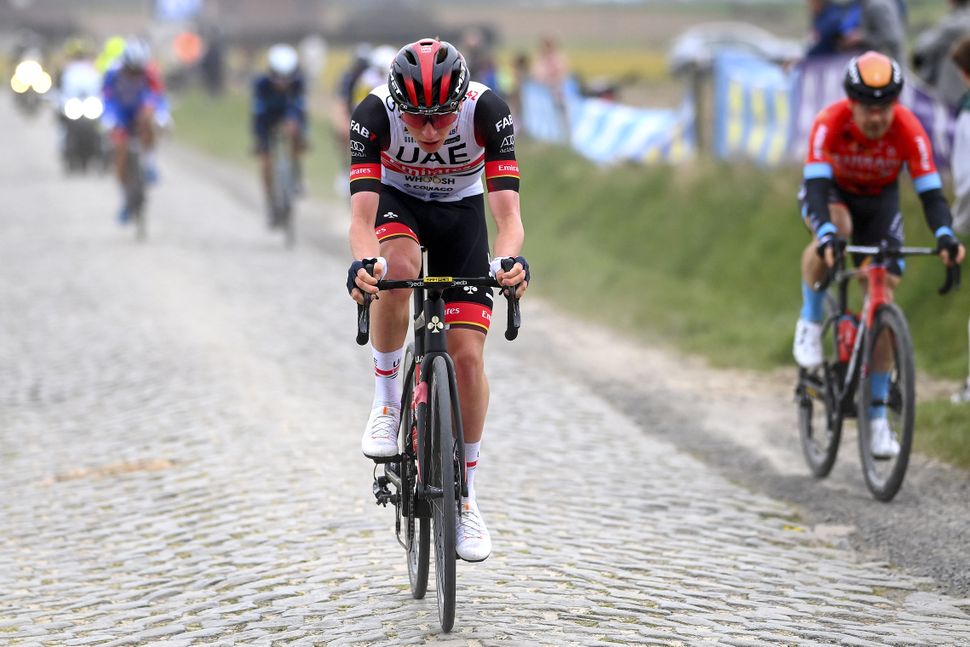 Ronde ambition
Baldato has been coming to Belgium long enough to know that the truths uncovered by E3 Harelbeke are usually restated at the Tour of Flanders a week later. "In my career as a rider and as a director, the top ten in Harelbeke is usually, in a slightly different order, the same as the top ten in Flanders," he said. "If you go back over the years, you'll see that there's a pattern."
This time out, it's less a top ten than a top three. Pogačar joined Van der Poel and the winner Van Aert in the decisive move in Harelbeke and that same trio will set out from Bruges on Sunday as the five-star favourites for the Tour of Flanders. Nobody else, save perhaps for some of Van Aert's Jumbo-Visma guard, seems to be entertaining realistic hopes of victory.
With Jumbo's collective might in mind – Van Aert is joined by Omloop winner Dylan van Baarle, Kuurne-Brussel-Kuurne winner Tiesj Benoot and Gent-Wevelgem winner Christophe Laporte – UAE Team Emirates will surely expect more from Pogačar's supporting cast on Sunday, Matteo Trentin and Tim Wellens in particular. "I'm sure that with Tadej as strong and as motivated as he is, he'll manage to pull a bit more from the others," Baldato said.
E3 was also the first time Van Aert had raced against Pogačar on the cobbles after COVID-19 ruled him out of last year's Tour of Flanders. Van Aert surprisingly overwhelmed Pogačar on his own terrain at Hautacam on the 2023 Tour, but he knows the favour could just as readily be returned at the weekend. At E3, after all, Pogačar's forcing on the Kwaremont briefly distanced Van Aert.
"He makes the race harder for guys like me and Mathieu," Van Aert admitted in Harelbeke on Friday. "Because he's a climber, he has a hard time with the first acceleration, but he can do it over and over again because he's a lot lighter than us, so he's definitely one of the biggest competitors. It's harder for him to position himself and to ride the same pace as us on the flat, but on the other hand, I don't see many weaknesses with him."
UAE Team Emirates will hope that the sheer distance of the Ronde can play to Pogačar's ability to make repeated accelerations, though a counterargument is that the longer race provides more moments of respite for Van der Poel and Van Aert between the key climbs. In any case, it is certainly true that the Tour of Flanders presents a different challenge to E3 Harelbeke, where Baldato felt circumstances played against a solo attack from Pogačar.
"In the finale, it was 20km of flat roads with a sidewind, so trying to get away alone wasn't worth it," Baldato said. "Before that, Tadej tried on the Paterberg and on the Kwaremont, and if the motorbike rider didn't fall in front of him there, he might have been able to land a decisive blow on Van Aert.
"If Van der Poel had collaborated a bit there with Tadej – although maybe he was a bit afraid to do it – I think the pair of them could have stopped Van Aert from getting back up on the Kwaremont and gone all the way. But a rider like Van Aert is very explosive, so he always has a little something extra when he gets to the finish, even if he's had some difficulties beforehand."
The inference, of course, is that Pogačar will look to get to Oudenaarde alone on Sunday.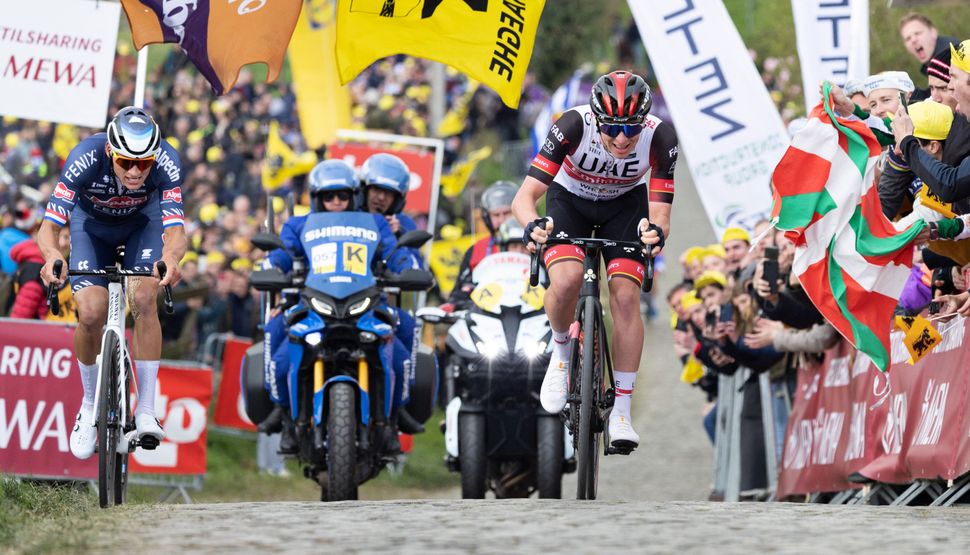 Dwars door Vlaanderen
Pogačar was initially slated to complete his Tour of Flanders build-up at Dwars door Vlaanderen on Wednesday, but last week he indicated his preference to forgo the race and complete his preparations at home in Monaco. Although Pogačar was coy about his reasoning – "Just a feeling," he shrugged in Harelbeke – it seems the decision was informed by a combination of the experience already garnered last year and the volume of racing still ahead of him this Spring.
"He's had a lot of races already this year and his Spring is still long, so we have to mind him a little bit, and he's already gained a lot of experience here and learned how to race here," Baldato said. "Last year, he rode in Waregem specifically to learn and get a bit of experience ahead of his debut in Flanders. This year, he's done Harelbeke too, so he can afford to miss Waregem and come to Flanders a bit fresher. And afterwards, he's got Amstel and Liège. He's not stopping at Roubaix like the other two…"
No, Pogačar is just passing through this corner of the world, but that doesn't mean he won't conquer it. The cobbles aren't his natural habitat, but he has already learned enough to do far more than simply survive them. At the Ronde, as in Harelbeke, Van Aert and Van der Poel have company.