There are few things as daunting as the cobbles between Paris and Roubaix for any cyclist.
The race is invariably decided by a mix of grit, power and sheer luck.
Ineos Grenadiers teenager Joshua Tarling is not worried, despite this being his first season as a professional.
After all, what could frighten the 19-year-old when he is surrounded by such experienced team-mates as fellow Welsh cyclist Luke Rowe and Italian Filippo Ganna.
In fact at 19 years and 53 days, Tarling will become the youngest rider to compete in the men's race since 1937.
"I'm not stressing too much because you've got Luke [Rowe] here, who is a Classics genius and you've got [Filippo] Ganna who's the strongest ever," said Tarling.
"In a team like this just don't stress, learn as much as you can from them and see how it goes, and do your job."
The Welsh challenge
Before the men's race on Sunday there was already Welsh interest in Saturday's 2023 women's edition.
Zoe Backstedt – riding with the pedals used by her father Magnus when he won the race in 2004 – finished 46th, with sister Elynor 76th.
Along with Rowe and Tarling in the men's race is Owain Doull, who will be riding for EF Education-Easypost.
While the other four trained at Cardiff's Maindy Flyers, Aberaeron's Tarling found that preparing around his native Ceredigion was "perfect".
"My parents started a club in Aberaeron – West Wales Cycling Club," said Tarling.
"We used to cycle around that new school in Llandysul, they've got a good loop round there so they used to let us do sessions on Thursday nights.
"It was perfect for training, the roads are quiet and it's hard to get an easy ride, it's so hilly all the time.
"You haven't got a lot of choice. Sometimes, you'd think, 'oh no not another hill' but then it makes you stronger, so when you get to do flatter races, it's easier."
"When you get back home there's beaches and nice views. I always like switching off after training and it's perfect for that because you can train, train hard and then chill, so it worked really well."
'It's last man standing'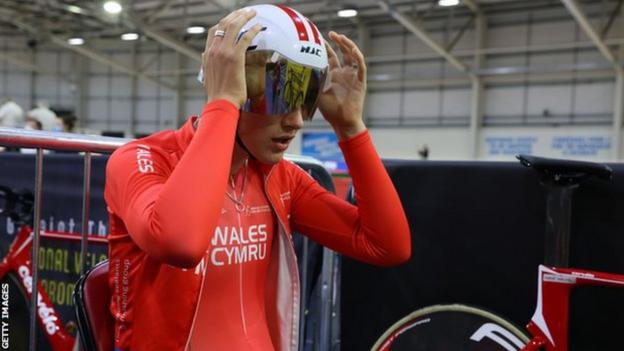 Tarling signed a three-year deal to ride for Ineos in August 2022 and competed in the 2022 Commonwealth Games in Birmingham but this could provide his sternest senior challenge so far.
The men's race takes in 257 kilometres, starting in Compiegne just north of Paris and finishing in the famous velodrome of Roubaix.
What stops it from being a long relaxing ride are the 29 stages of cobblestones which vary in difficulty and length.
Ineos are known for their thorough preparation but even for them the race comes down to luck.
"Roubaix's a tricky race to plan for, it could go any way," said Tarling.
"I'm just here to do whatever job I can, whatever they tell me I'll do, and then try and do that as best as I can.
"See how long I can last. It's like last man standing. There are small sections that you can plan for but it's so unpredictable."
That uncertainty means team tactics are difficult, something which Tarling will leave to those more experienced than he.
"I think the main thing really is having numbers," said Tarling.
"You always want as many people as you can in a bike race. I don't think I've got a lot of say, just because I'm here to learn and be like a sponge and take everything in.
"I will leave it to the likes of Luke [Rowe] and Ian Stannard [Ineos sport director] who is crazy at this kind of stuff.
"Whatever you're thinking, he's already thinking, so I'm just here to agree and do my job."