By now, Jay Vine is probably used to the occasional detour en route to his final destination, but he gets there in the end. Despite the knee injury that interrupted his season at the UAE Tour, he remains set to make his Giro d'Italia debut next month.
After a week off the bike altogether and a couple more confined to his turbo trainer, Vine has been back in full training for a month as he builds towards the Grande Partenza on May 6. The final touches to his preparation will take place at a camp at Sierra Nevada this month before he travels to Italy in a UAE Team Emirates line-up that also includes João Almeida.
"It was a long and annoying process to try to get the knee mended, but first and foremost, the team was just trying to make sure there was no chronic or prolonged pain and that I'd be able to continue the season without surgery," Vine tells Cyclingnews. "Everything's come good now, so that's encouraging."
Back in late February, however, the situation was rather more vexing. In his first sparkling outings since swapping Alpecin-Deceuninck for UAE Team Emirates, Vine had collected the Australian time trial title and overall victory at the Tour Down Under. Everything shuddered to a halt at the UAE Tour, however, when a knee injury picked up in training beforehand was aggravated on the windswept opening stage.
Perhaps out of a sense of duty to his new squad, Vine still lined out in the following day's team time trial, but when he was distanced in the opening kilometres there, it was clear that the only remedy was rest. It was not a welcome adjustment to the menu for a man whose appetite had been whetted rather than sated by his fast start to 2023.
"Everyone kept telling me that I'd got stuff in that bank, and so that was ok, but my outlook on the situation definitely wasn't that," Vine says. "I certainly wasn't ready to go on a break. Mentally, at the end of last season, I was done, I was finished – I wanted to eat nothing but brownies and pizza and not even look at my bike.
"But when this injury happened, I'd only just sort of begun, so the mental side was difficult. I like to fix problems by finding a solution and getting on with it. And in this case, the solution was: hurry up and wait. So there's not much you can do."
Indeed, for the first week or so, Vine could do nothing at all. The nature of the injury – patellofemoral pain of the right knee – demanded as much. "Basically, I had to rest for seven days, no bike, which was the annoying thing," he says. "I was in quite a bit of pain after the team time trial, but within two days, I could walk around and do squats with no issues. But within five minutes of hopping on a bike again, the pain would come back, so we took seven days completely off."
The injury and subsequent rehabilitation process would force Vine out of the UAE Tour, Tirreno-Adriatico and the Volta a Catalunya. Cycling can be a most exasperating business; Vine reckons the damage that saw him miss out on three of his Spring targets was wrought in the space of a single training ride at his European base in Andorra.
"I had a cleat move on me after coming back from Australia, and with the subsequent ride being in -6°C, I didn't notice it, and that was enough to do the damage," Vine says. 
"I've had it before, and it usually goes away in a day. Going into UAE Tour, we thought it was going to get better, or I'd be able to get through it. But even before the start, it wasn't doing too well, and then it fell apart on me in the crosswinds on day one."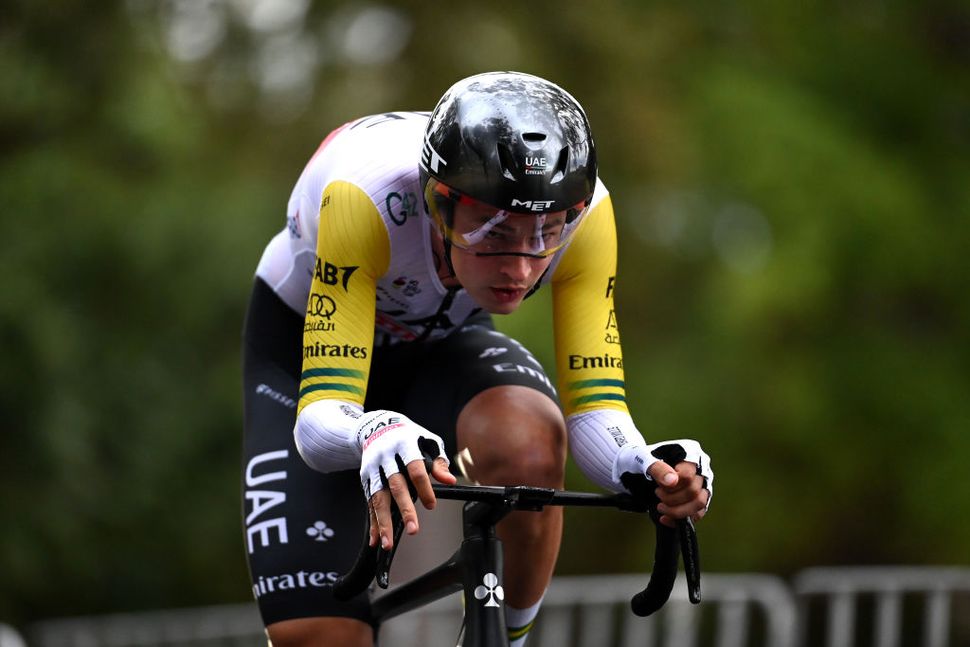 Giro
The tale of Vine's passage to the pro ranks by way of an online training platform is well-worn, but it's reductive, too, given that the full story of his road to the WorldTour is altogether longer and more interesting. Still, at least he was well familiar with the concept when he found himself restricted to his turbo trainer in early March.
"For two or three weeks, I could only ride indoors for an hour at a time using MyWhoosh, with super low watt resistance," Vine explains. "We're talking 100 watts or maybe 120 watts, because we had to make sure the patella was still tracking in the right orientation.
"That was the next issue to consider because if I'd stopped riding completely for those weeks, the patella might have tracked incorrectly, and then when we applied a load in training for the Giro, we might have done some more permanent damage."
The steep realities of Andorran geography meant that the use of the training platform was all the more essential to the early phase of his rehabilitation. "Short of using an e-bike, there's no option of doing easy rides like that in Andorra, because you always have to climb, so can't do below 200 or 250 watts," he says. 
"The other issue is it's really cold here, and we were finding that even wearing knee warmers was enough to put a little bit of pressure on the external parts of the knee and cause inflammation."
At least Vine had the consolation of putting his time away from competition to good use, moving "to a slightly nicer place" in Andorra in the week he ought to have been in action at Tirreno-Adriatico. In his absence, Almeida took second overall for UAE there, while the Portuguese rider was third – or best of the rest behind Primoz Roglic and Remco Evenepoel – at the Volta a Catalunya.
While Almeida's GC ambitions at the Giro are obvious, it remains to be seen whether Vine will be deployed as an outright co-leader or as a deluxe gregario for UAE Team Emirates in Italy. His place in the hierarchy may become clearer after the training camp at Sierra Nevada, but whatever his role, the 27-year-old is confident that he will be in the form to carry it out.
"The shape has come back really quickly after the injury, so that's a good sign," he says. "Obviously, the other guys have had some really good racing at Catalunya and Tirreno. João is flying at the moment, and then Remco and Primoz are also riding really well, funnily enough…"
Vine has, however, turned down the chance to feel his way back into competition beforehand at the Tour de Romandie, opting instead for a prolonged training block ahead of the Giro. "This removes travel days and any tapering before or after Romandie. It allows me the most amount of days on the bike to get the work in," he says. "I really like training and the process of preparing for an event."
Last summer, after all, Vine went ten weeks without racing between the Tour de Suisse and the Vuelta a España. He spent most of that block working alone to boot, yet he would prove the outstanding climber in Spain, winning two stages and dominating the mountains classification before crashing out in the final days. 
"I can prepare really well for an event on my own in training," Vine says, not as a boast or even a warning, but as a simple matter of fact.