Cars usually don't make a great ride better. At best, they're a distraction; At worst, a threat to your life. But some cars certainly do have their charms. Some of the world's most talented engineers work to make four-wheeled machines lighter, faster, and more powerful. Every now and again, those boffins turn their focus to machines with two wheels. 
When those minds align with the brightest engineers on the cycling side of things, the results can be wonderful. Or, they can be thinly veneered marketing mashups – like a new shade of paint and an extra logo emblazoned on the top tube.
Whether it's a genuine meeting of the engineering minds or little more than a branding collab, the output can raise the performance – or at least the appeal – of cycling to new heights. Here are a few of our favs from the past decade and change.
McLaren and Specialized
When it comes to racing success, one automotive and cycling mashup was particularly fruitful: Specialized and McLaren. The first sweet offspring from California-based Specialized and McLaren's Woking-based gurus was 2011's McLaren Venge. 
The initial idea was to tap into the advanced aerodynamics and composites work done by McLaren's storied Formula One background to create a lighter, stiffer, more aerodynamic frame. The resulting carbon fiber structure weighed 950 grams (2.1 lbs) or 2.07kg (4.5 lbs) including fork, seatpost and cranks. That's despite a claimed 23-watt aerodynamic savings at 28mph (45km/h) over the then-current Tarmac SL3. 
It's always difficult to chart those savings in real life, but you need look no further than its first race. At its debut at the 2011 Milano-San Remo (opens in new tab), HTC-Highroad's Matt Goss brought the new McLaren Venge its first win. Three weeks later, HTC's Mark Cavendish got his first win on the bike at the 2011 Scheldeprijs (opens in new tab) and would later ride that Venge on his was to becoming the UCI World Champion. (opens in new tab)
Specialized and McLaren would team up on multiple products over the years, including several aero-focused helmets and subsequent bikes like the S-Works McLaren Tarmac but that initial Venge still holds the high-water mark for these sorts of collaborations.
Aston Martin One-77
In 2009, Aston Martin revealed a very special car: the One-77. Though its general shape and layout had a passing resemblance to the then-current DB9, the car James Bond drove in Spectre, the One-77 was completely different. A long, lovely, carbon-fiber supercar with 750 horsepower from a V-12 engine, Aston officially built just 77 of the things. Deliveries started in 2011. 
Apparently, feeling flush with rarity, Aston Martin decided to follow that with the launch of another bespoke, ultra-rare vehicle in 2012: the One-77 Cycle. 
Though Aston claims the bike has a "clean sheet design," it actually borrows nearly everything from the Factor001 bicycle from Factor Bicycles but we'll forgive that when the result is this lovely, including a deliciously sculpted front fork, integrated lighting on the seat tube, and a "motorsports-derived data logging system" built right into the bars.
No bonus points for guessing that Aston Martin built 77 of these things, priced at a whopping £25,000 ($31,225) per bicycle. That is, at least, far better than the roughly £1.2 million ($1.5 million) that the one with the V12 cost back then.
Audi Sport Racing Bicycle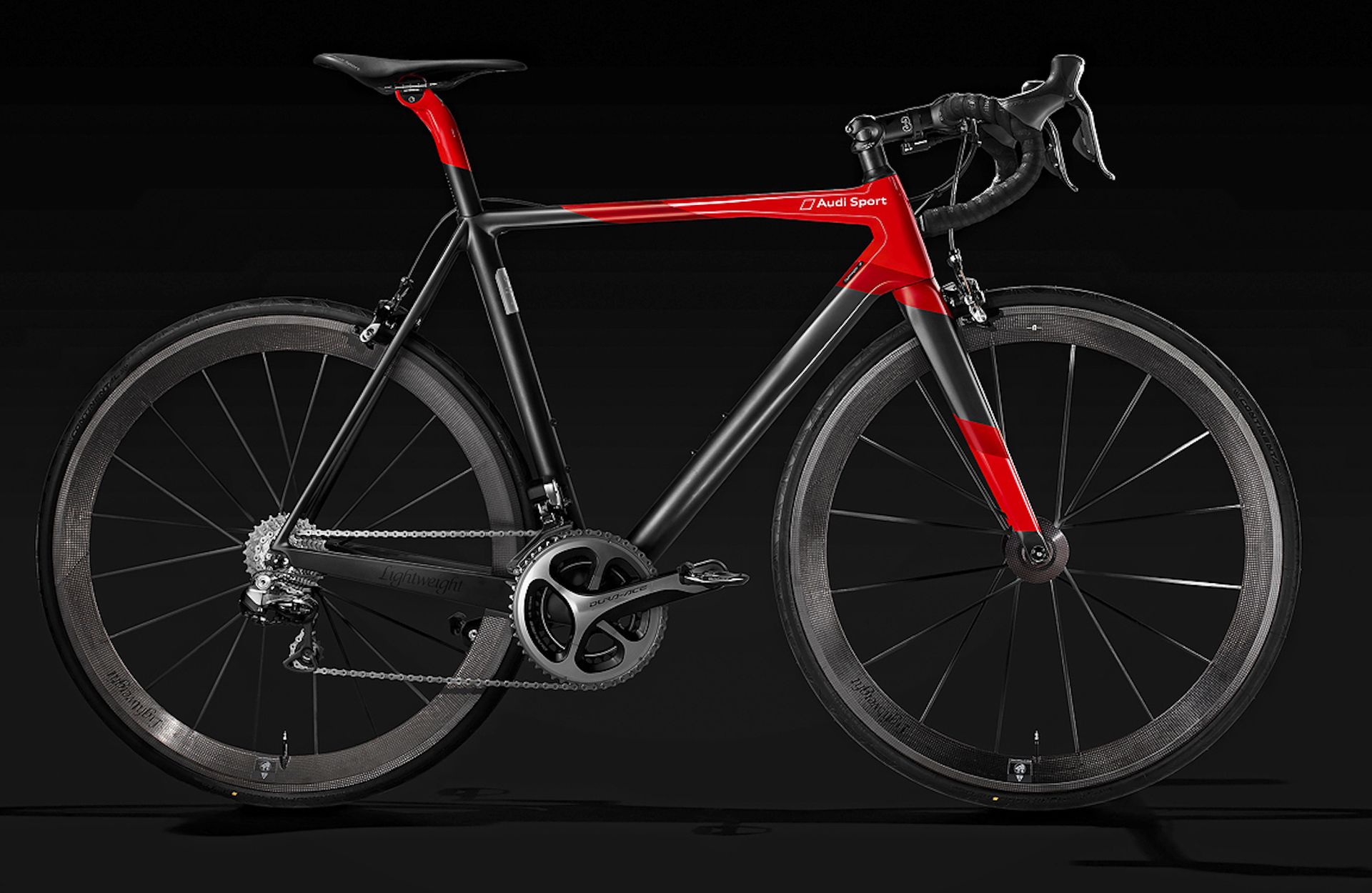 Audi has long been known for its motorsports exploits. From grand prix racing in the Auto Union days to revolutionizing rallying with its Quattro all-wheel-drive system in the '80s, Audi has certainly made waves.
However, its raciest two-wheel effort was destined to be more collector's item and curiosity than proper weapon: 2015's succinctly titled Audi Sport Racing Bike. 
Audi Sport is the company's in-house brand for high-performance cars, like the RS6 Avant and the R8 two-seater. The Racing Bike was said to share the same Nappa leather on its saddle as the R8's interior. Likewise, the carbon frame and wheels were made of the same Toray T1000 carbon fiber used in the cockpit of the Le Mans-winning R18 E-Tron Quattro.
That carbon was massaged by CarbonSports Lightweight to create the frame and wheels, then painted in Audi's simple but lovely red and black house scheme. It's a great-looking bike and claimed weight on the frame is just 790 grams (1.7 lbs), with a weight of 5.8kg (12.7 lbs) for the full bike. Yes, that's a full kilo under UCI racing regs but, given that Audi Sport only ever made 50 of the things, at a price of €17,500 ($19,242), you'll never have to worry about one of these rolling up next to you at a local crit anyway.  
Porsche eBike Sport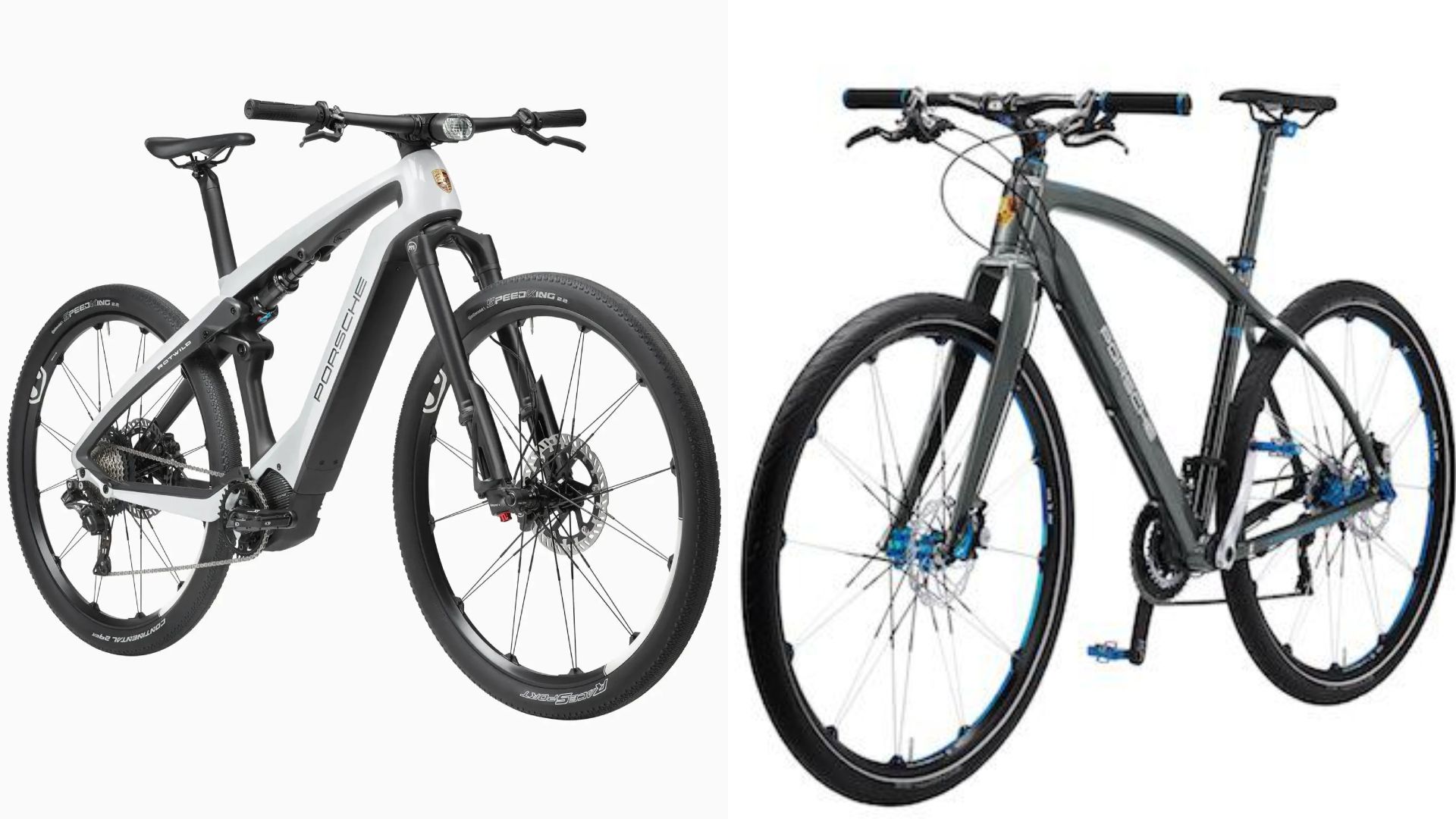 Porsche is another brand with an enviable heritage of high-performance racing machines. However, when it comes to two-wheeled action, the company's efforts have been a little more pedestrian.
Its first modern bicycle, the Porsche Bike RS, launched back in 2012, but with a hybrid look and a commuter-friendly geometry, it hardly raised anyone's pulse.
These days, Porsche has partnered with Rotwild to produce special editions of the company's high-performance, off-road e-bikes. Porsche says its electric sports sedan, the Taycan, provided inspiration for the design, which uses a custom carbon frame designed at Studio F. A. Porsche. 
Porsche has an off-road eBike Cross available as well, but the £11,000 ($13,600) eBike Sport is the racier of the two available models, with a Shimano EP-8 motor capable of driving the thing up to 25km/h (15 mph)  thanks to 85Nm of torque. That's only about 965Nm short of a Taycan Turbo S, but since eBike Sport weighs about 2,250kg (nearly 5,000 lbs)  less than the big EV, it should be a fair match.
Hummer EV bicycle
Last but not least is a bike-auto mashup inspired for once not by a sports car but instead by something rather more significant. That is to say: something much bigger. General Motors' Hummer EV provides the DNA for this offspring produced in partnership with Recon Power Bikes. Recon supplies bicycles to the U.S. Army, Air Force, and even the Space Force, making the company a natural fit for the Hummer's own militaristic provenance.
The Hummer EV AWD's most distinctive trait among this list is right there in the name: all-wheel-drive. This bike has two motor- driven wheels, powered by a pair of motors giving a total of 160Nm of torque. You'll need that amount of twist to keep those four-inch tires moving through the sand and muck and whatever the heck else gets in your way.
It won't crab walk like the real Hummer EV, but the Hummer EV Bike does have three different drive modes to choose from, giving your choice of front, rear, or all-wheel-drive. It's $3,999 (£3,200) to start, a lot more attainable than the $85,000 (£68,000) and up for the bigger of the two Hummer EVs.