Rather than wait for the race to play out as it traditionally does on the steep slopes of the Mur de Huy, Annemiek van Vleuten (Movistar) went on the early attack 37km out in an effort to challenge the script at this year's La Flèche Wallonne. 
A similar strategy has resulted in numerous career victories for the reigning World Champion, but this time it did not work out and she finished seventh behind winner Demi Vollering (SD Worx). Van Vleuten, who has not won a race this spring, admitted that while she is feeling in good shape, the peloton is simply stronger than ever before.
"I decided to do things a little bit differently today because it's always a waiting game until the last Mur de Huy, and I don't like that way of racing, it's a bit boring," Van Vleuten said.
"The idea was that if I went on the [penultimate] Mur de Huy, maybe I could surprise people. It actually didn't work because no one from SD Worx was there, but I attacked like it was the finish, all out."
A breakaway was reeled in on the Côte de Cherave with 44km from the finish, and Van Vleuten's Movistar team kept the pace high into the penultimate Mur de Huy, where she then made her unexpected early attack. 
At first, the only riders who could follow were Kasia Niewiadoma (Canyon-SRAM). Ashleigh Moolman-Pasio (AG Insurance-Soudal-QuickStep) and Elisa Longo Borghini (Trek-Segafredo).
SD Worx's Marlen Reusser led the main field to keep the select group at a manageable 15 seconds, which later enabled Vollering to close the gap with 30km to go.
"Moolman, Longo Borghini and Niewiadoma were with me. Elisa and Kasia took turns, Ashleigh didn't join, and it was a shame because if we all played it together, we could have had a chance to stay ahead, especially if SD Worx didn't work behind. Unfortunately, it was brought back," Van Vleuten said of the failed attempt.
A solo move by Amanda Spratt (Trek-Segafredo) was caught as Vollering pushed hard over the Côte de Cherave at speeds that forced Van Vleuten to, at times, question her position in the Ardennes Classics compared to previous seasons. 
'I knew there it wasn't my best day'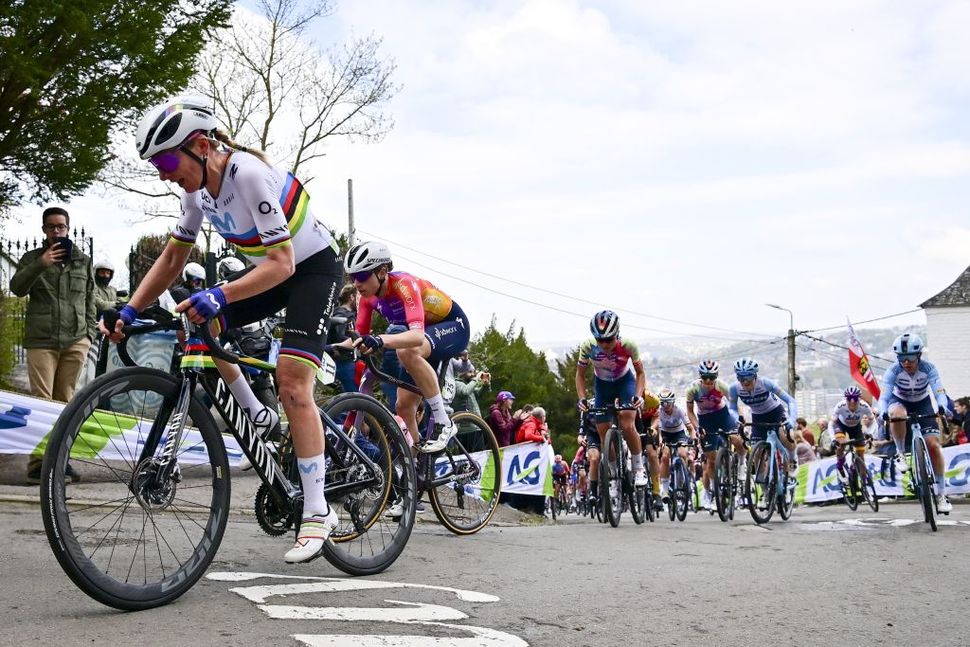 Vollering's strength is what made the next selection. She continued to push on at high speeds until eleven riders were all that remained heading into the last seven kilometres.
In that group were Niewiadoma and Élise Chabbey (Canyon-SRAM), Mavi García (UAE Team ADQ), Longo Borghini and Gaia Realini (Trek-Segafredo), Moolman-Pasio, Silvia Persico (UAE Team ADQ), Veronica Ewers (EF Education-TIBCO-SVB) and Movistar teammates Van Vleuten and Liane Lippert.
"At Cherave, I noticed that Vollering was really strong. She was keeping a strong pace there, and I had quite a bit of trouble with that. I knew there it wasn't my best day anyway. I am not feeling bad, I feel like I'm up there like in other years, but others were better," Van Vleuten said.
Vollering continued to lead the group into the closing kilometres, and with no one else challenging the effort, the second chase group on course reconnected with the breakaway with 2.7km to go.
Vollering led the race into the Mur de Huy and never looked back, taking the win over Lippert and Realini, while Van Vleuten finished seventh.
"Of course, I'm not racing for a result like seventh — I started with the idea of going for the win. After today, I can conclude that I'm not in the same position as I used to be in other Ardennes campaigns. I don't know yet what that is about," Van Vleuten said, although she expressed that she was proud of her teammate Lippert's podium performance as the peloton heads into the third and final of the Ardennes Classics at Liège-Bastogne-Liège.
"It was very nice that Liane finished second. That offers us some other chances to make a good race on Sunday, which should also suit me a little bit more. We still have a few days ahead to think about how we are going to handle it in Liège-Bastogne-Liège."