Keegan Swenson defended the men's title and Sofia Gomez Villafane captured her first at the Whiskey Off-Road on Sunday. Both competed in the 50 Proof Course, a total of 47.2 miles with 6,500 feet of elevation gain. 
After 50 miles of dirt singletrack sprinkled with rock outcroppings and little to no shade across the high desert terrain, Villafane left enough in the tank to outsprint Alexis Skarda on the pavement in downtown Prescott, Arizona. 
"This one is special. I have experienced a lot of heartbreak in previous years at Whiskey Off-Road. This year my main objective was to give the climbing goat (@alexisskarda) the best battle I was capable of that day," Villafane said on Instagram.
Skarda won the 2022 women's division with more than one minute over Rose Grant, and Villafane posting a sixth-place time close to 15 minutes back. Villafane, who won the Fuego XL MTB event to take the early lead for women in the Life Time Grand Prix, had two other top 10s at Whiskey Off-Road in 2018 and 2019.
For Swenson, it was his third consecutive victory in the men's pro division of the backcountry race, and the second time he held off Russell Finsterwald for the victory. This time out, the 2022 Life Time Grand Prix series winner was four minutes, 50 seconds ahead of his rival.
"The Whiskey Off-Road has become one of my favorite events of the season, and this edition was no different. Tons of rad trails, and nowhere to hide…. Flat-out racing start to finish," Swenson noted on his social feed. 
Like Villafane, Swenson holds the early lead in his division of the Life Time Grand Prix by winning Fuego XL's men's race. Both Swenson and Villafane also won the Friday night showdown in Prescott at El Yucateco Hot Sauce Pro Fat Tire Crit.
Clarke and Russell best at inaugural Canadian Gravel Nationals, White earns Paris to Ancaster win
Evan Russell (Saint Piran) and Devon Clarke (The Cyclery) took the honours April 30 as the first gravel national champions for Canada, in the elite men's and women's categories, respectively.
The inaugural Canadian Gravel Championships presented by Argon 18 took place in Hamilton, Ontario as part of an existing event, Paris to Ancaster, which is the country's longest running gravel race. The competitors tackled the 108.9km course amid rain and muddy conditions. 
USA's Curtis White (Steve Tilford Foundation) was the first rider across the line in the men's event for the overall win in the Paris to Ancaster event in a time of 3:01:38, while Russell was five second back for second overall and first in the championships. Adam Roberge (Jukebox Factor) was third overall. Ashlin Barry (EF Education-ONTO) won the men's U19/Junior title.
Clarke claimed the maple leaf jersey in a time of 3:23:48. Ruby West (Jukebox Factor) was 27 seconds back for second overall, well ahead of third-placed Rafaelle Carrier (CVM Sigma Assurance), who had the best time as the U19/Junior women's champion.
Wertz and Farrell win overall Grasshopper Series
The final event in northern California's five-race Grasshopper Adventure Series, Six Sigma Hopper, was won by Flavia Oliveira Parks in the pro women's division, while a third-place finisher Maude Farrell secured the overall title. 
The men's Six Sigma victory was taken in a final sprint by Peter Stetina, who outkicked Ian Lopez de San Roman. Brennan Wertz rolled across the line in fourth and locked up the overall title for men. The series stretched from January 28 to April 29 for five distinct races, from classic gravel to "minty Mendo" dirt to "crazy hard" singletrack cross-country mountain biking.
It was a rebound for Wertz on the final Saturday in Lake County, as he had a mechanical and two crashes that led to 39th place at Fuego XL to open his Life Time Grand Prix series a week before.
"The grand finale of the Grasshopper Adventure Series was yet another #ProperHopper. Also very stoked to clinch the series overall by just one point after many thrilling battles with my good friend and Above Category teammate Skyler Taylor," Wertz said on Instagram, noting that he "suffered a bit in the heat" near the end of the 77-mile ride with drop bars across a mixed terrain of pavement and dirt.
Wertz finished 11th in the opening event at Low Gap, then moved to second after a victory on the fourth stop of the series at Lake Sonoma, 47 points behind Taylor in the men's standings. With Taylor absent from the finale, Wertz tied up the overall men's title by just a single point. Zachary Morvant was another 38 points back in third. Lopez de San Roman, who won Huffmaster Hopper in February, finished sixth overall.
Meanwhile, Farrell took the overall lead in the women's standings after two events and extended the lead after winning Lake Sonoma. Sarah Flamm, who did not compete at Six Sigma, finished second overall, 24 points behind Farrell. Leslie Ethridge was third on the GC. Kate Courtney won the two events in which she competed, Low Gap and Lake Sonoma MTB, and finished fourth. Oliveira Parks also competed in just two events and was seventh overall.
ACC resumes at Sunny King Criterium May 6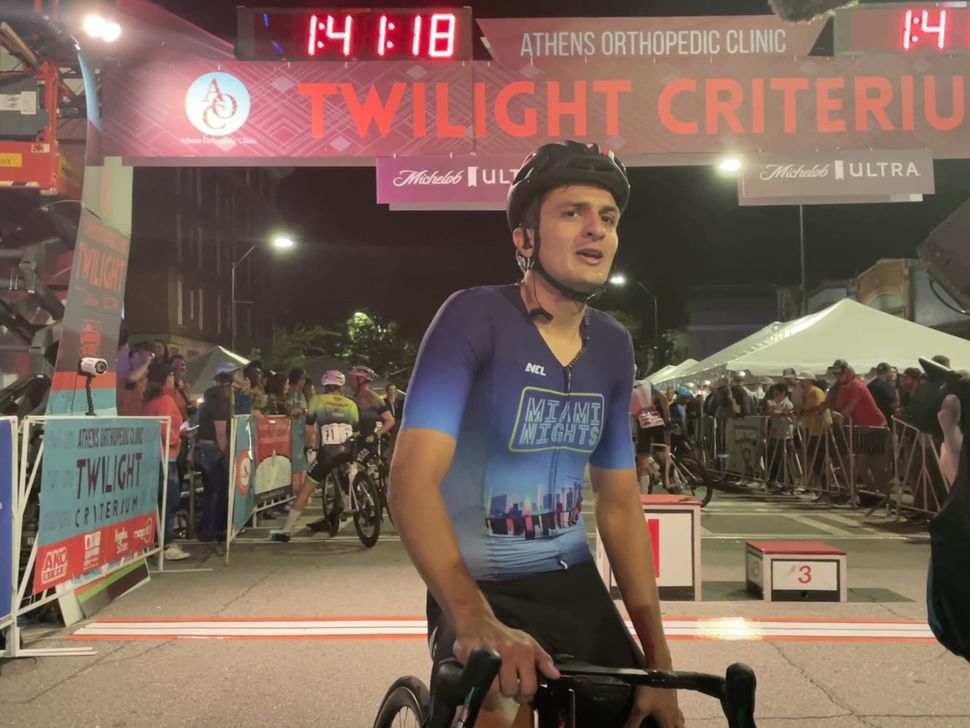 The Sunny King Criterium in Anniston, Alabama, will be live-streamed on Saturday, May 6, for a global audience to watch the second stop in the American Criterium Cup. Coverage on FloBikes starts at 5 p.m. CST, with the pro women taking the four-lap, one-kilometre flat course at 5:20 pm CST, followed by the pro men at 6:30 pm CST. 
The "King of all Crits" has traditionally finished under the lights after nightfall for the pro races, but this year organisers moved the race times for earlier starts.
With a victory in her hometown of Athens, Georgia, at the Athens Orthopedic Clinic Twilight, Alexis Ryan (L39ION of Los Angeles) punched her ticket as the first women's ACC leader, with Andrea Cyr (Miami Nights) in second and Erica Zaveta (Denver Disruptors) in third. Zaveta also leads the sprints competition. Denver and Miami are first and second, respectively, in the team competition, with DNA Pro Cycling rounding out the top three.
Bryan Gomez (Miami Nights) will take the start in Anniston wearing the red leader's jersey for men, while the Nights lead the team standings. Danny Summerhill (American Cycling Group) is in second place and is the leader in the sprint competition. Third overall for the men is Robin Carpenter (L39ION of Los Angeles), who will not compete in Anniston because of injuries sustained in a late-race crash at Spartanburg Regional Healthcare System Criterium in South Carolina, part of USA Speed Week.
Maryland Cycling Classic makes earlier start for 120-mile UCI race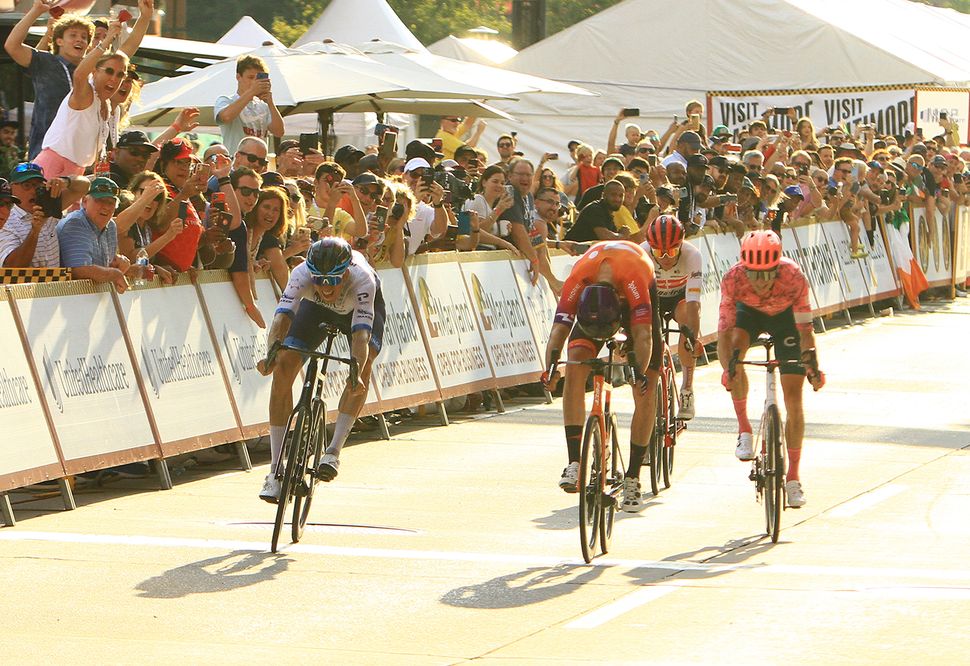 The Maryland Cycling Classic presented by UnitedHealthcare returns with a proven course for its second edition and will move the start time from 1:30 p.m. to 12:00 p.m. ET for an earlier finish along  Baltimore's famous Inner Harbor. 
Taking place on Sunday, September 3, the Maryland race route will be a duplicate from the inaugural edition, 120.4 miles (193.7 kilometres) from Kelly Benefits headquarter in Sparks, Maryland, to circuits in central Baltimore and the Harbor East district. The course includes 6,664 feet of total climbing with two hilly outer circuits followed by four technical finishing laps of 7.4 miles (12km) each.
Sep Vanmarcke (Israel-Premier Tech) won the inaugural Maryland Cycling Classic sprinting ahead of four other breakaway riders, Nickolas Zukowsky (Human Powered Health) taking second and Neilson Powless (EF Education-EasyPost) following in third. 
"Last year, the (Maryland Cycling Classic) was really exciting. It seemed to open up from the get-go, and we tried to make it pretty hard as a team even after the front split got away (on the outer circuits)," Powless said. "Being able to race around downtown Baltimore was fun as well. I spent the days before the race walking along the waterfront and eating good Mexican, seafood and sushi and all the things I miss when I'm in Europe. I'm looking forward to being back again this year…even though this is far from my home [in Arizona]."
A total of 17 professional teams consisting of seven riders each are expected to race this September. Confirmed WorldTour teams, at this time, are Trek-Segafredo and EF Education-EasyPost, along with ProTour teams Human Powered Health and Novo Nordisk. Among the early confirmations from other squads are L39ION of Los Angeles, Hagens Berman Axeon, Toronto Hustle and Team Medellín-EPM. 
The organisers of the Maryland Cycling Classic have not made any announcements about adding a women's race this year, an item they noted as an objective for future editions.