Britain's Geraint Thomas says finishing second at the Giro d'Italia is still "raw" but he is targeting more success later this season.
Thomas, who turned 37 on Thursday, led for much of the final week.
But he lost first position to Primoz Roglic in a dramatic mountain time trial on Saturday's penultimate stage.
After the Giro ended in Rome, Thomas said he would now focus on the summer's World Championships in Glasgow and possibly the Vuelta a Espana.
However, missing out on a second Grand Tour title by just 14 seconds was still hurting.
"Yeah, it's still a little bit raw," he told BBC Sport. "But I'm still proud of getting into this shape after the year I've had. Getting on the podium is still a big achievement."
Thomas had a "stop-start" winter as illness interrupted his training and race programme.
After completing the Tour Down Under in Australia in January, he managed only two short stage races before the Giro d'Italia began in May.
He was not many people's favourite for Giro glory but after the withdrawals of Remco Evenepoel (due to Covid) and Ineos Grenadiers team-mate Tao Geoghegan Hart (after a crash left him with a broken hip), the Welshman emerged as a leading contender.
As the race arrived at the Dolomites in the final week, Thomas re-took the leader's pink jersey and established an advantage over both Roglic and Portugal's Joao Almeida as the finish line in Rome drew nearer.
But Roglic snatched victory from Thomas by 14 seconds after winning Saturday's time trial up Monte Lussari by 40 seconds. Remarkably, the Slovenian won a junior ski jumping world title as a teenager on the same mountain.
Thomas admitted the messages he received that evening had him "welling up", but he was the first to concede Roglic deserved the win.
"He just rode above and beyond," Thomas said. "So hats off to him.
"If it was a flat time trial it might have been different, but that's just the way it is in sport. It's full of ups and downs. The lows make the highs even better."
Thomas was reunited with his wife Sara and son Macs in Rome. Just like the Tour de France last summer, Macs joined his dad on the Grand Tour podium.
Moments earlier, Mark Cavendish had stood on the top step – celebrating his win in the final stage, a victory aided by Thomas, who led out his friend of more than 25 years in the sprint finish to help him cross the line first.
Cavendish, 38, is retiring at the end of the season. But after he rolled back the years once again in a Grand Tour, Thomas is looking at carrying on a little while longer.
"I've never thought about my age," said Thomas. "I still love riding my bike, I still love training, I still love being with the boys – I think that keeps you young mentally.
"I'm still competitive, I still love racing, I still love the argy-bargy of a sprint sometimes. So I'll just keep doing it as long as I love it.
"I'll try to sort out my future [contract] in the next couple of weeks. I'm definitely not going to do more than two years, I don't think. But saying that I did say I wouldn't go on after this year."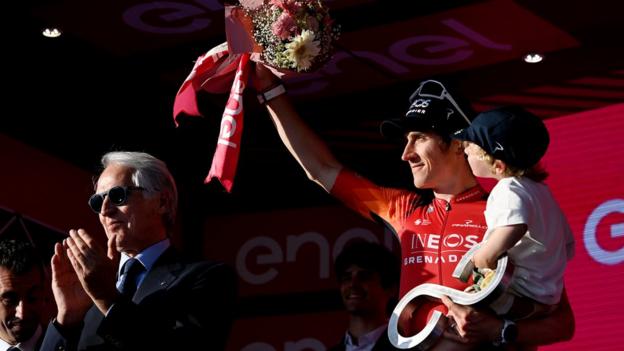 Disappointment in Italy has not dampened Thomas' appetite for the rest of the season.
He will take a week off at home with his family in France. Then he will get back on his bike and start planning his next goals.
That will likely start with the British National Road Championships in June – with even bigger targets to follow.
"With the Worlds in the UK in August, they're still a goal and after that potentially the Vuelta," said Thomas.
"I've only done the Vuelta once [in 2015]. That was a bad experience, so it'd be quite nice to maybe go back there."
After crashing out of the Giro d'Italia in 2017 and 2020, Thomas always spoke of having "unfinished business" in Italy.
Although he made it to the end – and on to the podium – that feeling is likely to remain.
Do not rule out seeing him going for the pink jersey once again before his career ends.
"I love racing in Italy," Thomas said. "It's something about the fans, the roads, the atmosphere is just amazing here.
"The support this race was really humbling, really nice to feel, and I've just had an amazing time.
"I hope I'll be back – never say never. As long as I keep racing, I know I'll want to come back."