With a sporting journey that includes American football, sprinting at the London Paralympics, winning European Para-athletics shot put silver and a Para-cycling world title, Sam Ruddock is no stranger to embracing challenges.
But now the 33-year-old is taking on a new test by developing his road riding skills.
Ruddock, who switched from athletics to cycling in 2019, is part of the Great Britain team at this week's Road World Cup in Huntsville, Alabama – his third World Cup of the year – as he aims to compete on both the track and road in August's World Championships in Glasgow and next year's Paris Paralympics.
"The transition from track to road has been difficult," he tells BBC Sport. "It is my first season on the road, and anyone who knows road racing knows that it's much longer and a big challenge mentally and physically.
"Going from riding four laps for the kilo or 12 laps for the pursuit on the track, to longer time trials and then road races that can cover over 60km at speed has been a steep learning curve."
For Ruddock, there is the added complication of his impairment – he was born with spastic diplegia, a form of cerebral palsy which has an impact on his balance, co-ordination and flexibility in his lower body.
"You have to understand your racing line, know when it is your turn to take a turn at the front of the field and also be aware of your spacing because you have other riders on all sides," he explains.
"For someone like me who has a fear of being imbalanced because of my condition, a slight knock could send me down and out.
"I've only ridden two time trials – this week will be my third – so getting experience and trying to produce more watts and sustain my effort and show progression is important.
"It is clear that the road racing is helping my positioning and cadence on the track so the two have gone hand in hand.
"It would be nice to finish on the podium, but I need to learn more about how to handle a bike at speed – cornering especially, because in the velodrome we only go straight and left.
"I know how to ride a bike but I don't handle corners very well because I don't practise enough, so it is part of the learning experience."
Ruddock is already making an impact as one of a small number of black disabled cyclists competing at the highest level. He is part of the KC Academy, founded by GB team-mate Kadeena Cox, which aims to get more riders from ethnically diverse backgrounds into performance pathways.
"We want to create opportunities and try to create a space where the sport is inclusive, regardless of background and how you get into the sport," he says.
"There is a lot to be said for the saying: 'If you don't see it, how can you be it?'
"Both Kadeena and I are aware that in the sport in which we compete, there aren't many people who look the way we do.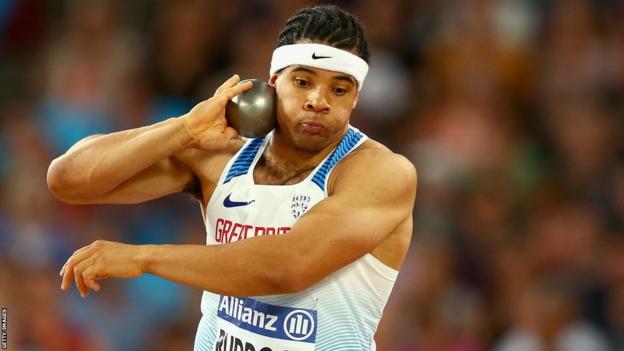 "But nobody goes to the LA Lakers or the Miami Heat and says 'there aren't many white guys playing basketball' – that's the nature of American sports.
"The nature of cycling is most cyclists are white and from that background. But as well as riders, we also want to diversify coaching and volunteering. If you have the skills and attributes, it doesn't matter where you come from."
When it comes to attracting new athletes, cycling has benefited more than most Paralympic sports from talent transfer for many years, with Jody Cundy and Sarah Storey moving over after successful swimming careers. But now it is former athletes who are making an impact.
As well as both Ruddock and Cox, Neil Fachie, Libby Clegg and Daphne Schrager have swapped their spikes for cycling shoes. C2 rider Schrager joins Ruddock in this week's competition, which runs from Thursday to Sunday.
And Ruddock is hoping to use his experiences to help both himself and his team-mates.
"I hope I have found my home with cycling," he admits. "I have no intention of going to another sport. I feel like I have something to give both on and off the bike and here is where I will have most success.
"There are a lot of different ages and experiences in the team and there are lessons we can all learn from each other.
"Talent transfer helps broaden perspectives and brings other ways of thinking and other methods of training, and maybe even socialising, that is outside of cycling.
"Every sport can be quite a bubble if it isn't burst from time to time.
"A bit of positive disruption never hurt anyone and I think there is a lot to be gained from bringing in athletes with different experiences and ideas. Getting the most out of each other will make us a better team."