Maghalie Rochette had hoped to make the trip to Edmonton, Alberta, this week, where she would line up at the Canadian Road Championships on June 25 to battle reigning road race champion Maggie Coles-Lyster and past champion Alison Jackson for the distinctive maple leaf jersey. 
The silver medalist in the road race in 2021, Rochette will miss this year's championships and leave that box on her bucket list unchecked.
"I will not be racing road nationals this year, unfortunately. I still have not been back on the bike, as I'm still struggling with this back injury," Rochette told Cyclingnews. "I have a few herniated discs and facet syndrome, and I need to get this sorted before getting back to training and then racing."
Back pain was also her nemesis in Emporia, Kansas, as she was originally set to race Unbound Gravel 200. With pain in her back for the past four months not subsiding, she refocused on a start in the 100-miler, but then opted to just be a spectator upon arrival in the Flint Hills.
"Since February, my back's been bothering me when I'm riding. But I wanted to get ready for this event. So I was kind of hoping that by doubling down on core exercises and yoga and stretching and massage and physio, all of that, that it would take care of itself, but it got worse," Rochette told Cyclingnews while in Kansas.
"So eventually, I switched my registration, I said, 'I'm gonna do 100 at least', I'll be part of the event. But then I did X-rays last week, and the doctors suggested that it would be better not to ride for now until we know exactly what it is. The pain is mostly when I'm riding."
Following her trip to Kansas, the 30-year-old had an MRI and made the decision not to compete at Canadian Road Nationals. While off the bike, though, she has had time to study and rethink her summer plans.
"After attending Unbound, I have to say that I enjoyed the energy of the event. 200 miles is still a stretch for me, but I really enjoyed the camaraderie between the racers, and I think it looks like a tough challenge. I've done some gravel, but the smaller events, the ones that are close to home," Rochette observed about Unbound Gravel, from the sidelines.
"I think it is too big of a demand on the body and doesn't leave much room for other types of racing or fun adventures the rest of the year. But being at Unbound made me understand a little bit more the vibe and feeling of accomplishment of completing such a monster of a race, and it opened my mind to maybe wanting to try it!"
She used the opportunity in Emporia to visit with her sponsors with Canyon, a new relationship for her this year, one that will allow her to continue competing on the World Cup circuit in cyclocross and cross over to mountain biking and more gravel.
"It's the same program that I've had before, but we're now working with Canyon. It's still mostly the same partners – Rapha, SRAM and Feedback Sports. It's myself racing and David, my husband, doing most of everything else! It's still the two of us," said Rochette said.
"I was approached by Canyon, and it was a raise in salary for me as well. And in terms of gravel, yes, they did ask, they did put importance on Unbound. But other than this specific event, they were pretty open to what type of gravel I could do, which was, for me interesting, because I'm not super interested in doing the Life Time Grand Prix.
"You know, cyclocross is really important for me. That's what I love. It's clear that they [Canyon] love cyclocross, too. And they were excited to support me for that, which was a big deal for me. They were very flexible in what type of calendar I could do. So I like this openness and flexibility of being able to do a bit of mountain biking, being able to do a few gravel adventures, and still cyclocross. So it seemed like a good fit to me."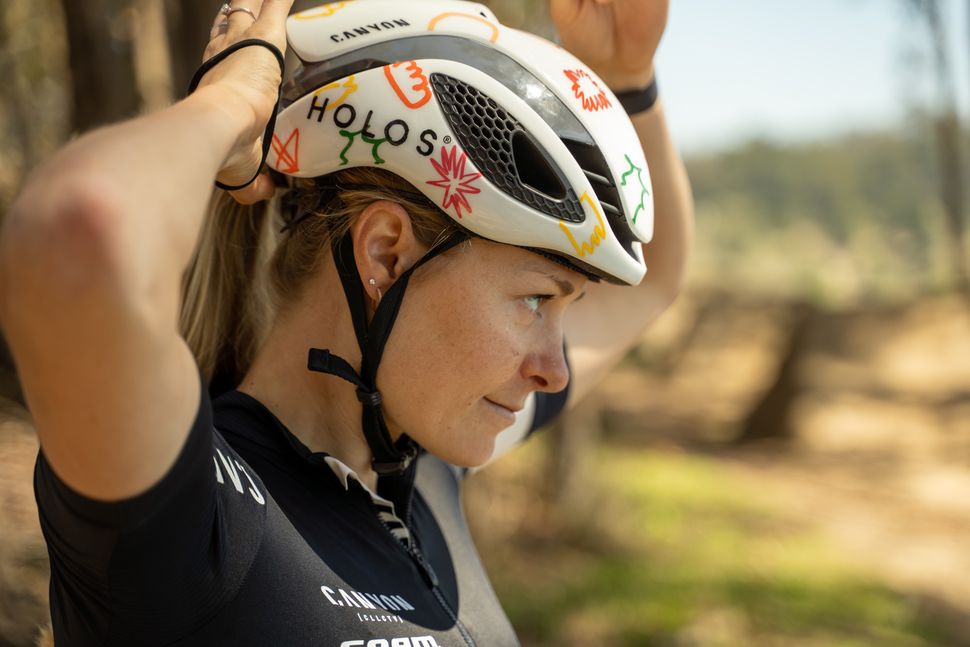 Her 2023 cyclocross schedule is not set in stone yet, but she plans to do a large block of World Cups in Europe. A winner of World Cup Iowa in 2019, she said that even though there is only one cyclocross World Cup race remaining in North America this season, October 15 in Waterloo, Wisconsin, she planned to compete across a large US-based calendar.
"I also really love the North American calendar. Even though it's not all the World Cups, it's still great racing. So, I'm chasing goals on the World Cup, but for me, it's important to still be part of the North American scene as well," adding that Rochester Cyclocross was one of her favourites to start the season, a race she has won six times.
Before Rochester Cyclocross arrives in September, Rochette said she will focus on getting healthy and tackling a couple of off-road events. A winner of the 2021 Vermont Overland, she'll go back to gravel before 'cross season at the UCI Gravel World Championships.
"This summer is getting ready for cyclocross and going to events that bring cool experiences to me. So I'm registered for BC Bike Race, which I'm really excited about. I have a plan for E-mountain bike Worlds in Scotland and turn that into a bike packing trip. That's in the plan if I'm healthy," Rochette said. 
"In terms of racing, there's the Gravel World Championships in Italy that I would really love to not only be part of but do well at. Timing-wise, it's close to cyclocross, so it's a moment where I would peak anyway. And the distance is way more in my wheelhouse, like a four-hour race, which I do for training."