When Ben O'Connor stepped into the 2022 Tour de France, he was doing it with red-hot form, high expectations and the pressure – be it self-imposed or otherwise – that seems nigh-impossible to avoid when you are lining up the year after having all of a sudden given a French team a high finish at their home Grand Tour. 
It was a far cry from the no-expectations entry to the Tour in 2021 that ultimately ended with him handing his new AG2R-Citroën squad fourth place overall. The outcome was also just as much of a contrast. 
A crash in the first road stage of 2022 left a mark that would end O'Connor's race, with the Western Australian rider stepping away after stage 9, having battled on as long as he could with a torn glute muscle.
Thinking back to that challenging edition when high hopes were so quickly dashed would be enough to make anyone nervous, but talking to O'Connor just days before the Tour de France hits the road in Bilbao, it somehow seems that experiencing the lows of the battle for yellow, as well as the highs, have delivered a new level of pre-race calm to the 27-year-old, who is saving the adrenaline for when it's needed most.
"I just think it's understanding that even when you are at your very best it's just luck, or bad luck, or chance or fate that takes you out, making you unable to perform," O'Connor told Cyclingnews.
"So I guess it's dealing with that first of all, and not getting too far ahead of yourself, because in the end of the race there's going to be the stress and the situations where you have to make the right calls on the road. And if you're creating it a little bit [of stress], either at home or within the team beforehand, it doesn't help."
In 2022 O'Connor said he had headed into the Tour with a sense of needing to prove that the fourth place in his debut 'wasn't just a fluke' and that he'd deserved to be there, though this year there has been a shift.
"It was the first time I'd really been at a race as a huge leader and actually having quite a lot of expectations and it kind of going wrong, but not because I made an error," said O'Connor of the 2022 crash near the end of stage 2 that caught him, and many other riders, out.
"I think that if it was my own mistake, then I would be very angry and I'd have some pretty bitter feelings. But at the moment I'm just, I could say happy-nervous, but in the end that's just excited to get it started."
"I want to get cracking and finish the Tour de France again, see Paris and have that overwhelming feeling of accomplishment which fills you after the three week journey. And wherever you finish is wherever you finish, as you know that along that road you'll try not to make as many mistakes and give everything."
Slow burn
Looking back on the 2022 season that led toward the Tour de France there is no wondering why O'Connor was a rider shouldering high expectations. His strength and growing status in the top-tier of contenders were clearly evident as he swept up a stage win at the Volta a Catalunya, victory at the Tour du Jura, fifth overall at the Tour de Romandie and then third at the Critérium du Dauphiné.
"In pretty much every other race outside the Tour de France, I felt like I was one of the best versions of myself," said O'Connor. "Always there, racing with the best."
The 2023 season run-in has looked a little different, though that may not necessarily be a bad thing.
O'Connor started his season in Australia, something the rider said brought him plenty of fun and enjoyment. Plus he also swept up sixth overall and a stage podium at the Tour Down Under while taking on a first summer of racing in his home nation since 2019.
After that things didn't go so well, however, with O'Connor being stuck by a stomach bug in March. He still decided to take on the Volta a Catalunya, a race with familiar roads and good memories, but also a race that in the end became a lesson learned in managing health through the season.
"Last year was really, really incredible because I was able to put together good races the whole way throughout the year up until The Tour," said O'Connor.
"Whilst this year hasn't really been technically like that, not for lack of trying, but it just didn't work out. So, yeah, I guess there are a number of different ways you can prepare, but this year looks like the slow build."
O'Connor headed into June without the form affirming performances of the previous season, lining up for a final pre-Tour test at the Critérium du Dauphiné.
"I can't lie, I was a little nervous at the start," said O'Connor. "Nervous to know where I was sitting. I had some good, honest chats with the team. Just some genuine, thorough feedback with me asking 'look I actually can't tell, am I good or not? Just tell me if I'm not good enough at this time!'."
O'Connor was reassured by his team, and then quickly reassured by his performance as well, taking third overall at Dauphiné for a second year running amid a field packed with Tour de France rivals.
"You want to know where you sit," said O'Connor. "You always want to compare yourself. Even if you know a Grand Tour is a different beast to a one-week stage race, it's nice to compare yourself and think going into the Tour that you're in with a good shot, that you've got a good chance to perform well in the race."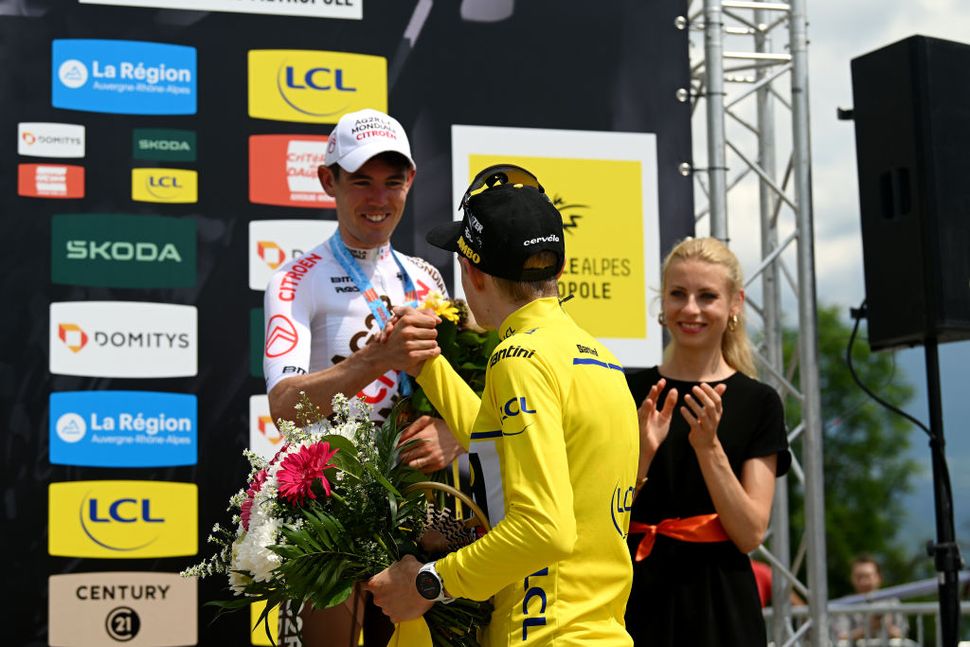 Peaks, expectations and performance
Last year O'Connor may have had every reason to enter the Tour de France with confidence, but given how things turned out he is a little more circumspect this time. First he is focussing on one small goal that has the potential to unravel the largest of objectives.
"To be honest it would be nice to just get through the first road stage without a problem," said O'Connor.
"2021 was the massive crash and I thought everything was broken, then last year, you know, the first road stage I also went down – it wasn't my fault crashing, you were just in the shit show. I'm just very keen to get past that and then enjoy the actual racing part of it."
While it may be impossible to predict the crashes, there are clear tell-tale signs when it comes to form, and as O'Connor points out, a couple of months that didn't quite go to plan really mean nothing if he's firing when it comes to the Tour de France.
"It actually gives me a little bit more confidence now, knowing that I'm still fresh. It doesn't feel like I've hit the absolute limits of my personal capabilities already," said O'Connor.
"It's kind of nice to know that you're not drawn, that you should be very, very good in the third week as any top GC guy would dream of and hope for."
O'Connor may have flown under the radar a little more this year and is perhaps a little more circumspect when asked about his aims for the July 1 to July 23 event. However, he has clearly still has every intention of chasing that overall result as hard as ever.
"I think just looking at Dauphiné, I know I can be up there in that top ten for sure. And you know, I dream of being able to finish further than that but in the end I would still be happy finishing in the top ten," said O'Connor. 
"I believe that personally I can do a result similar to what I did in 2021. But yeah, I don't really want to jinx myself."