The riders of the 110th Tour de France were presented in front of an enthusiastic crowd outside Bilbao's Guggenheim Museum.
But the team presentations began under grey, drizzly skies with Bahrain-Victorious, and a period of silence to remember their rider Gino Mader: the Swiss 26-year-old who was killed a fortnight ago in his home race, the Tour de Suisse, descending off a mountain at high speed, leaving the road on a left-hand bend and landing in a ravine.
It has been 12 years since cycling lost such a high-profile rider in similar circumstances. And the shock among teams of Mader's death has not subsided at all.
How does cycling carry on?
Part of the reason the cloud continues to hang over the sport is the fact few think there is a fix to stop potentially losing another rider in the same way – and the Tour de France, the sport's biggest race by some distance, is no more immune to such a tragic event than a race such as the Tour de Suisse.
"What's surprising is its intensity [at the Tour de France] – every day is full gas," says Britain's Tom Pidcock of Ineos Grenadiers – himself a very fast descender. "That surprised me a bit, actually."
In the build-up to the race, Pidcock was among many who feel there is an acceptance the risks will always remain: "Risks are involved in cycling. We do what we can to mitigate those risks. But they'll never be gone," he said.
"Descending is something I love, but someone I race with died descending and it hit home quite hard."
And even the sport's governing body, the UCI, which released new safety guidelines in collaboration with a number of independent bodies – which will look at the risks of race routes among many other things – on the eve of the first stage cannot eliminate the prospect of fatalities on the road.
The widely used motto adopted has been 'We Ride For Gino'.
Perhaps getting back on the bike is the only real way to deal with the grief.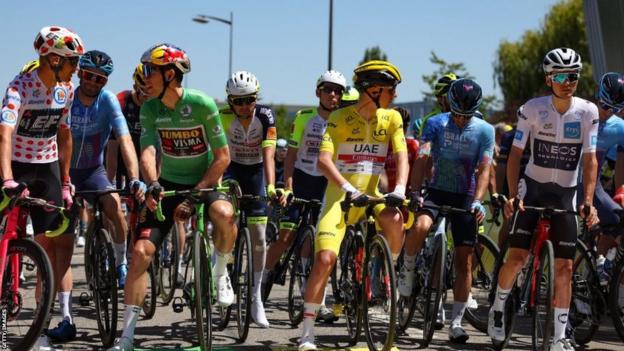 Who will win yellow?
There are plenty of prizes up for grabs across three weeks, 21 stages and 3,405.6km of riding – the main one being the famous yellow jersey.
Two-time champion from 2020 and 2021 Tadej Pogacar of UAE Team Emirates is widely thought of as the favourite for yellow – strange in some ways, given the frighteningly talented Slovenian lost last year to Denmark's Jonas Vingegaard of Jumbo-Visma.
Both are very strong in the key disciplines to win the general classification: climbing and time trials. The perceived difference for many is that Pogacar is the more complete rider – and he is certainly more explosive – but that Vingegaard has a more complete team around him, in the high-budget, highly talented Dutch squad.
Last year's race revealed as much when Pogacar was pincered on a climb during stage 11 by Vingegaard and then his own countryman Primoz Roglic – also on Vingegaard's team – feeling the need to chase down attacks by both riders and eventually tiring himself out.
But after winning May's Giro d'Italia, Roglic is not at this race, leaving Pogacar with really only one man to focus on. Could that be decisive? His injury at a race in Belgium in April aside, Pogacar has been peerless this year – hammering Vingegaard in March's mini Tour de France – the week-long Paris-Nice.
How come Ineos don't win these days?
What could change the dynamic at the front of the race is the form of the man who won the Tour prior to the domination of Pogacar.
Egan Bernal, the victor in 2019, is back for Ineos Grenadiers after a life-threatening crash last year in which he collided with the back of a bus in his native Colombia during a training ride.
Following a period in intensive care and several operations and rehabilitation, the amiable 26-year-old returns to the Grand Tour stage.
After a few modest performances in warm-up races, Bernal says he just wants to get to Paris, and there are no more complex expectations from his team than that.
"I'm not sure if I can get to Paris, to be honest," he said in the team's pre-race media conference.
"I need to take this day-by-day. I have not prepared for this race 100%. I have a free role in the team, and they will decide what to do depending on the feelings and the legs.
"I'm just thankful to be alive and to be here at the start."
But if he can find the kind of form which saw him dominate the 2021 Giro d'Italia, everything could change.
And Ineos – the other top-budget team, alongside Jumbo-Visma – could also have other options. Pidcock won brilliantly and unexpectedly on one of the toughest and most iconic climbs in the race last year on stage 12's Alpe d'Huez ascent.
He has made no secret that he would like to win the Tour.
"My goal is to try and win stages and see where I can end up on the GC. I think that's the idea: to stay as long as I can. But I want to win stages, that's my biggest goal – and have fun doing it."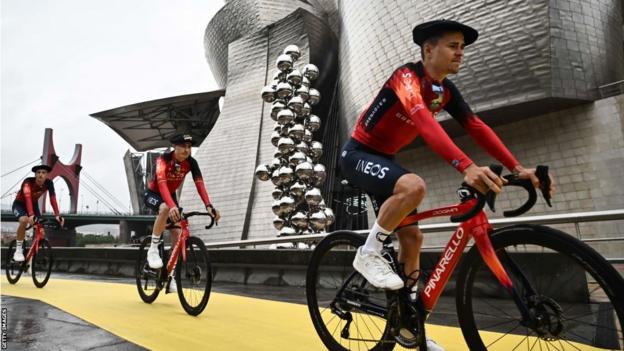 Britwatch
And he is not alone as a Briton with big ambitions: Simon Yates is leading Australian team Jayco-AlUla.
Yates, 30, looked relaxed and in a very good mood at the teams presentation, and is more decorated than twin brother Adam – who also features, but as super domestique supporting Pogacar in UAE-Team Emirates – winning the Vuelta a Espana in 2018 and 10 Grand Tour stages.
But so far he has fallen short in the big race, and his team will be distracted by looking after their Dutch sprinter Dylan Groenewegen on the eight flat stages in the race.
The only other realistic GC contender could be Australia's Jai Hindley of Bora-Hansgrohe, who won last year's Giro very convincingly, but may lack the numbers in his team to deliver him through the highest mountains.
All contenders, however, will be happy to see fewer time-trial distances this year – with just one short stage dedicated to a discipline in which Pogacar is supreme.
Changing of the guard
There is so much more to the Tour than merely yellow, though. Mark Cavendish will attempt one last fiery tilt at greatness, as the 38-year-old sprinter contests his final Tour with eight flat-stage bunch-sprint attempts to win a record-breaking 35th Tour-stage victory for the unfancied Astana Qazaqstan team.
It is a record he shares with the all-time greatest: Belgium's Eddy Merckx, but one he curiously does not seem overly motivated by – more so, the desire to win in the moment.
And after what has to have been the longest pause in the history of sporting event media conferences on Thursday, he simply said with shrugged shoulders: "I don't know; I just try to win as much as I can. Sorry."
Earlier, reflecting that when he is in the moment records and experiences can be relived later, he said: "I still have to try and do a job and I know I'll regret not living in the moment.
"The Tour de France gives me the most incredible emotions you can't really analyse and appreciate until after. I know it's my last one, but I still have the same job to do. I can definitely appreciate them later."
One of the memories he may not covet was a harrowing sprinting crash which saw him hospitalised in 2017 and Peter Sagan thrown out of the race.
The 33-year-old is also contesting his final Tour this year, bowing out considerably earlier than most – but after wining no less than seven green points jerseys during his career, that laconic Slovakian fridge appears full.
The future is, though, already here, in the form of real change in cycling. Eritrea's sensational 23-year-old sprinter Biniam Girmay could make history as the first black African rider to win a stage of the Tour. And stage 18 in particular seems like the perfect parcours for it.
He will have his work cut out to beat the aforementioned bunch sprinters, alongside the cream of the remaining talent in Caleb Ewan, Wout van Aert and Fabio Jakobsen. But even without a victory, the sheer unprecedented revelry with which he is followed by the travelling Eritreans is special enough – from a country one fan told this writer was "known for war, but can finally be proud".
One legend of the sport may have already retired if inadvertently – four-time winner Chris Froome. Still coming back from his own life-threatening crash in 2019, and now with Israel Premier-Tech, he was left out of this year's race completely – not even making the squad.
The 38-year-old accepted the decision with the good grace he always does – but the clue is in his quotes. He wants to work to ensure he will be in the team for 2024, but added he was "physically ready" for this year. So what more does his team think he can add a year later, and a year closer to 40?
If we have seen the last of Froome at the Tour it would be an undeserved way to bow out.
The Netflix effect
Whether Netflix will be there next season for a new edition of Unchained, the Drive to Survive-style documentary of the great race, is not certain either – but filming has begun.
The eight-part series about last year's race at times reached parts none of the other cycling media can, with behind-the-scenes moments on the team buses and the hotel rooms of the riders. It is just a shame so many of the fake voiceovers sound like an episode of 90s TV programme Eurotrash.
But with beautiful editing and almost complete access – apart from the Pogacar-led UAE-Team Emirates and Bahrain-Victorious, curiously – the series gives a good account of the dangers and demands in cycling many would be unaware of.
Following Mader's tragic passing, however, the world now knows only too well cycling is far from the leisurely pursuit the sunflower fields of France in the summertime would have us all believe.