Jai Hindley is feeling more than a pinch from crash-related injuries at the Tour de France, where he dropped from fourth to fifth overall after stage 15 to Mont Blanc on Sunday. 
Hindley was one of many riders who came down in a mass pile-up on stage 14, in which he suffered a hematoma after hitting his back and side hard on the tarmac. 
The 27-year-old was examined by Bora-Hansgrohe medical staff on the team bus at the start of stage 15, which he had earmarked from the outset of the race, and was cleared to compete as other victims of the crash continued to abandon due to injuries.   
"He didn't lose a lot of skin but took a hit on his right side," a Bora-Hansgrohe statement read. "After ruling out any major consequences from his crash, he received treatment by our physiotherapists. He felt a bit sore this morning, as expected, [but] after the treatment he's feeling better and okay to race."
'Bit sore' may have been an understatement, with team manager Ralph Denk later revealing the extent of pain Hindley was managing. 
"He was really suffering when I saw him this morning. He was not able to walk normal," Denk said. 
"If you have a hematoma like this you cannot get always in the right position and then all the other muscles are not really relaxed and blocked after some hours of effort. And of course, the engine [is affected], if the body sends all the power to recover this hematoma, not the power to recover in general." 
Sports director Rolf Aldag yesterday speculated that had it not been for the crash, Hindley would have been able to stay with Carlos Rodriguez (Ineos Grenadiers), who bumped the Australian from third on the general classification by consuming his healthy time advantage while on the way to a solo stage win. 
Hindley on Sunday was able to stay with the yellow jersey group until deep into the 179km trek from Les Gets to the Mont Blanc summit finish, which included a total five categorised climbs – presumably hell for someone who less than 24 hours before said it hurt to climb out of the saddle. 
Despite this he was still the best-placed Australian on the stage, finishing 25th after being well-supported by teammates.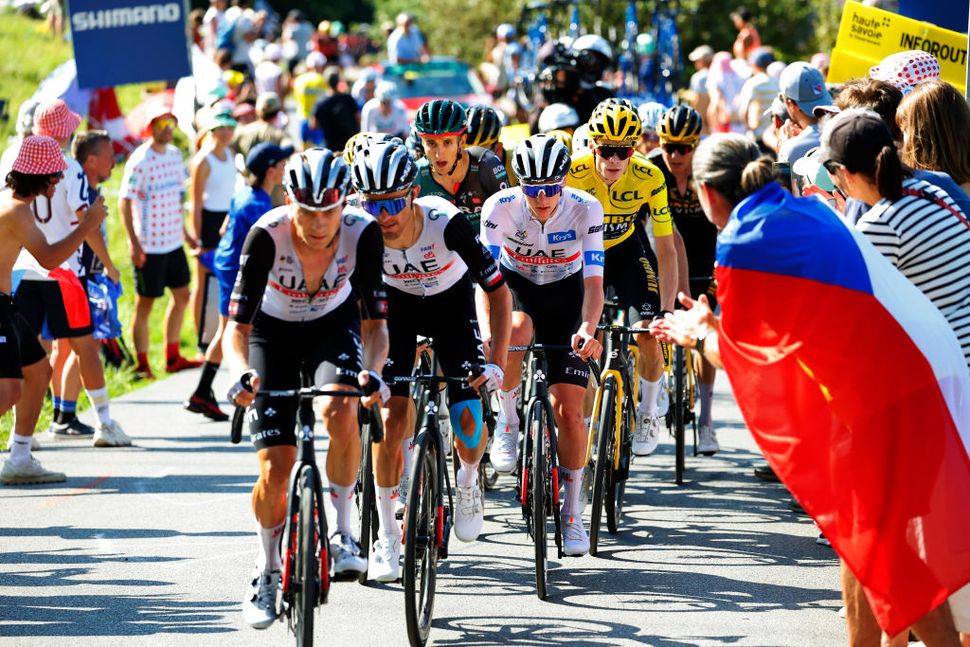 The climber lost touch with the yellow jersey group with some 3.7km remaining, as Adam Yates (UAE Team Emirates), soon after, set a tempo even his teammate Tadej Pogacar couldn't keep up with, moving into fourth on the overall standings.
But speaking post-race, it was clear Hindley was hurting. 
"To be honest my back was pretty cooked after yesterday," he said. 
"It was really painful during the stage yesterday and then the physios and staff here tried to help and manage it as best as possible, but today was still super painful and I was really struggling to get the power out of my legs and back to be honest. It was really tough. 
"The level is just so high now and if you're not at your very best then it's really hard to be up there. I did my best and unfortunately, I just got smoked today." 
Tomorrow's rest day comes at an opportune time for Hindley, who thanked his team and supporters whilst maintaining an optimistic outlook on the tough stages ahead. 
"You've got to stay positive," Hindley said. "I'll keep doing that and hopefully we can try and fix my back up a bit on the rest day tomorrow, and then tough TT and last week of racing, so still plenty of hard days to come. Big thanks to the boys today, they really did everything they could to help me out there and they've been awesome, also the staff, everyone in the team really great job, and all the support on the road has been phenomenal." 
The Tour, in which Hindley is making his debut after winning the Giro d'Italia last year, resumes with a time trial, which is tipped to be decisive, on Tuesday, followed by another high mountain stage on Wednesday. 
"He keeps fighting very well," Denk said. "I think he shows anyway a great performance today. To come back on a podium spot would be hard but it's cycling and if he becomes fourth, fifth, sixth, it makes not so much difference for us."