Annemiek van Vleuten will end her sparkling professional cycling career at the Simac Ladies Tour, set to take place from September 5-10 in the Netherlands. It's a race that she holds close to her heart as not only do parts of the route pass her long-time training roads, but the home nation event also played a part in helping to ignite her career more than sixteen years ago. 
"You have to say goodbye to this part of my life, that I will not come back anymore," Van Vleuten said in an interview published on Youtube by her Movistar Team on Monday, the eve of the Simac Ladies Tour.
"I started racing in 2007 with some small criteriums, and as a stagiaire, I did the Holland Ladies Tour [Simac Ladies Tour] in 2007 for the first time. It was only one day because I crashed out after one day; my skills were not so good yet," Van Vleuten said.
"It's good to end my career there and that it's also very close to my home. It felt special because it had my name written all over the place, with a prologue near my home, and the last race is in my training area in Arnhem, which is also close to where I grew up and the place where my mother still lives in Vorden, so it just feels like a nice way to say goodbye."
Van Vleuten came into her final season with an ambitious goal of winning all three Grand Tours, and while she succeeded at La Vuelta Femenina and the Giro d'Italia Donne, she was disappointed to have finished just off the podium in fourth place at the Tour de France Femmes. However, at the end of the stage 8 time trial in Pau, she was surrounded by all of her teammates as they chanted her name and delivered congratulatory hugs. Van Vleuten said it was an emotional and memorable moment.
"The team, how they waited for me at the finish line, was heartbreaking. And it continued, actually, also in the World Championships [Glasgow in August]. People said, 'thank you'. Thank you to me. When I was just chasing my goals, so many people enjoyed my style of racing and said that they would miss it. That is super special for me to hear and so emotional. I can leave the sport proud. Thank you to all the people that said, 'thank you,' because it means a lot."
Since joining the pro ranks in 2008, Van Vleuten's name has become synonymous with her aggressive racing style, audacious solo attacks and victories across Spring Classics, Grand Tours, World Championships and Olympic Games.
"She revealed that while she was driven by training data and results at a young age, in both sports and school, her advice to the next generation of cyclists would be to create an environment that is less stressful.
"As a young athlete, I was quite stressed with training. I wanted to be the perfect athlete. I was training with a power meter. In 2010-2011, I was super focused on that, so now I would say to that girl, like, 'look around a bit more. Don't stress about your efforts and power when you come back from a training ride.'" she said.
"I think my father always stimulated me to get the best out of myself. Also, at school, I was already trying to get the highest grades, which I now would also advise to that girl, that it doesn't matter if you have, maybe not the highest grades all the time."
Van Vleuten also said that working with a sports psychologist also helped her cycling career and that she came to live by the mantra 'accept, adapt, move on', which allowed her to focus only on what was in her control.
"I realised that one of my strong points is that I don't get stuck in things I can't control. I see a lot of people get stuck in that, and it's way better to focus on the things you have in your control. It makes you also more of a happy person in general," Van Vleuten said.
"'Accept, adapt, move on,' well, that is really my sentence. I think I started to work with a mental coach in 2010. My driving force was just that I wanted to get the best out of myself also on the mental parts. I had to deal with a lot of negative thoughts early in my career. I was not a climber, and as soon as a climb was popping up, I was like, 'Oh, here I go again, I will drop, I'm too heavy'.
"It seems like you first need to have an issue before you want to start to work with a mental coach, and I hope this thing can really be changed, both in cycling and also in sport in general. Mental coaching is just such an important part of getting the best out of yourself as an athlete."
Most memorable wins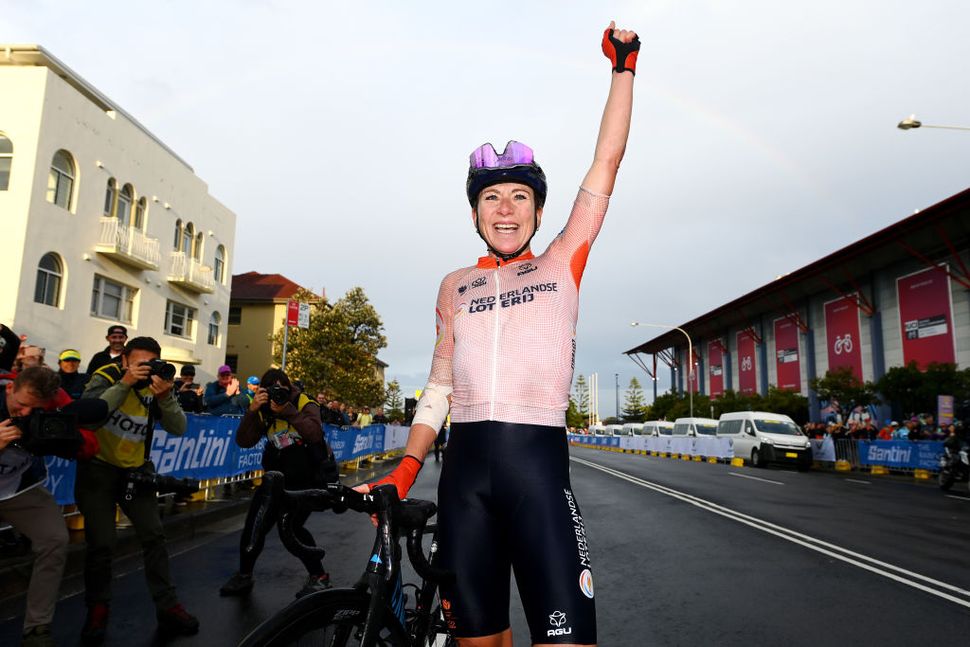 Van Vleuten's list of accolades is extensive, but the highlights of her career include the overall victory at the Tour de France Femmes, four overall titles at the Giro d'Italia Donne and  three overall wins at La Vuelta. Then there are two wins at the Tour of Flanders, Liège-Bastogne-Liège, Strade Bianche, the road race and the individual time trial at the World Championships as well as a gold medal in the time trial at the Olympic Games.
Of her victories, she said her most memorable is a toss-up between her road race world titles in Yorkshire in 2019, where she went on a 105km solo attack, and in Wollongong in 2022, where she made a surprise attack in the final kilometre to take the victory.
"Number one victory? It's hard to choose between Wollongong and Yorkshire because they were so different. I'm really proud of Yorkshire; how I prepared, and I was so gutsy to attack with 105km to go. It was epic," Van Vleuten said.
Wollongong's victory says a lot about my character. It's accepting that you have a broken elbow. Trying to make the best out of it. Re-watching it … the last kilometre of Wollongong still gives me goosebumps. I can really feel the emotions of that whole week, of disappointment, and it's maybe the whole of my career summarised into one week. It came all of that together."
Van Vleuten said that her third most memorable moment was her victory at the rebirth of the women's Tour de France in 2022, where she won back-to-back mountain stages in Le Markstein and La Planche des Belles Filles and secured the yellow jersey.
"The Tour de France is above the Olympics because it had a huge impact. When I came home, it exceeded my expectations of how many people enjoyed the race and followed the race. How much impact winning the Tour de France had, and how big the Tour de France was," she said.
She also listed wins in the time trial at the 2017 Worlds in Bergen, the battle against Anna van der Breggen to win La Course in 2018, and her victory at the Tour of Flanders in 2021 as a few more of her most memorable moments.
"I was married with the bike, so I can now enjoy more freedom"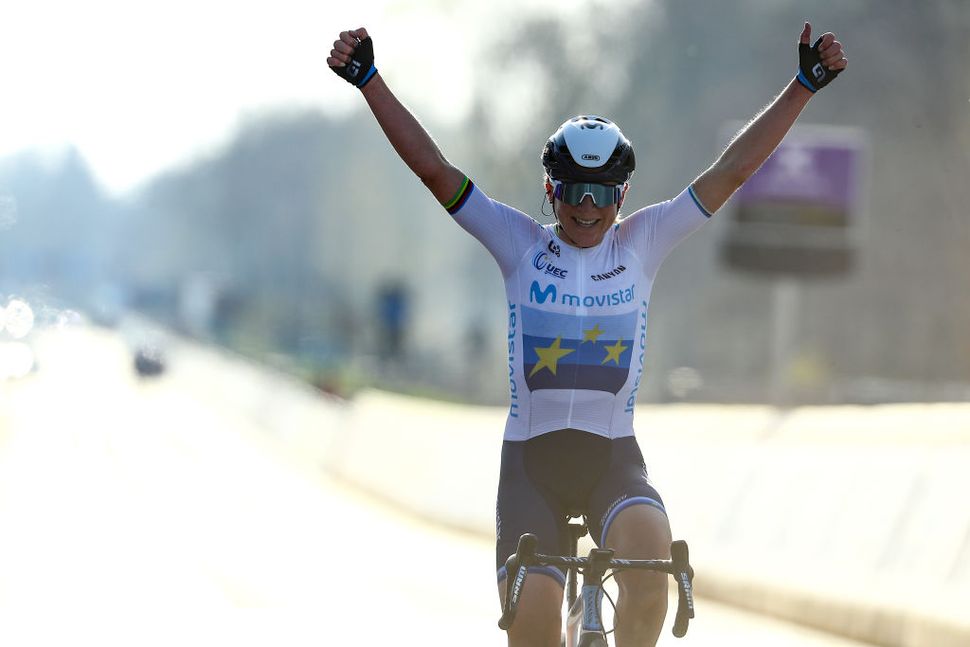 Van Vleuten joined Movistar in 2021 and has been a major part of its success in rising to become one of the strongest teams in the world. She said she still looks back on her first year with the team and how far they've come, especially in the Grand Tours. 
She especially noted that her victory at this year's Vuelta a España Femenina was a team effort. The team went on to win the Giro d'Italia Donne, as Van Vleuten secured her fourth overall title in May. Other winning performances came from Liane Lippert and Emma Norsgaard, who both won stages at the Tour de France Femmes in July.
"The biggest thing we developed is how to defend a GC. Nothing needs to be said anymore, everyone knows, and that's the biggest thing. It's not only the riders but the staff; they had to deal with me with a lot of pressure," Van Vleuten said.
"I think the Vuelta was a demonstration, for sure, that we race as a team. We raced really strong there. For me, it was a really good example that you can win as a team. The Vuelta; that was teamwork. But also still with room for some jokes, and it's still the family because that's why I signed with Movistar. It's a professional team but also still with a bit of relaxedness and fun. 
"I think there is more talent in this team than the riders are aware of. Sometimes it starts with really believing in yourself as a rider to get the best out of yourself."
Van Vleuten announced her retirement from cycling last June and said she purposely did not sign a contract through 2024 because she knew she wanted to take time away from the sport to gain some space from racing and to figure out what she wanted to accomplish next. She has also signed up to take a course for retiring athletes through the International Olympic Committee.
"I could really take a sabbatical and a year when I can say yes to some shorter projects and orientate myself a bit to find a new project where I want to be, to develop new qualities," she said.
"I signed up for a course of the International Olympic Committee for athletes that are going to stop, like me. It's a short course of like eight things where they try to challenge you to think about like, 'Hey, what did I actually learn in my career? What qualities do I have? And what would I like to develop even more in the next part of my career?'"
As for what's next, Van Vleuten said she will enjoy not having to ride in the rain anymore and having some personal space to spend time exploring life outside of racing.
"I have a bit more freedom. I was married with the bike, so I can now enjoy more freedom to go wherever I want, not having the anxiety of losing my form and shape and having a bit more of a social life without the bike," she said.
"But the good thing is that my life didn't stop while I was a professional athlete. I was still quite good at combining social life with my bike. I hope other athletes can approach cycling like that. It's not only the bike. You can combine it with social activities."
Wrapping up the interview, Van Vleuten said she hopes her cycling career inspired others.
"The biggest compliment that people can give me is that I inspired them with some of my wins. I'm super proud that I was part of this journey, and being part of the Movistar Team is the most beautiful way of ending my career."